Bad News: If You're Breaking Up Anytime Soon, It's Probably This Week
Good news? Discount chocolate.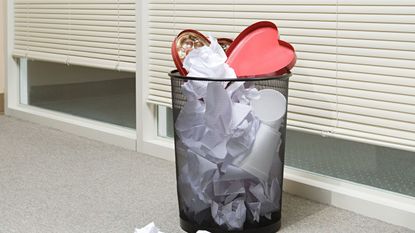 (Image credit: Getty Images)
While the Tuesday before Valentine's Day is often pinpointed as the number-one breakup day of the year (so often, in fact, that the it's been dubbed Red Tuesday (opens in new tab), presumably because that's the color of dump day eyes), just because you make it through the 14th doesn't mean your relationship is in the clear.
The real breakup frenzy (opens in new tab) begins the week after V-Day, when divorce attorneys' phones start ringing off the hook and dating sites see a surge of newly-single folks hitting the open market.
What is it about the most romantic day of the year that causes couples to call it quits? For one thing, Valentine's Day—like New Year's—is an expectation holiday: It creates anxiety about what spending it with a particular someone really means (not to mention whether or not you've chosen the right gift/card/engagement ring).
What's more: Because love is in the air (and in the card aisle, and all over your Facebook feed), people are forced to confront the true level of commitment to their relationships.
But hey, since people are way more likely to throw themselves into work after a breakup, being beau-less for a bit could translate into a boost for your career. And that's something worth celebrating with a 50%-off box of Valentine's truffles.
You should also check out:
7 Surprising Ways Your Body Reacts to a Breakup (opens in new tab)
Why Breakups Make You Crazy (opens in new tab)
Wallowing After a Breakup Might Actually Be Good for You (opens in new tab)
Elizabeth Kiefer is a features editor at Cosmopolitan, where she focuses on enterprise stories, narrative reporting, and cultural coverage for the magazine's print and digital platforms.