Editors handpick every product that we feature. We may earn commission from the links on this page.
The Best Dating Apps for People Who Hate Using Dating Apps
I know, I know, but they actually work!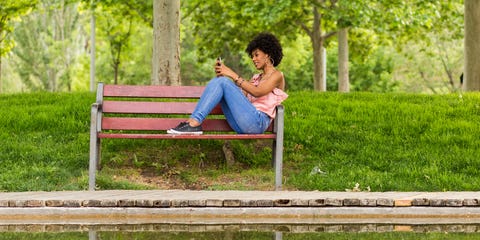 In theory, dating apps are a streamlined way to find a partner. They provide a way to meet people on your own schedule and can even facilitate experimentation, helping users code for and discover what they want from another person. Statistically speaking, there's plenty of evidence that dating apps work—especially for those among us whose endgame is getting into a LTR. There's data that says marriages among people who met on an app are less likely to end after the first year, and the vast majority of Americans think that, ultimately, apps are a good way to meet people.

And yet...and yet. Although dating apps are supposed to take the headache out of trying to meet someone, many people consider them a necessary evil—or just plain evil. We understand why: dick picks, ghosting, it's not all rainbows and butterflies out there for a woman-identifying person trying to meet someone. While there might not be a one-size-fits-all dating app that everyone loves and totally works—the point of these apps is to connect people, and people are sloppy!—below are the apps that even the bitterest-about-dating among us will happily swipe through.
This content is created and maintained by a third party, and imported onto this page to help users provide their email addresses. You may be able to find more information about this and similar content at piano.io