Weekend Trip Guide: Where to Stay, Eat, and Drink in Rincón, Puerto Rico
Where the surf's always up and the vibes are just right.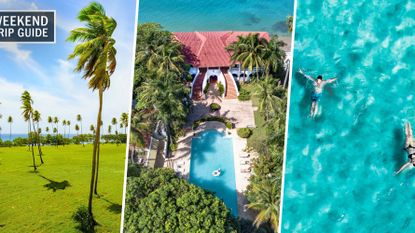 (Image credit: Chase Walker, @dronerincon)
Welcome to MarieClaire.com's series on weekend travel—a smart girl's guide to making the most of those glorious two days off.
Looking for your next getaway? This sleepy little beach town has all the things. Rincón, Puerto Rico is located on the less-touristy west coast of the island, a 45-minute drive from Aguadilla airport, and about a three-hour drive from San Juan. Its laid-back atmosphere, organic food, and world-class surfing are only some of the highlights of this small town.
When to Go
Here, a list of the must-do, see, and eat spots in the area.
Peak season is considered from late December through April, but there's no better time to visit than now. Puerto Rico was hit hard by Hurricane Maria, yet with the support of the international and local community, Rincón's looking better than ever. You can expect running water, power, and cell phone service in most places. Plus, Rincón's economy depends on tourism—so you'll be helping local businesses while you're enjoying paradise.
So how do you get there? Hop on the next flight to Aguadilla, PR, and make your way over to the 413—the Surfer's road to happiness. Renting a car is strongly recommended, and can be done right at the airport. Pro tip: Aguadilla airport is small and quirky—enjoy it and expect to arrive and depart at weird times.
Where to Stay
There are plenty of great lodging options at every price point. If you're heading to town with one or two other people, your best bet is a hotel. Two of the most popular options are the Rincón Beach Resort, boasting a great beach on-site and activity options like snorkeling and diving, and the Horned Dorset Primavera, which is famous for its elegantly furnished suites (each with its own private plunge pool).

If you're traveling with a larger group, one of the area's gorgeous rental properties is the way to go. Check out Villa Playa Maria for its luxurious accommodations and steps-away proximity to an internationally renowned surfing spot: Maria's Beach. If a yoga retreat sounds more your speed, look into the Rincón Harmony Center or Tres Sirenas.
Where to Eat and Drink
The food options in Rincón are expansive—seriously, my mouth is still watering from how delicious everything was—so do it right and try them all.
Your first stop needs to be Jack's Shack, a magical little hut that sits in the Puntas neighborhood, a few feet away from Maria's Beach. Jack's Shack serves up fresh cooked organic breakfast sandwiches, catch-of-the-day fish tacos, locally made Karibe Kombucha, and so much more. It's a hoppin' local breakfast and lunch spot that you'll want to go back to every day. If you're lucky, you might even get to meet Jack (the cute little surfer boy the shack is named after).
Next to Jack's Shack is El Bohio, a bar that's not to be missed. Grab a Medalla (a local Puerto Rican beer) or a frozen cocktail and people watch—this spot is known as the best post-surf hangout. Pro tip: El Bohio also serves up a mean acai bowl and fresh juices (add liquor if that's your thing).
Next up try Casa Islena for lunch. Located near Sandy Beach, this place takes American classics to the next level. Another great brunch option is The English Rose, a B&B serving up bloody marys and eggs benedict. Be warned, the drive up the mountain here gets a bit narrow (and semi-terrifying) but hey, the food (and the view) is worth it.
Instagrammers: Don't miss sunset at The Beach House. Not only does this sweet bar have great drinks, it's also got the most expansive views of El Faro (Rincón's Lighthouse) and Domes Beach. When the light hits the water, you've got your perfect shot. Plus, relaxation is at its finest in the Adirondack chairs located on the property.
Hit Rincón's town center for a bunch of awesome dinner options. Try Roots for fresh fish, mojitos with freshly squeezed watermelon juice (a must), and live music. Mangia Mi is the go-to for homemade pasta, prime cuts of meat, and a serious wine menu. If you're hoping to chow down right near the ocean, La Copa Llena is the place. With breathtaking sunsets, unique cocktails, friendly staff, and above all, delicious food, you can't go wrong eating here.
What to Do
You won't get the true Rincón experience unless you try your hand at surfing. Steps Beach and Playa Domes are the best bets for more experienced wave riders. For newbies, try out Parking Lots Beach—the place to get lessons. Pro tip: Walk past Domes and explore some of the unspoiled beaches along the coast. Here you'll find the best sea glass, stone stacks, and more. Plus, these beaches are virtually untouched and seriously gorgeous.
Before you ride the waves, perfect your downward dog and child's pose in the most picturesque setting. Listen to the sound of the waves crashing at Barefoot Yoga on Sandy Beach in Puntas. Classes are every day at 9 a.m., and weekends at noon for $15. The atmosphere is life changing and the teachers are on point. Get back in touch with yourself through a series of vinyasa rounds—and don't be surprised if some locals join in on the fun (i.e. the legit iguanas that live on the beach and seem to love partaking in these sessions).
Day trip anyone? Make sure to visit a hidden gem of PR's west coast: La Parguera. Here, you can rent a small skiff boat (you only need your driver's license to rent one for the day). Start off with a tropical drink in this small, tourist-friendly fishing village, then hit the water and check out the mangrove channels by day. There are plenty of islands to explore, and Cayo Mata La Gata boasts the best swimming area in the Caribbean. Pro tip: Pack a change of clothing for nighttime and experience the wonders of a Bioluminescent Bay—a rare phenomenon that occurs when microorganisms emit light into the water (think: fireflies on steroids).
Some other nearby places to check out are the Finca De Girasoles (sunflower fields), Las Salinas en Cabo Rojo (salt flats with pink water!), and Gilligan's Island in Guanica (with gorgeous clear waters and prime snorkeling). You'll want to extend your trip longer than a weekend.
MORE TRAVEL IDEAS