The Cool Girl's Guide to Florence
Because the birthplace of the Renaissance can be a bit overwhelming—if you don't know where to look.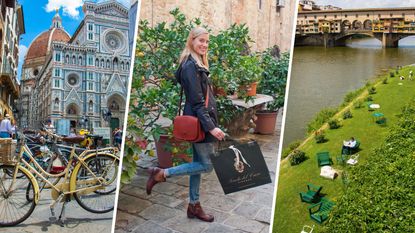 (Image credit: Marie Hennerchart)
A Walking History LessonGetting Schooled In Italian Leather500-Year-Old FragrancesShopping Local (and Hungry)
Over an al fresco lunch at a villa overlooking a vineyard (because, Florence), my Trafalgar travel director, Tony, pronounced, "In all my travels throughout Italy, Florence's people are by far the most proud." Uh huh, I mumbled through a mouthful of creamy pasta with fresh truffles. After washing it down with a superb local Chianti, I was able to properly reply: "Why wouldn't they be? This place is magical."
But then again, perhaps I thought that because of the incredibly special experience I had there. Tony, who was our guide throughout all of Italy, curated a rather exclusive itinerary for my group of seven fellow art, wine and food lovers, which made it easy to fall in love with Florence from the moment I set foot on its cobblestone streets.
Here, four of the most unique things I did while in Florence:
A Walking History Lesson
When I hear the phrase "guided tour," visions of Times Square packed with foreign tourists wearing matching shirts come to mind. Why can't I just walk around Florence on my own? I naively mused as my group assembled in front of Basilica di Santa Croce to meet Madeleine, our Trafalgar local specialist. I'll tell you why: Because the entirety of the city's amazing art, architecture and design details would have sailed clear over my head had I explored it on my own (for instance, it just so happens that none other than Michelangelo is buried under the aforementioned church). From Piazza della Signoria to Palazzo Vecchio, every square inch of Florence is packed with layer-upon-layer of history. With so many fascinating stories lurking behind each facade, it would truly be a travesty to rush through un-escorted and miss a single bit of it.
Getting Schooled In Italian Leather
A great Italian leather tote bag trumps all. I found it (and so much more, like this cheery little ostrich mini) at Scuola del Cuoio, one of Italy's oldest leather schools, housed in the epic Monastery of Santa Croce. There you can view artisans producing craft leather goods, and, if you're lucky, you'll get a chance to meet and chat with Francesca Gori, one of three sisters now running the school. She'll tell you all about her second job making hand-stitched bags and how each of Scuola del Cuoio's items can be monogrammed if you'd like, as well. La dolce vita, indeed! And while I didn't have a chance to make a purchase that day, the shop has an eComm site that I've bookmarked for future rainy-day virtual shopping.
500-Year-Old Fragrances
The Officina Profumo Farmeceutica at Santa Maria Novella is impressive for two reasons: The variety of luxurious fragrances, and the monastery where said fragrances are housed. Located on an unassuming street (blink and you literally might miss it), inside you'll find extraordinary frescos, huge vaulted ceilings, stained glass, and marble everywhere, all relics of one of the oldest pharmacies in the world, with a history going back to 1200 A.D. The menu, which ranges from perfumes to soaps, candles to lotions, and a million fragrances in between, truly has something for everyone. Two of my favorites? Santa Maria Novella's original scent (which Caterina de' Medici commissioned the Dominican monks to create in 1533) and the more masculine Tabacco Toscano. Because scent is so closely tied to memory, Firenze now stays with me wherever I go (even the sad little cubicle where I'm writing this now. Sigh.)
Shopping Local (and Hungry)
I have a little travel show in which I hit up street markets all over the world for local produce. Well, let me tell you, the Florence version—Mercato Centrale di Firenze—does not disappoint. With an indoor space for fish, cheese and every kind of meat product you can think of, as well as an outdoor perimeter filled with stall-upon-stall of vibrant, colorful produce, you can pretty much find anything you need. Squash blossoms in October? They've got it. Root vegetables in May? Of course. Everything is fresh and local, but get thee to the markets early before all the good fruits and veggies are taken! It was here that our Trafalgar host, Chef Libero, insisted I try a Florentine specialty: A version of stewed tripe (aka, cow stomach) served with crusty bread. And despite the fact that I hadn't eaten meat in 12 years, I must say it was delicious — a salty, rich broth with some slightly chewy meat. Hey, when in Rome...err Florence.
For more on Florence, watch the video below:
Follow Marie Claire on Facebook for the latest celeb news, beauty tips, fascinating reads, livestream video, and more.
Marie Claire email subscribers get intel on fashion and beauty trends, hot-off-the-press celebrity news, and more. Sign up here.