7 Dreamy Memorial Day Getaway Hotels To Book Now
From the Napa Valley of the East to the waters of Palma de Mallorca, these are the places you should stay.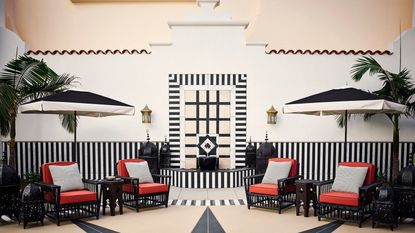 (Image credit: Courtesy of Hotel Californian)
Belmond Cap Juluca
AnguillaHotel Californian
Santa Barbara, CARoxbury Motel
Catskills, NYSound View
Greenport, NYThe Wauwinet
Nantucket, MAHotel Mamá
Palma de Mallorca
Zero George Street
Charleston, SC
Traveling for Memorial Day is always hectic, but we owe ourselves a reward for making it through these increasingly erratic winters. Some of us spend a good portion of the day daydreaming about being anywhere that isn't here—especially when that anywhere comes with room service, sandy beaches, and vibrant sunsets.
Our editors are frequently on the move, traversing the globe in search of beauty, so we know a great hotel when we see one. So if you're planning to get away for the long weekend, you can't go wrong with any of the suggestions below.
Belmond Cap Juluca Anguilla
A perpetual catalyst for arguments between my wife and me is my disinterest in traveling great distances to simply sit on a beach. There better be a da Vinci and or phenomenal street food at the end of the rainbow if I'm to endure the excruciating pain of going through airport security. At least that was until 2017, when Belmond bought a hotel in Anguilla, the Caribbean island—and arguably the world's most beautiful tax haven—whose capital bears the world's coolest name for a city: The Valley. When Belmond adds name and $120 million for renovations, to a property, it's worth a few barefoot strolls through the x-ray machine. (I wrote about my stay at Villa San Michele, in Florence, which any seeker of luxurious accommodations should make a summer pilgrimage there.) The 108-room Cap Juluca sits on Maundays Bay and features all the trappings of an island resort, including a world-class spa, infinity pools, and tropical gardens. The thing that sets this place a part, however, is Belmond's inimitable service. End of argument! —Charles Curkin
Hotel Californian Santa Barbara, CA
For some people, a rooftop pool with a 360-degree view of Santa Barbara and the nearby Pacific ocean might have been the clincher. Others (including devotees of that 1970s band, the Eagles) might be drawn to the name. But the 121-room Hotel Californian had me at the tiles. Not just any tiles—these babies are from Morocco, and they have been deployed here with major glamour and in all their geometric glory by the ultimate Hollywood interior designer, Martyn Lawrence Bullard. The L.A.–based designer, whose clients include Kylie Jenner and multiple Kardashians, last year unveiled his refresh of the 1925 Spanish Colonial hotel, complete with a Moroccan-style blue-and-white spa and a red cocktail bar. When I was there with my family last year, we ran into RuPaul in the lobby. The location, a block from the beach and in the midst of the city's Funk Zone, could not be beat. Plus, one of my favorite handmade fabric lines, Sally McQuillan's Raoul Textiles, has a fabulous home décor workshop and showroom practically next door. (And don't miss pizza and amazing salads around the corner at Lucky Penny.) Oh Hotel Californian. If only you could never check out!—Ingrid Abramovitch
Roxbury Motel Catskills, NY
While the "borscht belt" of The Marvelous Mrs. Maisel is no longer, the expansive scenery and fresh air of the Catskill Mountains of Upstate New York are still great reasons for a weekend getaway. Situated in the historic eponymous town, the Roxbury Motel offers a kitschy twist on the Catskills experience with its lavishly decked out rooms that pay homage to some of film and TV's most iconic characters. Fun room themes include The Wizard's Emeralds, complete with yellow brick road; The Shagadelic, an Austin Powers-themed 1960s love shack; and the cheerful Partridge Nest, which incorporates the 1970s TV family's Mondrian-esque bus design on its walls. The Roxbury also has two buildings dedicated to its Shimmer Spa, for a little—or a lot of—pampering after a day's hiking on the nearby trails. —Lillian Dondero
Sound View Greenport, NY
A veritable Napa Valley of the East Coast, the North Fork of Long Island boasts more than 25 vineyards—among them Bedell Cellars and Raphael Winery—all within an easy train or car ride from New York City. If you're looking for a great home base from which to embark on your wine tastings, you would be hard-pressed to find a more relaxing or elegant option than the Sound View. Nestled on a quarter mile of private beach on the Long Island Sound, a few minutes by car from the main center of the town of Greenport, Sound View dates back to 1953 and was recently renovated by the Brooklyn-based Studio Tack. The 55 waterfront guest rooms feature Waterworks fixtures, custom cedar shiplap walls, recycled flooring by Capri, and bedspreads by Quiet Town Home. And don't miss one of the hotel's eateries, The Halyard. —Vanessa Lawrence
The Wauwinet Nantucket, MA
I live with my sister in a teeny, tiny New York City apartment, and (surprisingly enough) we still like each other enough to vacation together. There are a few destinations on our long-weekend-getaway list, but for Memorial Day weekend, Nantucket is the winner. It's only a short flight away and it ticks all the right boxes. The island is slightly isolated but not altogether remote, with charming cedar-shingled buildings and dune-backed beaches with the historic Wauwinet being its finest hotel. The historic inn, which originally opened in 1875, just underwent a multi-million dollar facelift, making for 32 guest bedrooms and cottages that are as luxurious as they are cozy (but not cozy in a cramped-New-York-apartment sense). The four-poster beds are topped with Italian linens; the spacious bathrooms feature walk-in showers; and I have a feeling that if my sister and I permanently moved into The Wauwinet, we'd never argue again. Come Memorial Day, you can find us lying side by side on blue-and-white striped beach chairs with lobster rolls in hand. —Samantha Swenson
Hotel Mamá Palma de Mallorca
After falling in love with Palma de Mallorca two years ago, it has become my not-so-secret travel recommendation to all of my friends. There's so much to love and it really doesn't take a long time to get there. The stunning Jacques Grange-designed Hotel Mamá is the perfect home base in the heart of the city's historic district. Start your day there with breakfast on the patio of the Cappuccino Grand Café and perusing the hotel's incredibly vast art collection. After a long day of shopping and museum-hopping (there will be a lot of both!) relaxing by the rooftop pool is key, or even better, book yourself a massage in the Moroccan Hamman-inspired spa. Then it's off to dinner under the stars in the hotel's courtyard at Bodeguita Picador which is the perfect finale. You'll fall asleep dreaming of ways to never leave this incredible island. —Jennifer Donnelly
Zero George Street Charleston, SC
Having grown up in the South, I'm of the belief that afternoons are best spent sipping sweet tea on a front porch listening to a symphony of buzzing cicadas at dusk. Needless to say when it comes to weekend holidays, there's no place I'd rather be than roaming the cobblestone streets of Charleston. I'm completely smitten with the Zero George hotel for its impeccable design and attention to detail. From the enchanting courtyard garden and breezy veranda to the beachcomber bikes on hand for guests, this quintessentially low-country hotel feels instantly like home. —Laurel Benedum
For more stories like this, including celebrity news, beauty and fashion advice, savvy political commentary, and fascinating features, sign up for the Marie Claire newsletter.
RELATED STORIES
Marie Claire email subscribers get intel on fashion and beauty trends, hot-off-the-press celebrity news, and more. Sign up here.