Where to Stay, Eat, and Explore in Dubrovnik, Croatia
From Baroque architecture to the sparkling Adriatic Sea.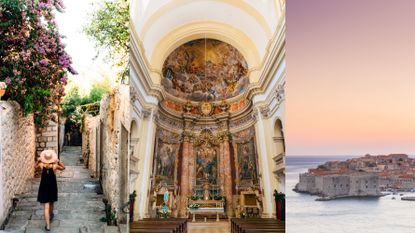 (Image credit: Getty)
Marie Claire Newsletter
Celebrity news, beauty, fashion advice, and fascinating features, delivered straight to your inbox!
Thank you for signing up to Marie Claire. You will receive a verification email shortly.
There was a problem. Please refresh the page and try again.
Dripping in so much beauty that it's almost dizzying, it's no wonder that Dubrovnik has long lured the likes of royalty. (Richard the Lionheart is said to have been saved here in 1192, Elizabeth II vacationed here in the early '70s, and Queen Bey and Jay-Z have epic yacht photos here from the early aughts.) And while Dubrovnik is certainly no longer a well-kept secret of savvy jet-setters—what's that HBO show called again?—the medieval walled city and its dramatic cliffside surroundings remain unfailingly dreamy.

Considering the UNESCO World Heritage site's delectable offerings of fresh seafood, wildly underrated wine, and endless views of the sparkling Adriatic sea, Dubrovnik is best savored as a long weekend rather than a one-off port of call. My boyfriend and I visited for five days in July and could've easily stayed a few more...or forever. Here, everything to see and do in Dubrovnik.
Where to Stay
Hotel Excelsior
Where better way to live out your Game of Thrones fantasies than in the UNESCO-protected castle-turned-hotel where the cast stayed during the final season of filming? Hotel Excelsior is a 106-year-old property that underwent a head-to-toe revamp in 2017. Situated atop the Adriatic Sea, the hotel is a short 7-minute stroll away from Ploče Gate and is equally suited for guests eager to explore and those looking to completely unwind.
The property has hosted Elizabeth II and Elizabeth Taylor, so you can expect top-notch service and sophisticated furnishings at every turn. We were upgraded to an executive suite in the newer 20th century tower, which featured a huge living room adorned in punchy, modern furniture, two bathrooms, and a sweeping terrace. It remains one of the nicest hotel rooms I've ever stayed in.
Villa Dubrovnik
A bit further from old town, Villa Dubrovnik is the city's most luxurious hotel offering, with sleekly minimalist decor and unrivaled service. Built into a cliff, all six of the resort's suites and nearly all 50 guest rooms feature floor-to-ceiling windows that open up to spacious terraces with sea views. The vibe throughout the chic, airy property is sophisticated tranquility from day to dusk. Breakfast at Villa Dubrovnik, served on the restaurant's terrace, is a practically an art installation, where reflections off the Adriatic Sea illuminate the terrace's white umbrellas, making every plate looks like it's straight out of a fantastical Rodarte campaign.
It'd be easy to spend your whole vacation at Villa Dubrovnik, and if Dubrovnik wasn't so magical, you'd be excused for doing so. The property houses a library of design books, a spa (complete with an indoor pool, sauna, and gym), and a sunbathing platform built right into the rocks. Be sure to utilize the hotel's complimentary shuttle bus and speed boat services into Old Town when you feel like exploring.
Where to Eat

Restaurant Pjerin
Villa Dubrovnik's Michelin-starred Restaurant Pjerin offers sweeping views of Old Town, posh cutlery, and, most importantly, an unforgettably drool-worthy Mediterranean dinner menu. At our waitress's suggestion, I ordered the grilled octopus and had to fight the urge to lick my plate. Notably, dinner concludes with three complimentary chocolates, each of which is a smooth delicacy worthy of being slowly savored.
360 Dubrovnik
360 Dubrovnik has long been considered the creme de la creme of Dubrovnik fine dining. Also Michelin-starred, the elegant restaurant offers two a la carte options, as well as a tasting menu with wine pairing that showcases blends and structures from around the region. (Our third course, a cod fillet, was paired with a Slovenian wine from a label named Angelina, and remains the best white I've ever had.) The tasting menu is roughly $130 USD per person, including wine and dessert, an opulent treat.
BOWA Dubrovnik
Technically located in the nearby Elaphiti Islands, BOWA Dubrovnik takes the concept of al fresco dining to a whole new level. The posh beach restaurant is located on its very own island, reached only by boat. Come for the tasty seafood and stay to sunbathe at the property's private pebbled beach. Be sure to bring sunscreen, as there aren't umbrellas.
Nishta
For something lighter (and less wallet-slimming), Nishta is an unassuming café in Old Town that serves a rotating daily menu of vegetarian and vegan options. Dishes include peppery tomato and celery soup, sweet potato spaghetti alfredo, and beetroot daikon carpaccio.
What to Do
Beyond walking around Old Town's world-famous walls and taking the cable car to the top of Mount Srđ (both of which are touristy, but still absolute must-dos), Dubrovnik offers a host of under-the-radar gems and experiences.
Marvel Over Baroque Architecture
Dubrovnik is home to a handful of spectacular houses of worship—some of which date back to the 1300s, and all of which are worth stopping into, should services not be in session.
The Dominican Monastery, completed in the 14th century, is arguably the most famous sacred site in Old Town. It is strategically placed in the city's northeast corner for defense amidst times of conflict. The Church of St. Blaise, located in Luza Square, is dedicated to the patron saint of Dubrovnik. St. Blaise has a fascinating history and a gild statue that adorns the Venetian-style alter, which, according to Lonely Planet, is the city's most valuable piece of work. Meanwhile, the Church of St. Ignatius houses the city's oldest bell, cast in 1355.
Dubrovnik is also home to Old Synagogue, the world's oldest Sefardic synagogue that's still in use today. Believed to be the second oldest synagogue in all of Europe, the magnificent Baroque-style synagogue is decorated with Moorish influences and Florentine-style chandeliers. Jewish Dubrovnik offers walking tours focused on the history of Dubrovnik's Jewish community from the 1300s to today.
Charter a Boat
One of the best ways to experience the beauty of the Dalmation Coast is by boat. If only there was a mechanism to charter a speedboat that could take you exactly to where you want to explore with just the tap of a finger... *TA-DA!* UberBOAT is a thing that actually exists, and it is a game-changer. Unveiled in 2017, UberBOAT offers two types of trips: Transfers from the mainland Croatian cities of Hvar, Split, and Dubrovnik, and half-day and full-day excursions.
We opted to try out UberBOAT for a half-day excursion, and it was sublime. We began by going to the famous Blue Cave, accessible only by swimming. Next, per our captain's recommendation, we headed to the car-free island of Lopud, where an unassuming path led us to a tiny, beautiful stone church and panoramic views of Sunj Bay. Our final stop was BOWA Dubrovnik for lunch.
Not for the faint of funds, a full day of boating can set you back $1,097, but split between a group of friends (UberBOAT can accommodate up to 8 guests), it becomes a more reasonable option. UberPools (as in the traditional shared ride experience) with itineraries are an option for solo travelers and couples.
Peruse Art at the Museum of Modern Art Dubrovnik (MOMAD)
Situated directly across the street from Hotel Excelsior, MOMAD spans four lofty floors and nine rooms of exhibition space. Housed inside what was originally built as a residential mansion for Dubrovnik ship owner Božo Banac in the 1930s, the neo-Renaissance-meets-Gothic building makes for a stunning space to peruse art, and the views of Old Town get better with every floor. Be sure to check out the enormous plaza on the rooftop.
Watch Daredevils Dive Off A Cliff
Tucked into a cliff in Old Town lies Buza Bar, a hole-in-the-wall bar serving cold drinks and ice-cream. A popular haunt for risk-averse tourists, people come here to watch the brave dive into the Adriatic Sea, which I estimate is about 20 meters below. Finding the unmarked bar is part of the adventure, and whether or not you're planning to actually dive in yourself, you can expect heart palpitations. (I saw a highly intoxicated girl standing at the top of the cliff, deliberating whether or not she should dive, an aloof friend in tow with an iPhone out, presumably ready capture content for social media. The girl ultimately wound up diving in and was thankfully fine, but watching the ordeal unfold was enough to make my stomach turn.) If I may offer some free, unsolicited advice: Do not jump off a cliff for Instagram.
Frolic In A Beautiful Arboretum
Game Of Thrones fans will instantly recognize the Trsteno Arboretum as the Tyrell Gardens featured in the third and fourth seasons. Established in the 1400s, this historic botanical space is reportedly the oldest arboretum in this part of Europe. The arboretum is located 15 miles northwest of Dubrovnik and is reachable by bus or Uber. Info about visiting the "Gardens of Peace" (as they've long been nicknamed) can be found here.
Pro Tips
Dubrovnik is home to the only airport I think I'll ever describe as delightful. There's a leafy park just outside the main terminal where fliers fearing the wrath of missing a budget flight can relax when they arrive to the airport humorously early.
Peak tourist season runs from July to August. If your schedule allows for a visit in shoulder months, you'll be more likely to find lower hotel rates, cheaper flights, and an emptier Old Town, while still enjoying warm temperatures and being able to swim in the Adriatic.
Dubrovnik is a city that sleeps in. Setting an early alarm (think 7 a.m. or so) is well worth it for the gram to be able to have Old Town all to yourself before the crowds and cruises roll in.
For more stories like this, including celebrity news, beauty and fashion advice, savvy political commentary, and fascinating features, sign up for the Marie Claire newsletter.
RELATED STORIES
Celebrity news, beauty, fashion advice, and fascinating features, delivered straight to your inbox!
Jaimie Potters is the Commerce Content Manager at Hearst Magazines Digital Media, where she covers fashion, beauty, tech and more.