Virtual Vacations You Can Take Straight From Your Couch
Brb, taking a tour of Buckingham Palace.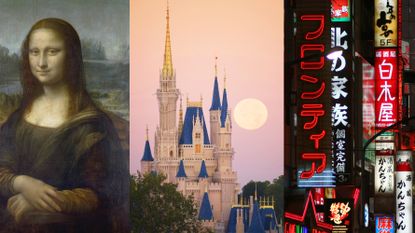 (Image credit: Getty Images)
Stay-at-home orders have restricted most of our travel, but tapping into our wanderlust isn't entirely impossible. With a growing number of virtual experiences (opens in new tab) (and a solid wifi-connection), your home can be a portal to far-flung destinations. Take a virtual trek through Machu Picchu, uncover the royal rooms of Buckingham Palace, or grab a fruity umbrella drink for a few hours on the beaches of Aruba. Armchair jet-setting may just become your preferred method of travel. After all, no packing required.
Take a quick trip across the pond and find yourself inside the home of our favorite matriarch, Queen Elizabeth II. Upon entering the national treasure, you'll have access to the Grand Staircase, the White and Blue Drawing Rooms, and the majestic Throne Room.
Visit Buckingham Palace (opens in new tab)
Stop at the Louvre and the Eiffel Tower
One bonus of virtual traveling? No lines to enter a city's most popular tourist destinations. During your virtual tour of Paris' famed art museum The Louvre, get up-close and personal with the Mona Lisa herself, and take a peek at the museum's alternate exhibition and gallery offerings. Afterwards, climb to the top of the Eiffel Tower thanks to Google Arts & Culture (opens in new tab) for panoramic Parisian views.
Visit the Louvre (opens in new tab)
Take a Trip to Japan
All you need is a smart phone to experience Japanese culture from your couch. Experience the colorful surroundings inside some of Japan's unique cafés and the bustle of Tokyo's largest gaming arcade. Afterwards, visit the Tokyo Tower, ride in a rickshaw, and visit a local sushi shop.
Visit Japan (opens in new tab)
Experience Disney World
You can still feel the joy of Mickey Mouse...even in quarantine. Take a ride on Frozen's Ever After at Epcot or take an under-the-sea journey alongside Ariel from The Little Mermaid. Visit Magic Kingdom, Disney's Animal Kingdom, and take a 360-degree tour of Walt Disney World complete with shows and hotels.
Visit Disney World (opens in new tab)
Explore Yellowstone National Park
Embark on a scenic virtual journey through Wyoming's Yellowstone National Park. Explore the Upper Geysers, various hot springs, even a mud volcano, all while learning about the park's history, terrain, and wildlife. This virtual experience is so informative, you can play tour guide on your next IRL visit. (Yes, you'll eventually make it there!)
Visit Yellowstone (opens in new tab)
Climb Machu Picchu
Take a trip to Peru to experience one of the new seven wonders of the worlds: the Incan ruins of Machu Picchu. In fact, those who suffer from altitude sickness may actually prefer the virtual route. Walk up to the highest point of the peak to explore the Temple of the Moon, peer out over the valley, and take in the Urubamba River. You can even spend one-on-one time with some of Machu Picchu's cutest locals, the Alpacas.
Visit Machu Picchu (opens in new tab)
Relax in Aruba
Get your dose of vitamin D with this virtual tour of The Happy Island—one of the Caribbean's most revisited destinations. Look out over white sand beaches and experience virtual windsurfing on the iconic turquoise blue waters. Alternatively, head into town to visit Aruba's famous landmarks and colorful Dutch architecture.
Visit Aruba (opens in new tab)
For more stories like this, including celebrity news, beauty and fashion advice, savvy political commentary, and fascinating features, sign up for the Marie Claire newsletter.
subscribe here (opens in new tab)
RELATED STORIES
Sara Holzman is the Style Director at Marie Claire, covering runway trends and tracking down the latest finds to buy and wear. When she's not writing about fashion, she pens about the best places to jet-off to. Over her six years with Marie Claire, Sara has reported on the ever-evolving world of fashion— covering both established and emerging designers within the industry. Sara has held fashion positions at Lucky and SELF Magazine and was a regular contributor to Equinox's Furthermore website, where she wrote across their style, wellness, and travel verticals. She holds a degree in Journalism from the University of Missouri, Columbia, and currently resides in Manhattan. Follow her along at @sarajonewyork.