The Amazing Race
One husband-and-wife team competed in a 150-mile race across New Zealand, but that wasn't their real adventure.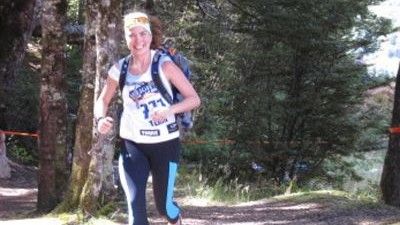 (Image credit: Mary Ashley)
The night before the race, my husband, Brad, and I are so nervous we can barely talk. Tomorrow, I have to run 21 miles over New Zealand's Southern Alps with two ways out: on foot or by helicopter. Terrified, I go into the bathroom and stifle sobs. What if I get lost, break an ankle, or don't finish after coming this far? We're a relay team, and Brad has to kayak 42 miles. He hasn't kayaked in weeks. What if he drowns? We have two boys. What were we thinking?
The race was Brad's idea, a romantic adventure he'd been pondering for years. He'd often had these plans, but this time he was persistent. The Speight's Coast to Coast, a multisport, two-day adventure race, crosses New Zealand's South Island on a 150-mile course. I'd do the mountain run and he'd kayak, with additional running and cycling for us both. Brad knew that New Zealand was a life-list destination for me, and he said it could be the honeymoon we never had, a fact I ribbed him about endlessly. Just like a honeymoon ... except for the 21-mile mountain run.
I agreed, thinking we'd never do it. As summer began, I'd take casual runs. I talked about the race, realizing too late I was committing myself by telling people. Finally, my friend Julie narrowed her eyes. "You'll have to train for those distances, you know." She was right. If I was doing this, I needed help.
When I met a fit-looking woman named Jeanette at the local bike store, I thought, Shit, I want to look like that. An amateur triathlete, she was balancing kids, work, and training — she could get me ready by February. Together, we made a weekly plan: six days of cycling or running plus weights. It was a relief to be told what to do, and reporting back to her kept me motivated.
Morning has never been my best time, but by fall I was rising at dawn. I borrowed a road bike and learned to ride it, watching the sun rise over the Hudson River, rowers in their sculls. The time to myself became its own reward; I was finishing something before most people were dressed, amazed to find myself running 10 miles, then 12. I was getting fit. And I was gathering supporters. My neighbor Kathleen, a cyclist and runner, often came with me. Mornings when I wavered, I'd get a text: "What's on today?" Sometimes Nicole, a fellow mom, came too.
Training alone, Brad had started out confident. But the white-water kayaking was a huge challenge. At the first lesson in October, he lost his wedding band in the river and was utterly demoralized. While the loss seemed ominous, in that moment, I felt determined. "You have to go out next weekend," I said. "You have to try again." We were seeing less of each other, but we had more to discuss: running routes, workouts, a ridiculous neon-green biking outfit I'd seen. One night I said, "Want to see my new favorite sit-up?" We laughed at the fitness nerds we'd become.
By Thanksgiving I'd lost 6 pounds, and Brad was starting to resemble the hot guy I met at 24. I could see his hip bones again, and his long arms gained definition. We were sleeping better than we had in years, and the sex was great. We cut out alcohol, curious if we could, given family histories of alcoholism. I missed my glass of wine with dinner, but chamomile became my drug of choice. When I woke up, there was no lingering fog. I had more patience. And my metabolism shifted: I lost 5 more pounds.
I was living in workout gear, but in January, I went shopping for party dresses at a local store. I'd started out a size 12. Now even an 8, my pre-kids size, was too big. So was a 6. Could it be? I tried three different brands to make sure. I hadn't been a 4 since seventh grade. It felt fantastic; I wanted to buy every single dress I tried on.
But that cold, dark month was hideous. I was tired, and the training was intense: two-hour runs, three-hour bike rides. When the temperature dropped into the teens, I got grumpy. I wasn't sure I'd ever be able to run 21 miles.
So Jeanette suggested I try it. In thermal pants and wool socks, Kathleen and I circled the lake in our state park, a lone ice fisherman in the middle. Kathleen's chatter got me through two laps, but then she had to leave. I ran alone, listening to my footfalls, trying to make them quick and light. I ran until I had to pick up the boys: 19.24 miles. Legs wrecked, calves and hamstrings screaming, I felt triumphant — and confident. I might actually be up to this.
A month later, Brad and I settled into Air New Zealand first-class, breaking training by accepting champagne. We clinked glasses, giddy. We were alone together, and we were on our way.
Which brings me to my panic the night before the race. At the briefing, officials had warned us the course followed two rivers. I'd have to cross them 20 times. I'd never done a river crossing, and I hadn't ever seen the trail. I told Brad it was too much; I didn't want to go through with it.
"Really? I'm so ready," he said, anxious but amped, hugging me. "You can do this." In the bathroom, I washed my face. Brad was nervous, too. He really wanted this and had asked me to be part of it. Given his jobs editing adventure travel magazines over the years, he could have brought in a ringer, or come alone. But he'd chosen me. Opening the door, I set my iPhone for 4:30 a.m. and kissed him good-night. We listened to each other breathe. I don't remember falling asleep.
The alarm went off: race day. It was misty and 50 degrees, good weather, but still dark when our rented Toyota Tacoma, manned by two assistants, pulled up to Brad's biking drop-off. This unfamiliar road was where, with a kiss, we parted ways. I momentarily panicked, but then we were off to the transition point, 33 miles ahead.
There, in a valley beneath green mountains as picturesque as I'd imagined, the mood was festive. The first group of cyclers arrived to cheers; Brad was with them. We frantically changed the bib and ankle transponder used to track our time. With a quick hug and no time to think, I ran. The sick feeling in your stomach when you're anxious? In those moments, the body needs, and is relieved by, flight. Run.
Flat pastureland flying by, I came to the first river crossing. Plunging in was a shock, but stepping carefully, with the freezing current pulling at my tights, I reached the bank. The sun burned off the mist and sparkled on the river. Race helicopters swooped above, taking photographs. The mountains rose around me, and I watched the runners ahead navigate the river. At one deep crossing, a dark-haired runner offered his arm, seeing my trepidation. I nearly cried with relief. Thinking of Brad, Kathleen, Nicole, and Jeanette, I realized I'd never understood sports until this moment. The linking of arms, their helping hands, had gotten me here.
I didn't sleep that night. In the morning, I set off to cycle Porters Pass — a trail over a 3,080-foot mountain — in frigid rain. An hour later, a hot sun and high headwinds appeared. I shed my rain gear and rode 53 miles in five hours, willing my legs to pedal harder the whole way. Reaching the last 20K, farmland dotted with cows, I silently chanted Otahuna — the country lodge we'd booked to celebrate.
Due to weather-related course changes, I was stuck stowing Brad's gear when he sprinted to the finish at Sumner Beach, a sandy, windy stretch of coast. I found him in the celebrating crowd, and we hugged. Exhausted and euphoric, we'd crossed New Zealand in 17 hours, 10 minutes, and 20 seconds. "I can't believe we did it!" I said, kissing him, our feet in the cold Pacific. That night, in our private Otahuna dining room, we traded stories and sipped New Zealand Pinot Noir, weary but blissful.
I thought the adventure would start in New Zealand. But the real adventure was training, making friends, rediscovering my husband. I'd worried getting up early and working out would be too hard, but no matter how cold or tired I got, I was always rewarded when I trained—by a full moon at 5 a.m., a bald eagle on the trail, or something else I found: I am an athlete. Honeymoon? Brad gave me the best eight months of my life.
Mary Ashley lives in Nyack, New York, with her husband and two sons. This month she tackles her first marathon.
Celebrity news, beauty, fashion advice, and fascinating features, delivered straight to your inbox!