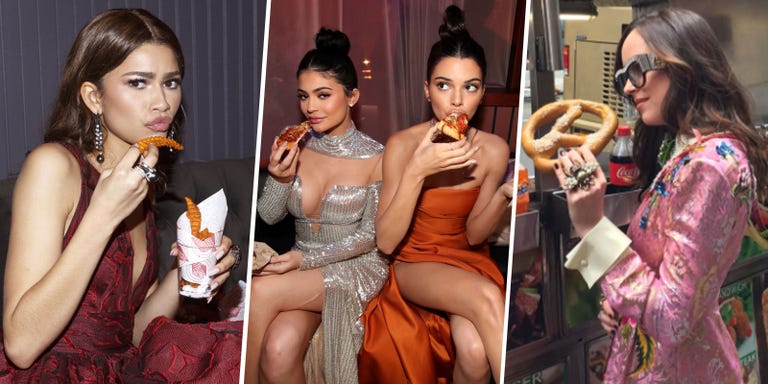 It's the oldest trick in the magazine-editorial book: Eating trash food while you're wearing couture is the ultimate high-low. Here, in celebration of that particular pairing, 27 photos of celebrities chowing down while they're dressed up.
Nothing gets between her and her ice cream—not even skintight Alexandre Vauthier.
Eating: mac and cheese. Wearing: Her post-VSFS finery.
The only appropriate response to a surprise! burger!
Casual Oscar burger-side.
When I am famous, I will gave in my rider one (1) lighting crew whose sole job is to make sure I can eat my burgers in the most flattering surroundings possible.
More pizza, accompanied by a slit up to there.
If I had to guess, I would say that is chocolate.
When you realize you should've taken the risk and added more extra fries to your carton before handing off the less-full one to your little brother.
#canteatfastenough, the hashtag for my wedding, which is really just me eating pizza alone.
Don't drip, don't drip, don't drip.
Double-Double (animal style) or nothing.
Good move keeping the ketchup safely contained.
No truer fact than that hashtag.
Practice safe ice-cream eating—use a bowl.
Worth having to reapply lipstick.
Give the event planner a raise.
Hey, Donatella—How do you feel about doing Versace-branded franks? 💡
Only a true professional wouldn't get mustard on her cuffs.
ALL THAT WHITE IS GIVING ME SAUCE-INDUCED ANXIETY.