24 Hours With Jodie Comer
The Emmy winner and face of Noble Panacea talks skincare, her personal soundtrack, and the end of Killing Eve.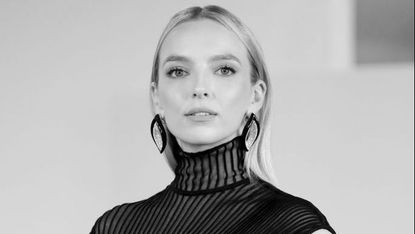 (Image credit: Vittorio Zunino Celotto)
Marie Claire Newsletter
Celebrity news, beauty, fashion advice, and fascinating features, delivered straight to your inbox!
Thank you for signing up to Marie Claire. You will receive a verification email shortly.
There was a problem. Please refresh the page and try again.
Welcome to Beauty Around the Clock, Marie Claire's peek into the daily lives of some of the most game-changing women in their industries. Ever wonder how they get it all done in a day? Here's your answer.
---
Villanelle, everyone's favorite assassin from Emmy magnet Killing Eve, wears—quite literally—many hats. She assumes a new identity with every kill, accent and all. But the woman who's actually morphing into a new character nearly episode is Jodie Comer, so it's understandable that she leaves the house with a wet head most mornings and jams to Fleet Foxes to decompress. Here, the actress walks us through 24 hours in her world.
Rise and Shine
I wake up around 5:00 a.m. and have a nice large glass of cold water. I'll give my face a good cleanse, and then I usually try and get my workout done before I film.
Morning Boost
Coffee is a must when I'm filming, for sure. I'll just have a black coffee in the morning, or if I'm going to a bougie coffee shop, then I'll have my cappuccino. Breakfast depends: I've been getting food deliveries while I'm filming, just to try and stay healthier than what I would if I was left to my own devices.
Sweat Sesh
I do Pilates over FaceTime with my teacher, and I find the great thing about doing it in the morning is by the time you get to the afternoon, you've completely forgotten that you've done it, and it just wakes me up for the day.
A.M. Skincare Routine
I really love using coconut oil to cleanse, but what I realized is I can kind of go overboard with that—I feel like you need just the tiniest bit when washing your face. If I've had like a long day filming the day before, then I'll probably head towards some sort of balm because eye makeup can be brutal. I hate when you wash your makeup off the night before, and you still wake up with the panda eyes the next day.
If my skin is particularly dry, I will always go straight to my Noble Panacea The Brilliant Prime Radience Serum. It's such a perfect consistency for hydrating but not feeling overbearing on the skin. I think sometimes if I put [heavier] things on my skin and then I workout, my T-zone has a tendency to get quite clogged, so this feels like the perfect in-between texture so that doesn't happen. After that I use the Radiance Resilience Moisturizer. I love the consistency of it, and it's great for on the go. If I'm in a rush in the morning, it's something I could easily do in the car, and it includes daily doses so you're not wondering whether you need to use the product sparingly. In the winter, I'll use an eye cream more, because I need all the help I can get.
Hair Sitch
Usually if I've done my workout in the morning, I'll wash my hair and then leave it wet, so I'm generally kind of low maintenance like that. I'm terrible. I mean, my driver, Sam, will vouch that he sees me every day with a wet head when I come out my front door. So, when he sees me when I've actually made an effort, he's like, "Oh my God, you look so different." If I'm going out for the weekend, I use some sort of salt spray or a really, really lovely leave-in conditioner by Kevin Murphy, which gives my hair a nice wave. I always leave getting ready to the very, very last minute, which never works in my favor, but it just seems to be who I am.
Shop Comer's Morning Routine:
Morning Glam
At the minute, I'm in London filming Killing Eve, so I'll have my makeup done [on set]. But if it's my own routine, Burberry and Hourglass have great go-to foundations. You can kind of pick and choose kind of how much coverage you want, and I tend to like something kind of sheer and dewy. I like a good eyebrow gel, too, and I find MAC's clear gel is probably the most heavy duty I've found. I like my brows to the stay in place. If I'm running around everywhere, I'll usually pick a creamy lip shade that I can also rub on my cheeks, like Burberry's lip colors. And I love good eyebrow curler: Kevyn Aucoin has the most amazing one.
Shop Comer's Makeup Routine:
End of an Era
We're just about to start filming the final two episodes—it's crazy that we're nearly at the end. I feel all the feels. Ultimately, I am really sad. I've always relied on that comfort of saying, "Oh, I'm going to see these guys next year and we're going to hang out again for five months," so it is sad that we're not all going to be in this space again together. But part of me feels content. I mean, the saying gets thrown about everywhere, but all good things do come to an end. I'm happy that we can now focus on, hopefully, giving a satisfying and fulfilling ending for the audience—but also for the people who are creating it. I think there's always a danger of running things into the ground, and I never, ever want that for this show. So hopefully, we can be brave in our choices.
Beauty Muse
I'm just so kind of blown away by Felicity Jones. Whenever I see her on the red carpet or promoting something, I always think that she is so beautiful. [Her look is] always so effortless and so simple. I also kind of love the French beauty mentality: It's so bare and so simple, and I think there's real strength in that. I think back to my younger self and how much makeup I used to wear and how much money I used to spend on makeup, and that's fine if that's what you enjoy and that's what you want to celebrate. But I know now that I feel most comfortable in myself when my skin is healthy. I just want to put on my moisturizer and comb my eyebrows and that's how I feel most secure in myself, and I feel like the French do that really, really well.
Cheap but Chic
God, I love Homeoplasmine; it's so versatile. It's basically like a Vaseline-y kind of balm that you can put on any part of your skin when it's dry. I get quite bad dry elbows so I'll put it there, or you can put it on your lips, or you could put it on your eyelids as a kind of glossy eye that isn't tacky. A lot of TV and film makeup artists use that in their kit, and that's where I found it.
Nightly Wind Down
Music is a huge thing for me when I come home, especially when I'm filming and spending a lot of time on my own. I mean, I do like that time on my own, but sometimes you can feel like you're just kind of floating around a space. I'll take the time out to cook myself a good dinner and play something mellow like Fleet Foxes' new album or something by a band called Rhye, which I really like. I find that quite therapeutic.
Self-Care Ritual
A hot, hot bath with some bath salts, some music, and a good candle is my way of really letting go of a day. Ilapothecary has an amethyst soak and it smells like a spa. I do like to try and create my own version of a spa now, because I'm becoming more aware of self care and why taking the time out of my day to just wind down and look after myself is important.
P.M. Skincare
Before bed, my go-to is Noble Panacea's The Brilliant Overnight Recharge Cream. It just makes you wake up luminous and hydrated, and that way you feel like you've kind of already made a step in your day. There's a lot of product within each nightly dose, so you can really rub that in on your neck and your chest. That's something I've really become aware of: I think we always focus on our face, and I try and remember to not stop at my jaw line. I'm by no means up on lymph drainage and stuff, but I just find it helps to take the time to massage my face and move my face a little bit more. We focus so much in our lives about being healthy, being fit, being tone, working out, so it is kind of strange that we don't think of our face in the same way, because it's full of muscles.
Shop Comer's Evening Routine:
Lights Out
I should go to bed a lot earlier than I do— at like 10:30 or 11:00, after telling myself for two hours that I'm going to go to bed. I check my alarm at least six times to make sure that I've set one for the morning because the thought of being late gives me the worst anxiety. Then I'll spray Ilapothecary's Beat the Blues Room Spray in the air, and it just smells like heaven.
There's probably an Instagram scroll in there, so I'm not going to pretend that doesn't happen, but I'm also trying to get into a habit of just writing a couple of notes down from what's happened during the day. I was talking to my stylist, Elizabeth Saltzman, about doing press and how a lot of times you get asked questions like, "Oh, what's a funny anecdote from set?" And I'm always like, "Oh, that was so long ago. I don't remember," and then I feel like I'm kind of letting people down. And she was like, "Well just write a couple of things down. And you've always got something to go back and to remember things by." So I've been trying to do that a little bit more. Hopefully, I stick to it.
Celebrity news, beauty, fashion advice, and fascinating features, delivered straight to your inbox!
Taylore Glynn is the Beauty and Health Editor at Marie Claire, covering skincare, makeup, fragrance, wellness, and more. If you need her, she's probably roasting a chicken, flying solo at the movies, or drinking a bad Negroni at JFK.