Beauty Fails and Fixes: Summer Edition
Shocking but true: Your usual beauty regimen could be making things worse.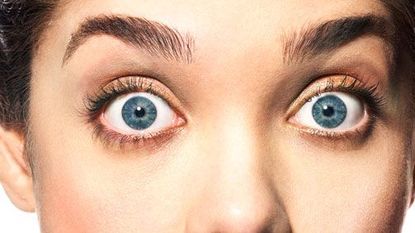 (Image credit: ARCHIVES)
We've got easy expert solutions for the complexion-ruddying, strand-frizzing hair, body, and skin blunders you didn't even know you were making.
HAIR
THE FAIL: Marcia Brady brushing

THE FIX: When hair is tangled, drawing a comb from roots to ends is pretty much the worst thing you can do. "You're tearing and pulling and making knots worse," says Los Angeles hairstylist Mark Townsend. "Clients tell me they're worried their hair is falling out, because they lose so many strands while detangling, but they're actually just brushing wrong." To keep your hair on your head—not in your brush—work upward from the ends with a wide-tooth comb or nylon-bristle brush, detangling three inches at a time.
THE FAIL: Cranking up the heat

THE FIX: If you straighten your strands with a flatiron, you know the hotter the setting, the faster the process goes. But in your heart of hearts, you also probably know ultra-high heat is likely to damage your hair. And once that happens, the sleek, streamlined look you're going for is almost impossible to achieve at any temperature. Instead, mist strands with a thermal spray like Nexxus ProMend Heat Protection Styling Spray before straightening. And switch to a styling tool with adjustable heat settings (keep the temperature at 350°F for fine hair; normal-to-thick and curly types can go up to 375°F).
THE FAIL: Deep conditioning your dye job

THE FIX: Dye dehydrates hair; conditioning it just after coloring seems like a no-brainer. But according to New York City colorist Gina Gilbert, using a rich conditioner or hair mask within two weeks of dyeing can actually cause newly deposited pigment molecules to slide right off the shaft, fading color almost immediately. A better bet? Get shine from a glossing treatment, like John Frieda Colour Refreshing Gloss ($13), which forms a seal on the cuticle to lock in the color and leave hair looking healthier.
BODY & NAILS
THE FAIL: Taking long, hot showers

THE FIX: Hot water strips oils from the skin, which prevents it from holding in moisture, explains New York City dermatologist Dr. Francesca Fusco—meaning a long, hot shower can leave your mind peaceful but your body parched. To minimize moisture loss, keep your showers to less than 15 minutes, make sure you suds up with a moisturizing body wash, and use common sense when adjusting the temperature. "It doesn't have to be icy cold," Fusco says. "But if you think the water is too hot, it probably is."
THE FAIL: Storing your razor next to your soap

THE FIX: It's hard to get a silky, bump-free shave when your tool is rife with rust and bacteria. But razors left in the shower are vulnerable to both, says Cindy Barshop, founder of Completely Bare hair-removal spas. Store your blade in the medicine cabinet. Or better yet, opt for permanent hair removal at home with a device like the Tria Hair Removal Laser. (Bonus: If you no longer need to shave, it'll be easier to meet that 15-minute shower limit.)
THE FAIL: Seesaw filing

THE FIX: Gliding a file saw-style across the tips of your nails is like teasing your hair when you're trying to straighten it. "You're shredding the layers of the nails, which causes chipping and peeling," explains Sally Hansen nail ambassador Tracylee. Instead, seal the layers of the nail together by drawing an emery board in one direction only, starting at the outer corners and pulling inward toward the center.
THE FAIL: Over-trimming cuticles

THE FIX: The nail cuticle has two layers, and no one blames you for not knowing the difference. Snipping the top layer of live skin sends the body into rapid-repair mode, leaving behind thick, leathery patches, says Tracylee. It's the dead cells of the lower layer clinging to the nail bed that you want to remove—and they may need coaxing. Massage in a cuticle remover and most of the lower-layer cuticle should loosen and rub off. You can remove any leftover bits by teasing them out and gently pinching them off with a sharp cuticle nipper.
FACE
THE FAIL: Applying eye cream right before bed

THE FIX: The goal of eye cream may be to leave you looking well-rested, but dabbing it on right before lights-out can have the opposite effect. Creams that don't absorb fully can migrate into the eyes when you lie down, Fusco explains. "This can cause you to wake up with puffy, red eyes," she says. Instead, pat a pea-size dollop around each eye at least 15 minutes before you hit the sack.
THE FAIL: Removing eye makeup in one step

THE FIX: Who needs makeup remover when a little cleanser and elbow grease will do the same job? Well, everyone, according to New York City dermatologist Dr. Joshua Zeichner. Tugging and scrubbing at the area around the eyes while washing your face can cause inflammation, which, owing to the ultra-thin skin there, leads to pigmentation and skin laxity (i.e., dark circles and heavy bags). To dissolve makeup before cleansing, use a cotton pad soaked with an oil-free formula that contains a silicone-like emollient (such as dimethicone or methyl trimethicone). Try Nars Gentle Oil-Free Eye Makeup Remover.
THE FAIL: Going big with zit cream

THE FIX: It can be tempting to bomb a giant pimple with the strongest medicine money can buy, but hold off: Studies have shown that a 2.5 percent concentration of the antibacterial ingredient benzoyl peroxide zaps blemishes just as effectively as one of 10 percent, minus the irritation. And, depending on how it's formulated, a 1 percent level of pore-clarifying salicylic acid, like that in Clinique Acne Solutions Clinical Clearing Gel, can work as well as one of 2 percent. "Some overly potent medicines inflame the skin, which can trigger oil production and additional acne," Zeichner explains.
THE FAIL: Wearing a shade-too-light foundation

THE FIX: In every high school, there was a girl who permanently scared everyone away from choosing the right shade of foundation by showing up with an orangey makeup line along her chin. So it's not surprising that most of us, given the choice between two shades, shy away from the warmer or deeper tone. But according to Chanel celebrity makeup artist Rachel Goodwin, the finely milled pigments and ultra-lightweight formulas of today's tinted moisturizers, BB creams, and foundations are much more forgiving than the ones we wore back in the day. "Many women pick a shade that's too light. If you're between two, feel free to go a little darker," she says. "What once read as orangey will look warm and glowy today."
Related:

10 Things You're Doing Wrong When You Blowdry Your Hair

10 Skin Secrets From Around the World
Hannah Morrill is a writer and editor based in Portland, Maine. She's an avid reader, an indifferent face-washer and a sunscreen/retinol evangelist.