Why Every Skincare Product Is Using *Pumpkin* to Give You the Glowiest Skin of Your Life
*Sticks head in jack-o'-lantern*
Marie Claire Newsletter
Celebrity news, beauty, fashion advice, and fascinating features, delivered straight to your inbox!
Thank you for signing up to Marie Claire. You will receive a verification email shortly.
There was a problem. Please refresh the page and try again.
As a beauty editor who receives at least a zillion beauty products a day to test, I have the privilege of watching beauty trends develop in real time. First, one or two products are released with a "unique" ingredient, like kakadu plum, or charcoal, or turmeric. That product is then randomly talked about by some beauty influencer with a ton of followers, which then spurs a few more products to trickle in, which prompts beauty editors to write about it, when then leads to that ingredient being featured in every single new product for the next year, until the whole trend dies in a big burst of fiery light. *Breathes*
RELATED STORY
And the most recent trend to hit our radar? Pumpkin enzymes. I knooow, I know; it just sounds like some trendy fad riding on the coattails of pumpkin spice lattes and Uggs and fall, but trust me—pumpkin enzymes are kind of a miracle ingredient for anyone with sensitive skin, or just any type of skin that wants to look better in general.
"Pumpkins are loaded with skin-exfoliating alpha hydroxy acids, or AHAs," says dermatologist Joshua Zeichner, MD, director of cosmetic and clinical research at Mount Sinai Hospital in New York City, "and AHAs work on the skin's surface to dissolve the connecting bonds between skin cells, which helps even out your skin tone and smooths your skin's texture."
And though, yes, any AHA will do that to your skin, like lactic acid, glycolic acid, or mandelic acid, not all of them will be slow and gentle while they resurface your face, leaving you in a murky zone of stinging, redness, and irritation. But pumpkin enzymes are especially gentle and low-key on your skin, and, as a bonus, "their high levels of vitamins A and C also help reduce skin inflammation and promotion collagen production," says Dr. Zeichner. Translation: Your smoother face will also come with a side of reduced fine lines, acne, and redness.

Basically, I'm all about the pumpkin-based products, even if they seem like a fad, and as someone with skin as sensitive and red as a newborn babe's, I'll take all the gentle smooth-makers I can get, even if it's in the form of something I'd normally slather in whipped cream. And the three products I'm stocking my bathroom cabinet with first are these excellently formulated, and top-rated, ones, below. Happy pumpkin-ing.
1. Pumpkin Enzyme Peel, $35 BUY IT
Okay, this one isn't for the extremely, extremely sensitive (looking at you, rosacea kids), since it has a touch of glycolic acid, which is one of the stronger AHAs available. It will, however, give you incredibly glow-y, soft skin, so unless you're super sensitive, we recommend keeping it on your skin for less than five minutes the first time you use it, to gauge your reaction.
2. Peter Thomas Roth Pumpkin Enzyme Mask, $58
This scrubby mask has a mix of lactic acid, one of the most-gentle AHAs, pumpkin enzymes, and little aluminum oxide crystals to gently buff away flakes as you massage it one, while leaving skin looking brighter and feeling softer after a few uses. Don't go crazy on the scrubbing, though—your skin is happiest when it's treated gently, and this mask has enough potent ingredients to do its job without ripping your face to shreds.
3. Too Cool for School Pumpkin Sleeping Pack, $20
Super-sensies, meet your holy grail skincare product. This sleeping pack—AKA an overnight face mask that's essentially just a super-rich face cream—locks in moisture with aloe and squalane, while softening skin with pumpkin extract.
Celebrity news, beauty, fashion advice, and fascinating features, delivered straight to your inbox!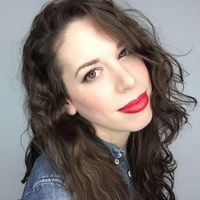 Chloe Metzger is the deputy beauty director at Cosmopolitan, overseeing the editorial content and growth strategy of the hair, makeup, and skin space on digital, while also obsessively writing about the best hair products for every hair type (curly girl here; whattup), and the skincare routines that really, truly work (follow her on Instagram to see behind-the-scenes pics of that magazine life). She brings nearly a decade of writing and editing expertise, and her work has appeared in Allure, Health, Fitness, Marie Claire, StyleCaster, and Parents. She also has an unhealthy adoration for Tom Hanks and would like to please meet him one day, if you could arrange that. Thanks.