Oil vs. Powder: This Shiny Makeup Trend Is an Actual Optical Illusion
It's called galaxy sunset highlight, and it's breaking our brains.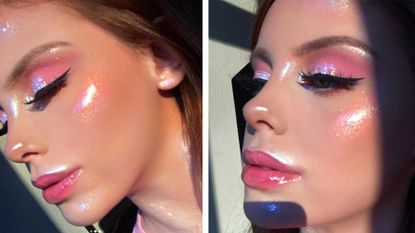 (Image credit: @thestudyofmakeup)
It's a bird! It's a plane! It's a black and blue dress that looks white and gold! Or a white and gold dress that looks back and blue! It's a world of optical illusions that make no sense, but that the internet loves! And now, we've reached the beauty equivalence of internet memes: highlighter that looks like slippery oil slicks…or maybe just super iridescent powder? Oil or powder? OIL OR POWDER?!
RELATED STORY
The look, which is fondly being called "galaxy sunset highlight," has gone viral over the last few days—not really because of its inherent optical illusion (although, like, come on, people—this shit is insane), but because the combination of insanely ethereal colors looks straight-up otherworldly.
The brains behind the look is Instagram makeup artist @thestudyofmakeup, whose entire account is filled with mind-bending highlighter pics. But her most recent pic is what's getting attention, thanks to its galactic finish. "Galaxy sunset highlight: blend orange, purple, pink, and white highlight to create a rainbow galaxy effect," reads the caption on her photo, with an additional Instagram caption of, "HIGHLIGHT TIP: Blow out highlight using bright colours to create a sunset or galaxy effect, depending on how much glitter you use."
RELATED STORIES
So, it's safe to say that the magical look is not from shimmery oil, but from meticulously layered and blended powders. According to Allure, she first blending the orange shadow from BH Cosmetics' Take Me to Brazil palette over her cheekbones, then layered on the magenta, purple, and electric blue shades, like a spaced-out gradient.
To get the super-shimmer look, though, she dusted over the high points of her face with an iridescent loose powder (Artist Couture Coco Bling), followed by the pink-toned highlighter in Lime Crime's Opals Hi-Lite Palette for the "blown-out starry look." And, for the final punch of brightness, she mixed a bit of loose highlighter with setting spray and painted it over just the top, top high points of her face for a concentrated glittery center. The result? A galactic optical illusion fit for an alien queen. Or an Insta star. Either or, right?
Chloe Metzger is the deputy beauty director at Cosmopolitan, overseeing the editorial content and growth strategy of the hair, makeup, and skin space on digital, while also obsessively writing about the best hair products for every hair type (curly girl here; whattup), and the skincare routines that really, truly work (follow her on Instagram to see behind-the-scenes pics of that magazine life). She brings nearly a decade of writing and editing expertise, and her work has appeared in Allure, Health, Fitness, Marie Claire, StyleCaster, and Parents. She also has an unhealthy adoration for Tom Hanks and would like to please meet him one day, if you could arrange that. Thanks.