The Best Floral Perfumes to Spritz
Flowers can go sexy and animalistic or fresh and airy, depending on so many factors. Here, a primer on the latest bloom-based scents.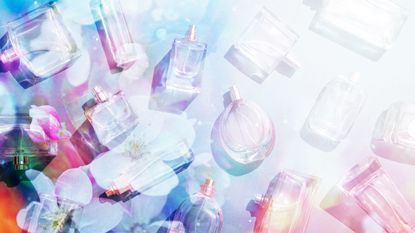 (Image credit: Studio Doros + Bridget Burns)
Marie Claire Newsletter
Celebrity news, beauty, fashion advice, and fascinating features, delivered straight to your inbox!
Thank you for signing up to Marie Claire. You will receive a verification email shortly.
There was a problem. Please refresh the page and try again.
Smelling like flowers hasn't always been cool. Some garden-variety perfumes, like traditional rose blends or heady white florals, have a reputation for being old-fashioned, even fussy. Scents like sage, patchouli, oud, and smoke are much more fashionable. Or they were. But this fall, the classics are having a resurgence. As perfume creator Frédéric Malle puts it, "These days, cool girls want the heritage thing." And in perfumery, the "heritage thing" is flowers.
The popularity of different blooms may wax and wane, but building blocks like rose, jasmine, and tuberose are always there, so anyone who thinks she doesn't like florals needs to check her preconceptions. With perfume, you simply can't make blanket judgments based on one or two things you've smelled, explains Adriana Medina-Baez, a perfumer at Givaudan and one of the cocreators of Lancôme's new scent, Idôle. "Florals are in most fragrances. You just have to find one that speaks to you and you feel comfortable wearing," she says. "Maybe you think you don't like tuberose because you smelled it in Fracas years ago, but you try Gucci Bloom and you end up liking the note because it was done differently."
No one understands this better than Michelle Feeney, who launched the fragrance line Floral Street in London in 2017 and brought it to the States this year. "When we opened our Covent Garden store, I was surprised how many consumers had preconceived ideas and would say, 'I don't like florals,'" Feeney says. She wants to prove that type of petal hater wrong: "Our perfumes aren't like perfectly arranged bouquets. They're like bunches of flowers wrapped in paper and tied with string. They're less formal, more modern."
Jérôme Epinette, the perfumer who created all the fragrances in Feeney's line, says one way he creates a 21st-century floral is by avoiding a "straight interpretation" of the flower, instead combining it with surprising notes, such as woods. "It's less literal," he explains.
And it's not just the way the notes are combined that makes them modern; it's also how the aromas are extracted and how they're replicated in the lab. Take jasmine. Back in the day, the scent most people associated with the tiny white blooms was actually jasmine absolute, a natural oil extracted from the petals with the help of solvents. "It's dark, thick, viscous, and incredibly intense. It's very sensual," says perfumer David Apel, who works for the fragrance house Symrise. But the modern take on jasmine, a synthetic note isolated from the flower's aroma, is much lighter. "It's a transparent, fresh floral somewhere between jasmine and tea. It's basically in everything these days—men's and women's fragrances—because it's so easy to appreciate. It brings a naturality that's very modern."
Even rose, that grandmotherly standby, has gotten a makeover. "The technical process of extraction has evolved over the years," says Epinette. "We still have steam distillation for rose essential oil—and the extraction by solvent for the absolute—but now you also have molecular distillation and friction distillation, processes that give the perfumer a more customized rose with new nuances." In short: A rose isn't a rose isn't a rose.
And, sure, this guide is grouped by flower, but that's just to simplify things. Your best bet? Get to the store and start sniffing.
The Note: Peony
"It all depends on the type. Peony can go spicy and floral or creamy and gourmand, like vanilla. And you have some that are fruitier, like strawberry or raspberry," says Adriana Medina-Baez, a perfumer at Givaudan.
ulta.com
Sparkling and bright with a touch of pepperiness.
ulta.com
Peony, praline, and apple give this floral gourmand a sweet twist.
sephora.com
Floral Street Wonderland Peony
Notes of guava and pink berries amp up the fruity aspects of the flower.
The Note: Plum Blossom
"It's a fruity floral with the smell of plum nectar," says Medina-Baez. "The note's sweetness is almost astringent, like sap from a freshly broken branch," says David Apel, a perfumer at Symrise.
ulta.com
The sweetness of the flower has a warmth from the musk base.
sephora.com
Chloé Love Story Eau de Toilette
This fresh floral gets a juicy, peppery quality from the plum blossom.
ulta.com
Fruity and a bit watery, like early spring.
The Note: Orange Blossom
"It's a white floral with an almost soapy quality," says Medina-Baez. "The blossoms have a hint of the fruit—citrus, slightly sweet, slightly bitter green" says Apel.
macys.com
Sunshiney freshness with a sweet dulce de leche center.
sephora.com
A clean, fresh shower of florals.
nordstrom.com
Bottega Veneta Illusione For Her
Earthy and warm with a citrus twist.
The Note: Jasmine
"It can be very different depending on the origin: The [natural] one from Egypt is much fruitier, and the one from India is much more animalic and sensual," says perfumer Jérôme Epinette. Adds Apel: "Hedione, a synthetic note that replicates one aspect of jasmine, has a transparent freshness," meaning it's lighter than the natural versions.
macys.com
Dsquared² Wood For Her Eau de Toilette Spray
In this watery floral, the jasmine reads light and airy.
louisvuitton.com
Louis Vuitton Cœur Battant
Jasmine's rich, humid qualities are livened up with pear.
nordstrom.com
Viktor & Rolf Flowerbomb Bomblicious Edition Eau de Parfum
The jasmine acts as a sensual, warm base to citrus top notes.
The Note: Tuberose
"To me, this note is over-the-top opulence. The word heady comes to mind; there's this exquisite, pervasive bloom," says Apel. "It can create a green and spicy twist," says Epinette.
sephora.com
Chanel Gabrielle Chanel Essence
Less heady than some tuberose scents, this comes off soft and radiant.
sephora.com
A powdery quality gives this tuberose a modern lightness.
nordstrom.com
diptyque Do Son Eau de Toilette
A dramatic white floral that's super sexy.
The Note: Rose
"It brings a fresh femininity to a fragrance," says Epinette. "It's often a finishing agent that perfumers use to add a sweetness and tastiness," adds Apel.
fredericmalle.com
Frederic Malle Rose & Cuir
A leather accord makes this peppery rose scent more complex.
sephora.com
Ralph Lauren Beyond Romance
Rose by way of the pastry shop, wrapped in vanilla and raspberries.
sephora.com
Soft and sweet with three different types of rose aroma.
nordstrom.com
Cartier Goutte de Rose Eau de Toilette
So feminine and natural, like a freshly cut garden bloom.
This story appears in the October 2019 issue of Marie Claire.
RELATED STORIES
Celebrity news, beauty, fashion advice, and fascinating features, delivered straight to your inbox!
Jennifer Goldstein is the former beauty & health director of Marie Claire and co-host of the award-winning beauty podcast Fat Mascara. In her quest to uncover the world's beauty secrets, she's gotten tattooed in New Zealand, dug up turmeric in India, harvested shea nuts in Ghana, and squeezed enzyme-rich eggs from salmon in Norway. She can pluck eyebrows like a pro and has read the FDA monograph on sunscreen labeling and effectiveness—but she still can't get liquid eyeliner to look the same on both eyes.