Should You Get Bangs? Celebrity Hairstylists Weigh In
We tapped experts to answer the eternal question.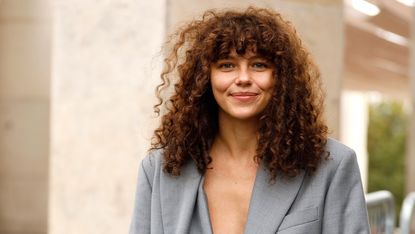 (Image credit: Hanna Lassen)
About once a year, I become obsessed with getting bangs. To me, it seems like the easiest way to completely transform your look without the need for dye, patience, or a major chop. From edgy cuts to Parisian wispy bangs, I've gone through phases of wanting them all. Sadly, the closest I've gotten were horrendous side bangs that ruined all pictures of me at age 11. Despite my years of wondering if this was the right moment to take the plunge, I keep getting scared off by stylists, friends, and my mom, all of whom brought up justifiable concerns like: "Are you prepared to style your hair every day?" "What if you get forehead acne?" "What if you look like an art student?" And the classic: "What if you hate them?"
In quarantine, a pair of hair scissors are starting to look really good. But there's a lot to consider, from hair texture to face shape to style of bang. While everyone can get bangs, you may want guidance on the style that would look great on you and is achievable with your specific hair type. There's no surefire way to know whether you should take the plunge or not, but at the very least, I thought I could introduce you to some stylists who can help answer the quintessential question: "Should I get bangs?"
Your Face Shape Should Determine Your Bangs Style
Celebrity stylist Nafisah Carter says face shapes fall into five categories, and the category yours is in should drive the style of bangs you get. "Wispy bangs are ideal for a heart-shaped face and thicker-styled bangs are perfect for a round shaped face," Carter explains. "If you have an elongated face, heavy, straight bangs, are usually the status quo and if you have an oval-shaped face, you can pretty much get away with anything!"
Though you can absolutely defy convention and ignore your face shape and get the kind of bangs you think are best, just be warned that it might not end up looking exactly the way it looks in an inspo image.
Be Realistic About Your Bangs Goals
Before you cut bangs, you need to have a good grasp of your natural hair texture and the effort that you may have to put into your new style. Carter's advice: Always embrace your natural hair so that you can imagine what your bangs will look like without styling. Even if you tend to blow-dry or use hot tools consistently, there will be days where you might not have the time, and you don't want to be disappointed by how your bangs look with minimal styling.
When trying to choose the style of bangs you want, Stylist to the stars and T3 haircare ambassador Laura Polko says that starting with longer bangs is a safe bet."If the end goal is blunt bangs, start long and move in that direction—you can't go the other way around!" This is especially true for curly hair, which should always be cut when it's dry and natural so you don't accidentally end up with baby bangs (assuming that's not what you're aiming for).
While we've traditionally seen bangs with straight hair, thankfully, more curly hair icons with bangs are stepping onto the scene, showing that straight hair does not reign supreme. So for those who may have been told that their natural hair texture won't work well with a fringe, I'm here to tell you that thick, thin, curly, or straight hair can all work beautifully for bangs.
Learn to Style Bangs
Even if you don't plan on styling your hair every day, bangs often take a bit of extra work to lay the exact way you want them to. If you're a bang beginner, Polko suggests the rough-drying method, which involves blow-drying your bangs forward and then side-to-side, so they don't split. Also, because bangs sit on your forehead, you might notice that they accumulate oil. Clipping bangs back when you're at home may help this, but a great dry shampoo or leave-in cleanser is another option to keep your bangs clean and fresh. While Carter does not recommend cutting yourself bangs at home, some hair scissors might come in handy to give yourself trims when they start to fall into your eyes.
To summarize: Bangs definitely require maintenance, but when they look good, they look good.
Shop These Styling Products
For more stories like this, including celebrity news, beauty and fashion advice, savvy political commentary, and fascinating features, sign up for theMarie Claire newsletter.
RELATED STORIES
Marie Claire email subscribers get intel on fashion and beauty trends, hot-off-the-press celebrity news, and more. Sign up here.
Tatjana Freund is a Beauty Commerce Writer, covering makeup, skincare, and haircare products and trends. She's a fan of vodka tonics and creepy Wikipedia pages.