Patrick Starrr Wants Us to Embrace Vulnerability and Fragrance-Mixing
The YouTube star, beauty guru, and founder of ONE/SIZE walks us through his daily routine.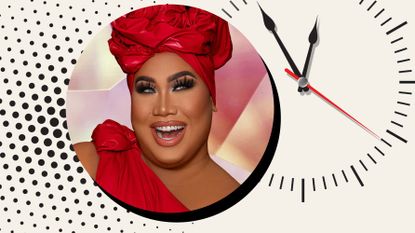 (Image credit: Design by Morgan McMullen)
Patrick Starrr, the YouTube sensation known for proudly championing inclusivity and diversity on his popular channel, is showing off his beauty skills in a whole new way. Through his new makeup brand ONE/SIZE (which just launched exclusively at Sephora) Starrr (opens in new tab) wants to emphasize that beauty is for everyone. Here, he shares 24 hours in his diva-soundtracked world.
Rise And Shine
I sleep about five to six hours. I wake up around 7:00 or 7:30 and I'll check my texts and my missed calls, because my parents are in Orlando and I live in Los Angeles. They're pretty much my alarm clock. Then I check Instagram and Twitter and then TikTok. That's literally my order of operations.
Morning Maintenance
I wear a turban, so I save a lot of time because I don't have hair and if I do, it's a wig and I secure it on with a hat. But for my makeup and skincare, I'll spend about an hour or hour and a half, blasting Britney Spears and all my divas—J.Lo, Rihanna, Mariah Carey. I love my Tatcha Cleansing Oil, morning and night. And if I have any [mascara] residue, Go Off Makeup Wipes (opens in new tab) are a must have for me.
Signature Look
If it's a Zoom call, I will just take a little bit of my Pat McGrath foundation and rub it in my hands and pat it on the skin. Then I'll add a little Benefit bronzer, mascara by Fenty, lip balm by Fresh, a MAC blush and a little bit of ONE/SIZE Point Made 24-Hour Liquid Eyeliner Pen (opens in new tab). It's my go-to.
ONE/SIZE has a beautiful eye shadow palette. The Visionary Palette (opens in new tab) is 15 beautiful eye shadows. Nine that shimmer and it's a beautiful all day, everyday palette that's truly one size for everybody. There's a beautiful black shade called Turban Legend. We have three eyeliners. The liner is what we're calling drag proof. It is matte black and does not smudge or bleed if you're in water. And it seals your false lashes perfectly and discreetly along your lash line. It's what I use it for being a full glam lover. Then, the last part of the collection is Eye Popper (opens in new tab) liquid sparkle shadows. Sparkle vision. They're one-swipe wonders to me.
Shop Patrick Starrr's Makeup Musts
Self-Care Ritual
I just got a new Alexa (opens in new tab) for my bathroom. It's just nice to power to music in the morning. It's something that really gets me going. It's either Britney, Oops!… I Did it Again or We Found Love [by Rihanna] while I'm in the shower.
Fragrance Hack
I'm am a fragrance mixer. I don't know if it's a rule breaker but I mix to get just my big signature. I love Maison Margiela Replica Flower Market (opens in new tab) or Lazy Sunday Morning (opens in new tab). I also love Daisy by Marc Jacobs (opens in new tab) and the body spray by Sol de Janeiro (opens in new tab). It's most beautiful when I'm out for a walk. It just gives me that yummy vibe.
Worth It
My Skin Better eye cream (opens in new tab) is so good.
Cheap-But-Chic
EOS lip balm (opens in new tab) is something that I can find anywhere and I have to have it in my bag. Also, Visine eyedrops (opens in new tab)—I have, like, 20 bottles just laying in the car, in each of my bags, in my closet, in my beauty kit.
Career Advice
It's truly amazing that vulnerability has gotten me thus far. People are so scared to show who they are and what they get for it. But in terms of 2020 and what's going on right now, vulnerability is one side, kindness is one side, and we can all afford to be a little bit more kind and vulnerable.
Night-Out Routine
I love to get glammed. I always take forever to get out the door. I will pick my outfit first just so I can match my makeup to it. I always look to play with my makeup in different ways, different products. Then I'm stuck with trying to find an outfit, shoes and a bag to match my face.
Evening Wind-Down
I will undress, throw on my robe from Target, put on my turban, and spray my Go Off Makeup Dissolving Mist (opens in new tab). It feels like nothing going on but you'll instantly see your makeup breaking down and it doesn't drip so your wipe can just glide on. Then I proceed with my skincare.
Shop Patrick Starrr's Skincare Picks
Lights Out
My sleep routine is just catching up on messages from fans and Twitter. I like just knowing that I did something good in the day and that people heard me or that I heard them. I like to leave little comments of fans that have messaged me.
Tatjana Freund is a Beauty Commerce Writer, covering makeup, skincare, and haircare products and trends. She's a fan of vodka tonics and creepy Wikipedia pages.