This Oral-B iO Toothbrush Has Basically Replaced My Dentist
See you next year, Dr. Schechner.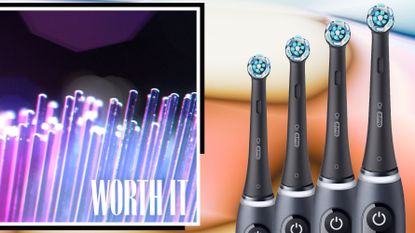 (Image credit: Morgan McMullen)
Welcome back to Worth It, a bi-weekly breakdown of the absolute best new beauty products. Sure, splurging on makeup or skincare is a risk, but trust that our beauty editors will only recommend something we wholeheartedly believe is worth every penny. Because you deserve the best of the best. Keep reading to discover the one product you do not want to miss out on, and catch up on the latest Worth It breakdown, here.
THE PROMISE
In development for six years, the new Oral B iO is aiming to be the Tesla of electric toothbrushes—combining style and substance with an almost imperceptible hum. How it does that, according to the company, is by incorporating more than "250 patents from around the world" and featuring a "frictionless magnetic drive, which distributes energy more efficiently to the tips of the bristles." Translation: The oscillating, rotating, and vibrating bristles clean and polish effectively and quietly without rattling your whole head. And the discreet round brush head hugs your teeth—especially those way-in-the-back molars—better than other designs. Meanwhile, smart sensors (dubbed artificial intelligence by the brand) track just how well you're brushing and the Oral-B app—synced to the toothbrush via Bluetooth—tracks it all and acts as your virtual coach. More on that, below.
WHY I'M OBSESSED
Ask me about gum care five years ago and I would have had zero opinion on it. I flossed. I brushed. I went to the dentist twice a year. I tried a few Crest Whitestrips along the way. Pregnancy changed all that. The hormones (including progesterone) that make your skin glow and your body stronger and your moles darker also happen to wreck your gums. Mine were swollen and red and oftentimes bleeding throughout my two pregnancies and the year-long nursing periods that followed. And, like some, er, other parts of my body, my gums will never quite be the same. (I forgive you, kiddos.) Before coronavirus put us all on lockdown, my dentist had put me on a four-month cleaning schedule. This was both costly and generally unpleasant. Lockdown gave me a great excuse to skip out on that commitment—but I was starting to pay the price: Out of nowhere, my gums started feeling inflamed and sensitive for days, sometimes weeks, at a time (a reflection of my general lockdown disposition, perhaps?). Religious flossing and brushing with another well-established electric toothbrush seemed to have little effect on my angry gums. Then iO showed up at my doorstep (literally—the company sent preview models to editors for testing).
It was not love at first sight. The box seemed excessively large and the toothbrush was stark black, in contrast to most of my bathroom essentials (it does come in other colors). There were also a lot of bells and whistles: Do I need colored lights to inform me that I'm brushing with too much pressure? Apparently, yes I do. That turned out to be one of my favorite features. A menu of brushing programs that includes Sensitive, Whiten, and Gum Care? Yep, also useful. A digital interface that smiles at me when I brush for two whole minutes? Most surprisingly, I was into this.
What I could live without, however, is the accompanying app. In fact, I'd been using the toothbrush for more than a month before downloading it, mostly to inform this story. While the app delivers reminders to reorder brush heads and tracks your brushing performance over time, I found it distracting. And the intel offered (i.e., which area I spent the most time brushing) wasn't always accurate. Maybe it's just me, but I just don't need another reason to cling to my iPhone. App aside, this product is a win: Within one use my teeth felt smooth and cleaner. Much cleaner. Within a week, my gums felt and looked calmer. And now, more than a month in, I haven't experienced one gum flare-up.
Admittedly, $200 (up to $300 for the models with more features) is a lot for a toothbrush. But when it keeps you smiling between cleanings, it's well worth it in my book.
RELATED STORY