Anastasia Soare on Morning Pampering Sessions, Stillness, and Sleep-Working
The brow boss talks coming to America as an immigrant, how Oprah became her first notable client, and why she dedicates two hours to getting ready in the morning.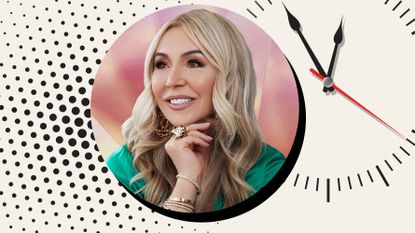 (Image credit: Design By Morgan McMullen)
Welcome to Beauty Around the Clock, Marie Claire's weekly peek into the daily lives of some of the most game-changing women in their industries. Ever wonder how they get it all done in a day? Here's your answer.
You've seen the unequivocal success of Anastasia Soare's empire, Anastasia Beverly Hills, a powerhouse brow brand she built from the ground-up. But did you know that when she first ventured to open a brow service salon, she was told no? A year of hard work and long nights was followed by a call from Oprah, who asked her to do her brows on national television. Fast-forward to now, she owns the first-ever beauty brand dedicated to brows. Below, the pioneer shares a day in her life and how she gets it all done.
Rise and Shine
I wake up every day and immediately think: The day doesn't have enough hours! I need to get started now! Out of both habit and necessity, the first thing I do is reach for my phone and check Instagram. Anastasia Beverly Hills has such a strong community on the platform and seeing the way young people are responding to and using our products is a constant source of inspiration. It's exactly how I want to begin my day.
Power Start
To me, self-care is what you need to prepare you to work your hardest. I am always deliberate about my mornings. I listen to jazz over coffee, answer emails at home, schedule my day, take phone calls, and take my time to get ready. This routine is a respite and essential preparation for whatever intensity may lay ahead.
I also like to work out in the mornings. Usually, I have a trainer come three times a week. I love that there's someone else there who pushes me to work harder and build strength. Other days, I'll do the treadmill to get in my cardio.
Morning Maintenance
I hate feeling rushed when I'm getting ready in the morning. So, I give myself plenty of time, usually two hours, to shower, run through my makeup and hair routines, and pick out the day's outfit.
I love to layer products in the morning. My skin is constantly dry, and the Dr. Barbara Sturm Hyaluronic Serum gives me an instant, unbeatable dose of hydration. I also never skip her sunscreen.
Hair Help
I only wash my hair every few days, and I use the Christophe Robin Regenerating Mask to keep is sleek and soft, and a Croc Italia Hair Dryer. If it's not a wash day, it's actually pretty quick and easy to touch up my style. I use a one-inch ghd Curve Curling Wand to create waves and body.
Signature Look
Definitely soft glam, which for me means structured brows, complementary neutrals, and glowing skin. I start with the Anastasia Beverly Hills Hydrating Oil because it gives me a quick boost of hydration, and I love to layer it under our Luminous Foundation, which is another favorite because its second skin, feather-light formula takes care of any discoloration or imperfections. Brows are always an essential. It doesn't matter what I am doing, whether I'm out wearing a mask or hopping on a Zoom call from home, good brows are so important because they instantly frame and complement the face. I've been using our new Brow Pen on repeat. It's super easy to use and creates a fuller looking brow with incredibly thin, realistic strokes of hair throughout the brow and in areas of sparseness. Our Soft Glam Palette is my go-to palette for eyes because I love the combination of transitional neutrals that can be amped up or down. Then, all I need to do is finish with the Lash Brag Volumizing Mascara. And last, for lips I have been reaching for our new Lip Stain in Dusty Rose—I love that it's matte and that it lasts all day. It has such a natural feel, you almost forget you're wearing anything at all.
Shop Anastasia Soare's Makeup Musts
Quarantine Routine
I've never been good at staying still. I'm always out, always thinking about the next three things I need to do or places I need to be. These recent months have been a master class in stillness, and my self-care has been about embracing that. I settled into a routine, found the places at home where I worked best in the morning and evening, and indulged in long lunches and dinners with my mother. Self-care is feeling like I have enough time, and that it's okay to be still.
Signature Scent
I only wear Portrait of a Lady by Frederic Malle.
Worth It
It's worth it to get your brows regularly shaped by an excellent aesthetician.
Cheap-But-Chic
OPI nail polish in Samoan Sand is incredibly chic.
Humble Beginnings
The scariest thing I've ever done was come to America. I left my family, I didn't know the language, but it was in the spirit of pursuit. I knew I wanted to be significant, to do something that I loved and that would be important. I always had an interest in beauty, but I got a job as an esthetician out of necessity. I was an immigrant, and it was work I could do without needing to speak the language. While working, I noticed a glaring gap in the market—no one was paying attention to their eyebrows. I had this stroke of inspiration that maybe the same golden ratio I learned about in art school could be applied to shaping brows, bringing balance and proportion to my clients' faces. The concept took off. And when I later realized that products for brows didn't exist either, I was excited to fill that niche as well.

There were so many hard moments, especially in the beginning. When I first conceived of brows as a separate service, the salon I worked at remained unconvinced, and I was forced to rent a room elsewhere. When I wanted to open my own salon, I stayed in the landlord's office for two hours trying to convince him to lease me the space. The days were long and grueling. I can't tell you the number of evenings I went home ready to give up, not sure I could continue one more day. And then I would wake up in the morning and start it all again. I love this Mahatma Gandhi quote: "Every night when I go to sleep, I die. And then the next morning, when I wake up, I am reborn." I always had faith in my vision, so I was never deterred by the nos. The year after the salon opened its doors, I received a call that Oprah wanted me to do her brows on live television. After the episode aired, the phone didn't stop ringing for months. In that moment, I felt I had really made it.
Career Advice
The most incredible business advice I ever received was from a trademark lawyer who told me that the best thing I could do for the brand was to make Anastasia synonymous with brows. So that's what I did.
Business Icons
I am inspired by innovators, boundary pushers, and strong, vibrant women who strive to have it all. A lot of these qualities are actually held by some of my longest clients: Oprah Winfrey, Naomi Campbell, Victoria Beckham, and Michelle Obama.
Beauty Icon
Coco Chanel—she was a revolutionary!
Bedtime Beauty
I usually spend half an hour on my skincare routine at night. I don't draw it out, but I never skip it—even if I'm exhausted. I'm diligent about taking off my makeup. I use Tatcha One Step Camellia Cleansing Oil to take the day off. After my shower, I use the Anastasia Beverly Hills Hydrating Face Oil. Then, I use the Sturm Face Cream, it's absolutely luxurious and keeps my skin moisturized all night. I do a mask whenever I have time. If I'm getting home at 11:30 p.m., it's just not happening. But usually on weekends I love to stay home and I'll throw one on. Right now, I like the Oh K! Korean Glowing Skin Gold Dust Hydrogel Face Mask and the Mediheal Airpacking Mint Wrap Mask.
Anastasia Soare's Beauty Signatures
Lights Out
I try to wind down by 11:30 p.m. and hopefully fall asleep within the hour. The last thing I do before bed is review the next day's schedule. I'm always hopeful that my mind will keep working through thoughts even as I sleep.


For more stories like this, including celebrity news, beauty and fashion advice, savvy political commentary, and fascinating features, sign up for the Marie Claire newsletter.
Maya Allen is the former Digital Beauty Editor at MarieClaire.com where she covered makeup, skincare, haircare, wellness, you name it! She has a 15-step skincare routine, owns over 200 red lipsticks, and enjoys testing the latest and greatest in beauty. On most weekends, you can find her at her happy place, which is her makeup vanity. There, she's usually blasting her speakers while singing along to lyrics at the top of her lungs, and making sure her highlighter is on point.