The 5-Minute Morning Routine with Juice Beauty Founder Karen Behnke
Her approach: clean and green, inside and out.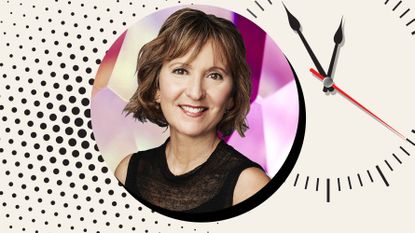 (Image credit: Morgan McMullen)
Welcome to Beauty Around the Clock, Marie Claire's weekly peek into the daily lives of some of the most game-changing women in their industries. Ever wonder how they get it all done in a day? Here's your answer.
Back in 2005, well before clean beauty—the omnipresent glossy version—became a thing, serial entrepreneur Karen Behnke founded Juice Beauty on the simple premise that organic products could and should be luxurious and highly effective. She's since helped shape the clean category with her outspoken point of view, started her own Juice Beauty ingredients farm, and picked up a few celebrity devotees along the way. Here, 24 hours in her world.
Rise and Shine
I wake up at 6 a.m. to work out every morning. After a tall glass of filtered water, I run, bike, swim or yoga for an hour every morning, often with my husband—it's really what keeps me going all day! The beautiful vineyard roads in Healdsburg, the Juice Beauty farm location, are stunning for workouts. I'm also lucky we have a saltwater, solar-powered lap pool here.
Power Start
My favorite breakfast is banana egg pancakes—a recipe from my daughter's best friend who is a UC Berkeley triathlete. I mash one banana and mix in two whipped eggs and make pancakes—with quite a bit of olive oil from the farm, plus a bit of organic syrup, organic walnuts, and organic blueberries.
Morning Maintenance
I probably have skincare down to five minutes: Cleanse with Stem Cellular or Green Apple Cleanser or Prebiotix Instant Flash Facial. Add Stem Cellular or Green Apple Serum. Then Stem Cellular CC SPF 30 Cream in Desert Glow, sometimes mixed with Stem Cellular Vinifera Oil because I'm in my 60s with dry skin.
Beauty Signature
My signature look is the black eyeliner and black mascara look: Phyto-Pigments Mascara and Eyeliner, then Phyto-Pigments Lip Crayon in Healdsburg for bright or Malibu for more neutral. No perfume, and bare nails, as I don't trust the ingredients in nail polish!
Zoom Beauty Hacks
Quick facial spritz of Juice Beauty Hydrating Mist along with a swipe of one of the Phyto-Pigments Lip Crayons next to my computer.
Karen Behnke's Makeup Musts
Beauty Icon
Kate Hudson—she really exudes beauty inside and out.
Best Advice
Follow your passion.
Hidden Talent
I'm a killer hula-hooper.
Night-Out Look
After showering, I can be ready in 30 minutes, flat. Taking off the Signature Beauty look from above, I would layer on our Phyto-Pigments Liquid Line & Define and Mascara, plus Phyto-Pigments Eye Jellies, and would definitely go brighter and more long wear with our Phyto-Pigments Liquid Lip in Gwyneth or Kate.
Glam Soundtrack
Coldplay or Lady Gaga or for my home state Michigan vibe…Bob Seger.
Evening Wind-Down
My p.m. skincare regimen is quick unless I'm masking with our Green Apple Peel. Otherwise, it's just Stem Cellular Cleansing Oil or Prebiotix Instant Flash Facial, Signal Peptides Firming Serum, and Signal Peptides Firming Face Balm & Mask and Eye Balm.
Bedside Essentials
Juice Beauty's Organic Lip Moisturizer which I wear as a lip mask at night. If I need an aromatic boost—our Green Apple Essence—a beautiful softening aromatic experience.
Lights Out
Wish I could say 10 or 11 but it's usually midnight—too late. Since COVID, my husband and I relax by watching Netflix. Then I kiss my husband and one of us says "I love you."
Karen Behnke's Skin Saviors