Actress and Model Barbie Ferreira Is Demanding Representation
The Euphoria star talks hiking, TikTok, and taking a break from glitter.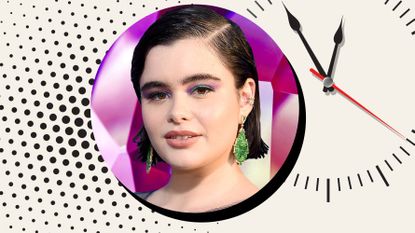 (Image credit: Design by Morgan McMullen)
Ever since starring as Kat in HBO's Euphoria, model and actress Barbie Ferreira has launched into new realms of fame. From her iconic beauty looks for events and at home, to her IDGAF attitude, Ferreira has become an icon for women and girls of all ages, who appreciate her fresh and honest perspective. Her new movie Unpregnant, a coming-of-age film that follows two young women on a road trip to find an abortion clinic, will be released on HBO Max September 10th. And as the new face of Becca Cosmetics, Ferreira has immersed herself even more fully in the beauty world. Here, she reveals how TikToks, meditation, and a skin-first approach to makeup keep her feeling sane in quarantine.
Morning Maintenance
My sleep schedule has been a thing that I have grappled with since I was very young. I just have really disturbed sleep. But lately I've been sleeping a lot. I think because I wake up a lot, I have to sleep a lot. I've been trying to go to bed early, trying to wake up early.
Signature Beauty Look
I don't wash my face in the morning if I didn't wear makeup. For me personally and my skin, I think a hands-off approach is usually the best with a little toner here and there. In the morning, I'll just do BECCA Zero No Pigment Foundation. I definitely experiment a lot, but what I usually do is one bright color on my eye. That'll pretty much be my makeup look. That, and a little highlight. I like to use a clear kind of highlight these days. Just because I'm not feeling extremely glittery. So I'll use the BECCA Zero highlight.
Shop Barbie Ferreira's Makeup Musts
Self-Care Hack
I've been trying to hike in LA, which is hard because so many people are out and I'm trying to do my civic duties as someone who is not around a million people. So I've been going on hikes in the off times of the week and making sure it's not too crowded. I've also been doing little drives to the beach with my partner and just hanging out. I mean, it's very limited. I've been playing a lot of board games and chess. Those are always fun for me.
Career Advice
You can always create your own path. For me, and I think for a lot of people can relate to this, seeing someone that looks like you is very important on TV. But it can't be the thing that stops you if you don't see yourself in it. Some people are like, "Well, I never see people like me doing this." Yeah, and someone has to change it. Don't get discouraged.
Worth It
My skin congestion is so underneath the surface and it kind of messes with my texture. So I try to get a facial every couple of months—obviously not now, but when things are smoothly running and open. When I was in New York, I used to go to Rescue Spa. That is the only place that has ever really done something to my face. I like to get expensive masks. I like using the Masque Vivant from Biologique Recherche.
Cheap-but-Chic
I like to buy cheap tools that you never even think of, like a face shaver. It just smooths out your makeup.
P.M. Routine
I usually do the Biologique Recherche cleanser and the P50 toner at night and then a moisturizer from iS Clinical. I also have a eucalyptus spray that I use on my pillows.
Lights Out
Before bed, I'm watching TikToks or reading, both equally productive, I think. I also like to do my little guided meditation. Maybe I'll astral project. Maybe I'll lucid dream. Who's to say?
Shop Barbie Ferreira's Beauty Favorites
Tatjana Freund is a Beauty Commerce Writer, covering makeup, skincare, and haircare products and trends. She's a fan of vodka tonics and creepy Wikipedia pages.