Entrepreneur Lo Bosworth Wants You to Try Fiber for Your Clearest Skin Ever
"Fiber is a critically important element in having your face glow."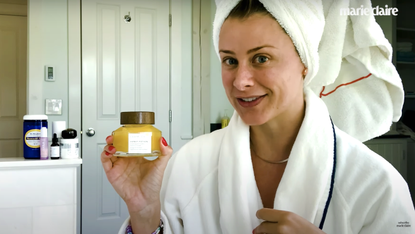 (Image credit: Marie Claire)
You might know Lo Bosworth from her time on the reality show The Hills, but of late she's been making waves with her multivitamin and health company, Love Wellness. Its latest launch, the Daily Love Multivitamins, provide an overall boost for women, combatting stress, improving immunity, and reducing uncomfortable symptoms during that time of the month. In the latest episode of Masked and Answered, the entrepreneur and TV personality talks about the key to reducing puffy eyes and how to look beautiful from the inside out.
When it's time to start masking, Bosworth goes for the Farmacy Honey Potion Renewing Antioxidant Hydration Mask. "It's awesome. It's literally sticky like honey on your face. It's very fun and it smells good, too. What's cool is that it's blended with products from bees. Honey, propolis, and royal jelly which is rich in amino acids."
When it comes to her morning routine, Bosworth keeps it low-key. "It has become much more simple over the past few years. I've really reduced the number of products I use," she explains. Bosworth uses the Dr. Lara Devgan Hyaluronic Serum for extra hydration, and the COOLA Sun Milk Drops for UV protection. She credits Shiseido Future Solution LX with helping de-puff her eyelids. "This is the first eye cream that I have actually used that helps to take the puff away."
Bosworth also takes good care of her body. Along with masking, she is a huge fan of baths, sometimes taking two a day. Before soaking, she puts Dr. Singha's Mustard Bath into the water for an extra-deluxe experience. After bathing, she loves Necessairé The Body Serum for a boost of moisture, in lieu of a greasier lotion.
Bosworth believes that beauty starts from the inside. One of her favorite supplements comes from her own brand, naturally. She takes the Love Wellness Sparkle Fiber vitamin, which comes in a convenient capsule. "We make a lot of issue-specific supplements. I take Sparkle Fiber, not only to aid with digestion and bloating, but also for clear skin. Fiber is a critically important element in having your face glow."
We love a woman who appreciates a multitasker! Watch Bosworth's video above and don't forget to subscribe to Marie Claire's YouTube channel to catch up on the latest episodes of Masked and Answered. Share your favorite mask in the comments.
Shop Lo Bosworth's Beauty Favorites
Tatjana Freund is a Beauty Commerce Writer, covering makeup, skincare, and haircare products and trends. She's a fan of vodka tonics and creepy Wikipedia pages.