These Neck and Décolletage Products Are Worth It
Plastic surgeon Dr. Lara Devgan explains why we need to pay attention to our necks.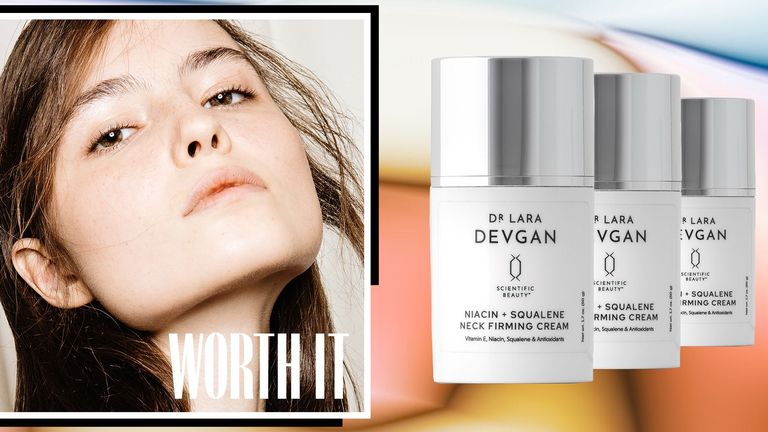 (Image credit: Design by Morgan McMullen)
If you think skincare should be applied from the chin to the hairline, I have some news for you: You need to stop neglecting your neck and chest. (opens in new tab) Not moisturizing below the chin leaves the delicate skin there at risk of early signs of aging—sagging, creasing, an all-around lackluster appearance. But do neck treatments really work? From creams to serums to masks, there are some top-notch, effective options out there. To get the 411 on neck and chest products, we turned to Dr. Lara Devgan (opens in new tab), board-certified plastic surgeon and founder of her own line, Dr. Lara Devgan Scientific Beauty, who answered all our burning questions.
Marie Claire: When should someone consider a neck cream?
Lara Devgan, M.D.: You want to treat your neck like you treat the rest of your face. The neck is a special kind of axial joint that has to move in all different directions, and that lends itself to premature signs of aging and wrinkling. So, starting a neck cream before you notice a problem can help you avoid a problem in the first place.
MC: Can I just use my face cream on my neck?
LD: Generally, the categories of ingredients are the same, but neck products can have ingredients with a higher percentage of fat-soluble vitamins, like vitamin E, and of tightening ingredients, like niacin, antioxidants, and ceramidase.
MC: How effective are neck creams compared to pro treatments?
LD: It's not realistic to think that a neck cream is going to give you the same result as a surgical neck lift. But it will add significant value in nourishing the delicate tissues of the neck, improving the elasticity, and reducing signs of aging.
Shop The Best Neck & Dec Creams
The Skin Smoother
Dr. Lara Devgan Scientific Beauty Niacin + Squalene Neck Firming Cream
For necks and chests that need help with texture and firmness, niacin and squalene improve collagen production and nourish–supple, soothed skin to come.
The Tech-Neck Savior
(opens in new tab)
StriVectin TL Advanced™ Tightening Neck Cream PLUS
Those horizontal lines across the neck from staring at your phone? You know them. This gravity defying cream tightens, firms, and smooths them out with botanical hero ingredients.
The Weekly Treatment Mask
(opens in new tab)
111SKIN Celestial Black Diamond Lifting and Firming Treatment Mask
This neck, face, and chest sheet mask lifts slack skin, treats wrinkles and lines, and leaves skin feeling smooth and cared for.
The Renewing Balm
(opens in new tab)
La Mer The Neck & Décolleté Concentrate
This intensely hydrating treatment, infused with the brand's signature Miracle Broth, firms and lifts skin while rejuvenating texture. Massage upward with the accompanying brush.
The Age-Defying Serum
(opens in new tab)
La Prairie Skin Caviar Liquid Lift
Swiss technology delivers skincare caviar that plumps the skin while simultaneously creating a lifted appearance.
The Firming Repair Cream
(opens in new tab)
SkinCeuticals Tripeptide-R Neck Repair
Star ingredients like retinol and tripeptide concentrates treat necks that develop lines and a little droop, encouraging a sharper, more lifted neck contour.
The 24K-Gold Mask
KNESKO Skin Nano Gold Repair Neck And Decollete Mask Combo
These glam neck and chest masks deliver a serum enriched with collagen, hyaluronic acid, and niacinamide to treat sun spots, dryness, and redness.
A version of this story appears in the Fall 2020 issue of Marie Claire.
subscribe here (opens in new tab)
RELATED STORY
Tatjana Freund is a Beauty Commerce Writer, covering makeup, skincare, and haircare products and trends. She's a fan of vodka tonics and creepy Wikipedia pages.