This Neck Cream Is Erasing My Tech Neck
Why StriVectin's tightening formula is worth it.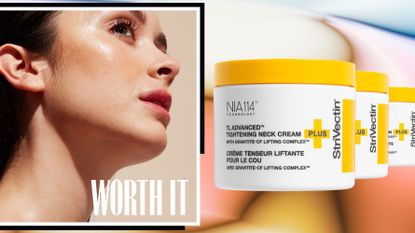 (Image credit: Hanna Varady)
Marie Claire Newsletter
Celebrity news, beauty, fashion advice, and fascinating features, delivered straight to your inbox!
Thank you for signing up to Marie Claire. You will receive a verification email shortly.
There was a problem. Please refresh the page and try again.
Welcome back to Worth It, a bi-weekly breakdown of the new beauty products I've tested and adored: I'm talking that drain-it-to-the-bottom-and-tell-my-friends-I've-found-The-One kind of love. If it's featured here, consider this my permission to splurge on it. Read on for the product you don't want to live without, and catch up on the latest Worth It breakdown here.
THE PROMISE:
No matter how young you are, the skin on your neck is poised to age quickly. It's prone to sun damage, it's got less fatty tissue which means more sagging, and fewer oil glands which makes the skin dryer and more prone to wrinkles. And tech neck? Don't even get me started. Just kidding, you already have.
This particular neck cream aims to reform the fragile skin of the neck and décoletté from—count 'em—four different angles. It visibly tightens skin, helps smooth lines and wrinkles that create that crepe-y folded texture which makes skin look older, it strengthens the skin's moisture barrier, and it also evens tone and fades discoloration. Basically, it launches a full-scale attack on anything that can make your jawline and neck look less than flawless.
WHY I'M OBSESSED:
I love my parents. They're the lights of my life. Which is ideal, since when these two decided to procreate and throw all their genes into the pool, I inherited a fairly even mix of both of them: my mom's fine hair texture, my dad's animated eyebrows, a nose that's somehow 50/50. However, there's one small trait both of them share that often I end up contouring away each morning: submental fullness, better known as The Double Chin.
While everyone has a fat pad in this area, some people are genetically predisposed to it having a fuller appearance. It's often associated with weight—and sure, weight gain or inflammation (like from a hangover) can make it more prominent—but no matter your size, if it runs in your family, yours might be more noticeable. And while I like to think I have a healthy self-image, my neck area has always been my biggest insecurity. For my entire life, I've avoided being captured from the side in photos because my soft profile looks nothing like the sculpted model jaws that are praised. Even worse, the extra folds my submental fat creates has exacerbated my tech neck, giving me what looks like two faint yet perpetual ligature marks. Kinky!

Some treatments have been developed for submental fullness, like fat-dissolving Kybella and fat transfers akin to liposuction. But I'm a baby when it comes to needles, so I've mostly relied on neck creams in an attempt to firm up my jawline, along with my neck and dec areas. And though I've tried dozens of formulas with my job as a beauty editor, I rarely find options that make a sustained, noticeable difference. But I can finally say I've found The One, because StriVectin's tightening cream works. I've been using it twice a day for six weeks, and the skin on my neck has actually changed. The tech neck marks are fainter and smoother, the skin under my chin feels firmer, and my jawline appears tighter. That area that's bothered me forever looks lifted, for once! I would have taken before and after photos if I had actually counted on this much of a difference. It's not a substitute for something more invasive, but for a little lift and some extra confidence, one jar goes a long way.

For more stories like this, including celebrity news, beauty and fashion advice, savvy political commentary, and fascinating features, sign up for the Marie Claire newsletter.
Celebrity news, beauty, fashion advice, and fascinating features, delivered straight to your inbox!
Taylore Glynn is the Beauty and Health Editor at Marie Claire, covering skincare, makeup, fragrance, wellness, and more. If you need her, she's probably roasting a chicken, flying solo at the movies, or drinking a bad Negroni at JFK.