How Zosia Mamet Built a Skincare Routine That Actually Works For Her
The actress explains how she curated her lineup with the help of dermatologist Melissa K. Levin.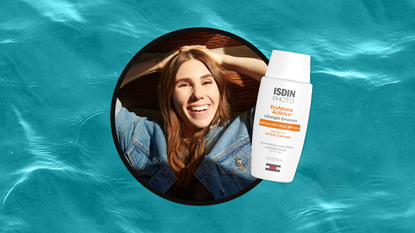 (Image credit: Hearst Owned)
Finding a skincare routine that works for you is no easy feat. Actress Zosia Mamet knows this on a personal and professional level, as her career motivated her pursuit of a better-looking complexion. "Skin is so important to me because it's such a huge part of my job," Mamet says, explaining that it can be unavoidably tied to her confidence.
Finding her go-to products was an ongoing process that she worked on with dermatologist Melissa K. Levin, M.D., who practices in New York City. It required some trial, a lot of error, and even more sunscreen. "Something Dr. Levin and I talk a lot about is taking care of what I have now with a realistic long-term goal," she says. "If you take care of your inside and outside in a really simple but conscious and proactive way, your body and your skin are going to thank you. It's about being consistent and finding something that works for you." Here, Mamet and Dr. Levin—who are both spokespeople for Isdin products—outline the key elements to remember when creating your own skincare routine.
Focus Your Daytime Routine Around Protection
Whether you spend a ton of time outdoors like Mamet, or simply get sunshine from your nearest window, it's important to wear sun protection. Between her busy filming schedule and the time she spends outdoors riding horses (one of her longtime passions), Mamet's skin is constantly exposed to the sun, so incorporating Isdin's Eryfotona Actinica sunscreen was a key element in her routine from the start. "Dr. Levin and I started with the Eryfotona sunscreen because I needed something that I'd be able to wear under makeup when I shoot outdoor scenes," she says. She goes on to explain that the formula doesn't budge, or impact her makeup look on set—even after 18 hour shoot days.

Mamet also uses Isdin Isdinceutics Flavo-C Ultraglican—a vitamin C skin treatment—to protect her skin from free radical damage (which can ultimately cause dark spots and fine lines) during the day. "Vitamin C is an effective antioxidant that helps to brighten discoloration, while also neutralizing free radical damage," says Dr. Levin. Note, that vitamin C can become less effective when exposed to UV light. (This makes using your SPF more crucial.)
Be Careful to Not Use Too Many Products
Before Mamet had established her skincare routine, throwing everything but the kitchen sink at a breakout was her common strategy. She explains that after Dr. Levin helped her put together a lineup that agreed with her, her acne treatments appeared to work more effectively.
According to Dr. Levin, too many formulas at once can disrupt your skin's barrier, which often leads to larger problems. "I always say less is more," Dr. Levin says. "Keep your skincare curated to the basics so that if you do have a big breakout, treating it won't require all the heroics." The logic is simple: you'll know how each of your go-to products impacts your skin—and can figure out how to treat your problem area more easily.
Seek Out Ingredients with Impact
Mamet prefers to streamline her approach by focusing on potent ingredients. Case in point: Her nighttime skincare routine, which consists of three products: a cleanser, the Isdin K-Ox eye cream, and Isdin Isdinceutics Melatonik serum.
Melatonik is the star of her nighttime routine. Formulated with a generous amount of vitamin C, bakuchiol, and melatonin, it's packed with everything Mamet needs to help offset the sun exposure from her day. The melatonin in the formula acts like an antioxidant, and according to Dr. Levin, applying it topically can help with your skin's restorative processes. Bakuchiol is a naturally-based retinol alternative that can help support collagen production, fading hyperpigmentation, and turning over skin cells. "It's a great, gentle alternative, especially if you're in the sun a lot as it won't make your skin flaky or sensitive."
Mamet applies Melatonik all over her face, then works any excess onto her neck and the back of her hands, which are regularly exposed when she's horseback riding.
Give Your Products Time to Work
A big part of building a skincare routine is understanding that patience is fundamental. "Your skin naturally takes six weeks to go through one cycle, so as much as you'd like to see results in a week or two, you need to give your formulas time to work on your skin," Dr. Levin explains. "Typically, I won't see my patients for six to eight weeks after determining their routine, because I want it to be the same for that amount of time before deciding to change something, add in a new product, or keep it the same."

"My skin is super sensitive," Mamet says, "so if you put something on it that it doesn't like, it will just give you the finger. We were having trouble finding things that didn't make me too oily or too dry, and things that didn't make me break out, but once we found a plan and my skin adjusted to the routine, we stuck to it."
Take Care of *All* Aspects of Your Wellbeing
Remember: Self care is skin care, as stress can manifest in physical ways. Mamet certainly isn't immune to the occasional stress pimple, and after a few attempts trying to battle the breakout with products, she has found that a more holistic approach works best.
Her philosophy is simple—be proactive and give your body what it needs now so it will take care of you later. Dr. Levin echoes the sentiment, and explains that your skin will respond to other aspects of your wellbeing. "People sometimes think that skin care can do absolutely everything, but a big part with Zosia was managing her stress levels and getting enough exercise, because those things do impact your skin in general," she adds.
Celebrity news, beauty, fashion advice, and fascinating features, delivered straight to your inbox!
Marianne Mychaskiw is a former beauty editor and copywriter turned freelancer, covering topics like beauty, wellness, sex, and relationships. She likes long walks on the beach, and still gets emotional about Ginger leaving the Spice Girls.