Why Tata Harper's Velvet Moisturizing Cream Is Worth It
It's the green smoothie of face treatments.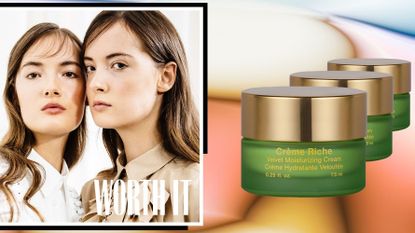 (Image credit: Design by Morgan McMullen)
Welcome back to Worth It, a bi-weekly breakdown of the new beauty products I've tested and adored: I'm talking that drain-it-to-the-bottom-and-tell-my-friends-I've-found-The-One kind of love. If it's featured here, consider this my permission to splurge on it. Read on for the product you don't want to live without, and catch up on the latest Worth It breakdown here.
---
The Promise
With winter-like weather in full swing in the northeast, my skin is in desperate need of some extra hydration. The combination of cold air and icy winds drains the natural moisture out of the skin, making a powerful protecting cream a must. Enter Crème Riche: a potent anti-aging hydrator crafted with ethically-sourced natural ingredients including maple bark, avocado peptides, and candle tree leaf extracts. These ingredients pack a punch, providing moisture, plumping, and protection for smoothed skin that looks youthful and glowy.
Why I'm Obsessed
To be honest, I believe that all moisturizers are mostly created equal. Hydration is hydration, right? I tend to gravitate towards super-thick creams that make me shine like a disco ball (and make my boyfriend avoid me, for fear of stickiness spread—his loss!). I have a deep-rooted love and respect for Tata Harper products, partly because the founder and I are both Latinx, and also because my first big skincare purchases was one of her serums. And yet, when I first opened this moisturizer, I was a little skeptical. Firstly, the product is the color of a blended bananas, slightly green, slightly brown, overall not the most appealing look. Secondly, it had a scent, which always makes me suspicious, as I normally consider anything too fragrant in skincare to be a red flag. Still, out of respect for my girl Tata, I dutifully applied this cream.
And let me tell you how wrong my first impressions were. A little online research told me to first rub the cream in my palms before applying it to my face, and to my surprise, after a quick lather, the cream develops a white color as the ingredients are "activated." Secondly, the suspicious scent is the result of the natural ingredients, not added synthetic fragrance (plus, it really does smell delicious). And thirdly, and perhaps most importantly, this moisturizer has the most divine, velvety texture that sinks into my skin quickly, but leaves behind a glowing sheen that lasts all day. After using it for a few weeks, I notice that I don't have any of my typical cold-climate dry patches, my skin tone looks more even, and the skin on my neck and cheekbones actually feels a little tighter and more voluptuous. So I'm here to admit my mistake: not all moisturizers are created equal. I consider Crème Riche a green smoothie for my face—good for my health, good for my skin, and something we all need to try a few times.
---
Tatjana Freund is a Beauty Commerce Writer, covering makeup, skincare, and haircare products and trends. She's a fan of vodka tonics and creepy Wikipedia pages.