Ashley Graham Is Serious About Self-Care
The supermodel, author, and podcast host talks body positivity, keeping zen as a working mom, and her secrets for glowing through it all.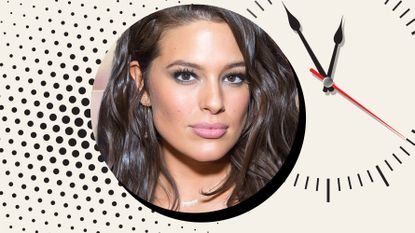 (Image credit: Michael Stewart/Susannah Hayward)
Welcome to Beauty Around the Clock, Marie Claire's weekly peek into the daily lives of some of the most game-changing women in their industries. Ever wonder how they get it all done in a day? Here's your answer.
Discovered at age 12 in a Nebraska shopping mall, Graham, now 33, is anything but a typical model. With countless magazine covers, runway shows, and beauty campaigns (with Revlon and a newly announced ambassadorship with St. Tropez) under her belt, she's channeled her tireless body-positivity message and effervescent charm into gigs as an author and a TV and podcast host. Here, a peek into her life as a new(ish) mom.
Rise & Shine
Nowadays, I wake up anywhere between 5:45 and 6:45, and I'm very specific with the 45 because, for some reason, [my 1-year-old son] Isaac wakes up on the 45. I get him and feed him in bed, and we have morning snuggles. This goes on for a full hour.
Morning Maintenance
I wash my face, do a little St. Tropez Purity Vitamins face serum, which has vitamins C and D in it, and put on moisturizer right after—Skinceuticals or Weleda, depending on how moisturized I want to be. I also like sunscreen from Dermophisiologique. It's so good for my face, and it goes on really sheer. Then, depending on what my hair looks like and how sweaty I got in the night—I'm a night sweater—I'll either spray it with regular water to define the curls more or do a dry shampoo. I just make it really big.
Power Start
I am a breakfast-of-champions kind of girl. I'm still breastfeeding, and I feel my body needing a lot of food. So, I'll have two scrambled eggs with a piece of my favorite Base Culture bread—it's a keto bread, even though I'm not keto, but it's so good—toasted with some Miyoko's dairy-free butter. And a fresh-squeezed orange juice and a big-ass cup of coffee. Oh my gosh, I feel like I'm always eating. I'm just like a trash can [right now].
Zoom Hack
If I'm hopping on a Zoom and I'm in a meeting-meeting, I'll wear makeup. I'll put on some chunky, beautiful mascara or I'll do a lip. My favorite is a lip liner by Revlon in Nude, with Brazilian Tan lipstick on top. When you're on a Zoom, you only kind of see one thing that pops out, so why not my lips?
Feel-Good Fitness
I do yoga and work out with my trainer, Krissy Jones from Sky Ting, at least three or four times a week. Yoga feels like me time, not like working out.
Self-Care Savior
I think self-care now is more important than it was before, not even just because of the pandemic but because I'm a mom. I've really been diligent about yoga, working out, my beauty regimen, acupuncture, massages. Even if I'm not doing it as often as I was before the baby, I'm making the time for it in my calendar. Isaac needs a very well taken care of mommy so he can be taken care of as well.
Worth It
Mzia Shiman facials once a month. They are expensive, but they are worth it.
Beauty Icon
Tracee Ellis Ross. She's kept it together looking sexy.
Evening Glam
I take my shower and prep my hair at night. I wash it, part it in the middle, and spray John Frieda Dream Curls in it and go to sleep with wet hair. I've been using that since I was 15. I also love to do a mousse self-tanner at night. I put on St. Tropez bronzing mousse, then do my night routine with Isaac. And when I'm done with that—and after I've answered my last emails of the night— I hop back in the shower and rinse it off really quick, lotion, then go to bed. My beauty regimen really starts at night to prep me for the next day.
Lights Out
Isaac's bedtime is 8 p.m., and then he does a dream feed at 10:30. So I'm kind of forced to be up until then. Bedtime is between 10:45 and 11:30. I try to get a good seven hours.
This story appears in the Spring 2021 issue of Marie Claire.
RELATED STORY
Marie Claire email subscribers get intel on fashion and beauty trends, hot-off-the-press celebrity news, and more. Sign up here.