24 Hours With Riverdale's Camila Mendes
The actress talks staying up too late, self care, and her favorite getting-ready playlists.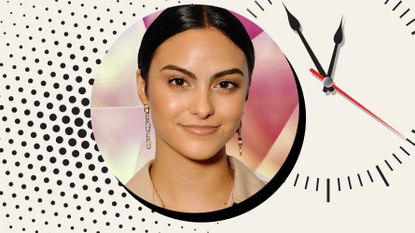 (Image credit: Design by Susanna Hayward)
Marie Claire Newsletter
Celebrity news, beauty, fashion advice, and fascinating features, delivered straight to your inbox!
Thank you for signing up to Marie Claire. You will receive a verification email shortly.
There was a problem. Please refresh the page and try again.
Welcome to Beauty Around the Clock, Marie Claire's weekly peek into the daily lives of some of the most game-changing women in their industries. Ever wonder how they get it all done in a day? Here's your answer.
You've seen her on Riverdale as the endlessly chic Veronica Lodge, but Camila Mendes IRL is even more fabulous, if that's even possible. Whether she's posting cute fashion pics or giving her almost 26 million followers a glimpse of her puppy, Mendes embodies beauty—both fresh-faced and full glam. Ahead, the 26-year-old actress talks perfumes, quick tricks for self-care, and the fun names she gives her getting-ready playlists.
Rise and Shine
My schedule, as you can imagine in the film industry, is very inconsistent. Ideally I try to wake up at 7:45 to work out. The first thing I do is I go straight to my espresso machine to make my latte. And then I write in my journal for five minutes.
Morning Maintenance
Skincare is something I'm very consistent about. I try to give my skin as much time to breathe between going to work. I'm very loyal to my products and I like to be consistent with them. I get pretty puffy in the morning around the eyes, especially if I've been crying on set or have an emotional scene the day before.
Self-Care Solution
My favorite self-care ritual is my morning one, having my coffee while writing my five-minute journal, because it's a quick one, too, so I can fit it in no matter what the day's like. It's a very manageable self-care routine. And then on days that I have more time, I love setting a nice bath and throwing a Lush bath bomb in there and just kind of listening to music.
Shop Camila's Beauty Favorites
Daily Playlist
I definitely have a getting-ready playlist. It's called "Lips to Lids." I love thinking of playlist titles, probably too much. When I fall in love with an album I'll play it obsessively, all the time, all the way through, until I'm sick of it and don't want to hear it anymore. Right now, I'm really obsessed with Oklou. She has an album called Galore and it's really nice. And also Kali Uchis, her album Sin Miedo. That whole album is such a vibe, especially for getting ready.
Cheap-But-Chic
I go everywhere with Burt's Bees chapstick. It's also always in my makeup bag on set. They give it to me before I apply lipstick.
Signature Scent
I have a daytime and nighttime scent. If I'm just running errands, it's Daisy by Marc Jacobs. I've been using it since I was 16 years old and never quit. If it's nighttime, I love Arizona by Proenza Schouler.
Worth It
The Oribe Matte Waves Texture Lotion is something that I've recently discovered that my hairstylist on Riverdale recommended. I got keratin in my hair years ago and it took forever to grow out. I'm so happy that it's gone now because now my hair's consistently wavy. My hairstylist was like, "You should use it right after you come out of the shower and just scrunch it in your hair." It defines my curls better and it makes it more of a look. I've really fallen in love with it. I feel like that's definitely a worthy investment for anybody who has wavy or curly hair.
Lights Out
I end my day with another five-minute journal. That's something I spend five minutes doing before bed. My bedtime is all over the place. I always aim for midnight. It's really hard for me to sleep any earlier. I blame the film industry for that. My female costars go to bed super early. It's 10 p.m. and they're like, "All right, going to bed. Good night." I'm like, "What? How do you guys do that?" I just can't.
Shop Camila's Skincare Must-Haves
Celebrity news, beauty, fashion advice, and fascinating features, delivered straight to your inbox!
Tatjana Freund is a Beauty Commerce Writer, covering makeup, skincare, and haircare products and trends. She's a fan of vodka tonics and creepy Wikipedia pages.