Stephanie Morimoto Has Mastered the Art of Winding Down
The CEO talks self-care, plant-based eating, and her optimal bedtime routine.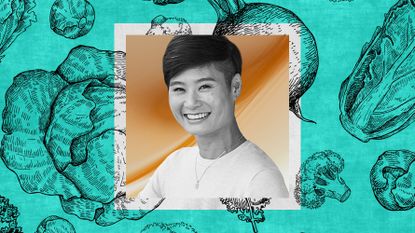 (Image credit: Mary Beth Koeth)
In the ultimate quest for inner beauty and outer glow, Marie Claire asks our favorite trailblazers to share intel on finding balance in their busy lives. Read it all here, in Beauty Inside & Out.
After working in the non-profit education space for years, Stephanie Morimoto (opens in new tab) used her experience as a consumer to break into the self-care space. She fell in love with Asutra (opens in new tab), a wellness brand focused on providing accessibly-priced self-care to all, and upon finding out it was for sale, bought the company. The now-owner and -CEO champions active self-care, mental health, and supporting other entrepreneurs and small businesses. Here, she talks her sleep habits, her favorite beauty products, and her perfect formula for getting some shut eye.
Inner Beauty
Asutra Melt Pain Away Magnesium Body Butter (opens in new tab)
Doing self-care, on purpose, is important to me. For me, that's getting at least 8 hours of sleep, exercising, and getting a daily dose of magnesium. Three in 4 of us are deficient in magnesium, so we need to supplement, and it's excellent for maintaining healthy muscles and keeping a calm mind. I use this magnesium body butter post-workout, which helps me recover—when my muscles are particularly sore, it's really soothing.
Asutra Mist Your Mood Aromatherapy Essential Oils (opens in new tab)
To get a great night's sleep, you need to create the right conditions to let it happen. For me, that's my Power Down Hour (or two) to wind down before bed. After we eat dinner and do the dishes, my hubby and I watch TV. Then, I review my goals for the next day, read a book (paper, not electronic!) and do my nighttime skincare routine. My final step is five spritzes of Asutra's calming lavender and chamomile Mist Your Mood (opens in new tab): two on my pillow, two on me, and one on the hubby (who actually likes it)! And I'm out.
Nettle leaf tea has been used for over 2,000 years as a powerful spring tonic. I love to drink two cups a day in the spring, which alleviates my allergies. It's great for joint health too.
During my Power Down Hour before bed, I like to burn candles. It sets a more chill vibe, plus the aroma is relaxing. I love this small Chicago company's unique scents, and that they donate proceeds to the LGBTQ+ community to fight for equity for all.
Outer Glow
Indie Lee Brightening Cleanser (opens in new tab)
This cleanser cleans and exfoliates while still being gentle on the skin. Plus, the strawberry seed oil in it smells delicious!
I use our vitamin C and hyaluronic acid serums every morning, and our retinol and eye serums at night. I love that they're gentle and vegan. The eye serum has sesame and quinoa proteins to stimulate collagen production.
Eu'Genia Shea Butter (opens in new tab)
My hands get really dry, so I adore this shea butter to soften them. It comes in a beautiful small tin that you can take anywhere. And, the brand is run by a mother-daughter duo that is dedicated to fair wages and opportunities for their female workers in Ghana. It donates 15 percent of profits back to them in the form of an education fund.
EM Cosmetics Magic Hour Eyeshadow (opens in new tab)
I'm mesmerized by this golden, glowy palette. It's a visual pleasure opening the compact because it has a lovely geometric design. Plus, it's an Asian American woman-owned brand, which I love supporting.
Recipe for Success: Stephanie Morimoto's Hemp Salad Bowl
Add your favorite greens to a big bowl—my favorites are arugula, shredded red cabbage, and broccoli sprouts.
Instead of an oil-based dressing, use cubed avocado as your fat. It has more nutrients and fiber. Mix avocado, a squeeze of lemon juice, and sea salt into the greens.
Add nuts, seeds, and/or fruit. This bowl has toasted pumpkin seeds, chopped almonds, and dried cherries, which are also good for muscle recovery and sleep.
Top with protein of your choice. I love Hempeh, a cultured hemp protein.
RELATED STORIES
Taylore Glynn is the Beauty and Health Editor at Marie Claire, covering skincare, makeup, fragrance, wellness, and more. If you need her, she's probably roasting a chicken, flying solo at the movies, or drinking a bad Negroni at JFK.