24 Hours With Kate Winslet
L'Oréal Paris' newest spokesperson talks Mare of Easttown, period skin, and crying on her Peloton bike.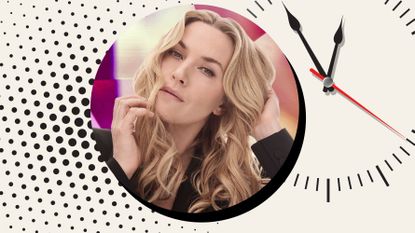 (Image credit: Courtesy of brand)
Welcome to Beauty Around the Clock, Marie Claire's weekly peek into the daily lives of some of the most game-changing women in their industries. Ever wonder how they get it all done in a day? Here's your answer.
Superstar Kate Winslet has been trying on some new hats as of late. Her recent turn as the titular character in HBO's monster hit Mare of Easttown has viewers constructing their own conspiracy boards, and, as of today, the actress is L'Oréal Paris' newest spokesperson. Here, how she gets it all done in a day.
Rise and Shine
When I'm not working, I'm normally up around 6:30 a.m. The absolute first thing I do is make a cup of Yorkshire tea. I mean, call me British, but I just feel like it would be wrong for the day to continue until I have had a cup of tea. But I don't sit down and enjoy it in a mindful nice, calm way. I'll put it down, I'll run around, forget where I put the tea, go back and find it, realize it's lukewarm, then have to remake another one. After that, I make breakfast for everyone.
Skincare Routine
For my sort of 'wake up my face' routine before getting everyone out the door, I always wash my face with very cold water and a wash cloth. Then, I just put on a good moisturizer At the moment, I'm loving Age Renewal by L'Oréal: It's a fantastic, revitalizing moisturizer. It's quite creamy, but not sticky, and it works brilliantly under makeup.
Morning Glam
I actually don't really wear makeup in the daytime, particularly, unless I have a meeting or an event to go to. I just keep things really simple. I really like to feel like my skin can breathe, and I also like to see the skin through whatever makeup I'm wearing. When I do use a little bit of foundation, I like True Match. There's a couple of shades I'm kind of playing around with. The shade I choose depends on my cycle, as well. Sometimes in the middle of it, my skin can look a bit hot and inflamed so I'll I use a more neutral tone, while if it's the beginning my skin looks more even so I'll go with something else. After that, a couple coats of Voluminous Million Lashes—my go-to mascara of choice at the moment—some pinky-nude lipstick I dab on with my finger, and I feel like I'm good to go.
Holy Grail Product
I love a good eyelash curler. My go-to is a fantastic Shu Uemura one that I absolutely love, and I've had it for years. I just feel bereft if it goes missing even for a day, which it often can, just fallen on the floor and swept underneath something.
A.M. Hair Sitch
I wash my hair every other day, so I'll normally have a nice hair day. And then by the second day, it's like, hmmm, so I'll enjoy wearing it down for one day, because it still looks kind of nice. And then the next day I'm like, "Oh no, no, it just looks awful." I'm a big fan of just scraping it all back in a high pony tail.
Sweat Sesh
I am in love with my Peloton bike. My family and I all share it, and sometimes fight over it. I found that when I was filming Mare of Easttown, that was almost the one thing I couldn't have gone without, because of the way it helped me decompress. The sweat factor, the challenge of it, the great chat from the instructors. Sometimes I'd wail, I'd yell, or I'd cry on the bike; I can release so much. At the age of 45 that I am now, learning that my body is capable of more than I thought it was has gone a long way with me.
Beauty Revelation
What's really lovely about emerging from this time of the pandemic and lockdown is that, now that we're putting on a little bit of makeup again, it feels like armor as we all are learning to socialize and just be in the world again. I'm finding that actually a good coat of mascara and a bit of lipstick goes a long way in making me feel like, "Okay. No, I've still got it. Okay. I can do this."
Favorite Film Transformation
I really do love the look of Mare in Mare of Easttown, because she's incredibly real. It looks like a total no makeup look, but we actually added things. We kept some really obvious color regrowth at my roots, and we added sun spots and dark circles under my eyes, and a little bit of eyebrow. Not with pencil—with actual little tiny fake eyebrows, just to break up my own eyebrow. It's no secret that I have this fucking crazy gray eyebrow, but my sisters and I all have it; we got it from our mother.
But a lot of people are connecting with her look and saying, "Oh my God, but she just looks so real." I think often, we get to see the TV version of a grief-stricken detective. I just didn't want us to do the TV version; I wanted us to do the real version. I'm proud, because it seems to really be striking a chord with people, and that was all that really mattered.
Nighttime Routine
I always take off makeup off with a warm wash cloth or in the shower, even if I've only had a little bit on. I'm actually really quite good at that. For skincare, I am loving this Age Perfect Midnight Serum. It's very, very moisturizing, and yet it doesn't leave a stickiness to the skin, which I often find serums can do. I don't really use an eye cream, but now that the weather is changing here and I find that if I need a bit of extra, really deep moisture, I use a little bit of Weleda Skin Food.
Warm Wind Down
I always kiss my husband good night. We're very good at that, actually; we're really good at making sure that we always say goodnight to each other. I think often you can kind of lose sight of that when you're busy, and you're tired, and someone falls asleep before the other one.
Lights Out
The last thing I do is turn my phone on airplane mode, even though that shouldn't be the last thing. If it's past 11:00 p.m., I start to get a little bit worried. I'm like, "Oh my God, I've got lots to do tomorrow." And I do find that I'm really enjoying sleep, and paying attention to sleep much more as I get older. Whereas when I was younger, I'd be like, "okay, great. I can get five hours now and then I can be up and get on with all the things." Sleep was a bit of an inconvenience when I was younger, but now I'm like, "oh, bring it on." So now, I try to get to bed between 10:30 and 11:00.
Marie Claire email subscribers get intel on fashion and beauty trends, hot-off-the-press celebrity news, and more. Sign up here.
Taylore Glynn is the Beauty and Health Editor at Marie Claire, covering skincare, makeup, fragrance, wellness, and more. If you need her, she's probably roasting a chicken, flying solo at the movies, or drinking a bad Negroni at JFK.