Does Sunscreen Expire — and What Happens If It Does?
A user's guide.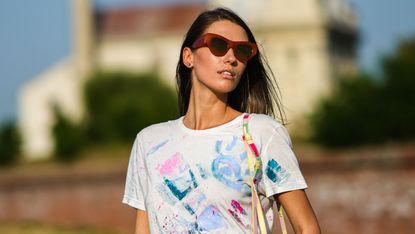 (Image credit: Edward Berthelot)
Raise your hand if the sunscreen (opens in new tab) you take to the beach or to the pool—your favorite spray-on SPF, (opens in new tab) the lotion you love the smell of, a handy-dandy stick perfect for touch-ups—is your go-to ride or die during the summer months. But then, come the first whiff of fall and the first taste of cider donuts, your trusty SPF (opens in new tab) is relegated to the bottom of your beach bag and basically all but forgotten about until MDW. The following year, when you dig it out in your pre-summer glory, there's a little nagging question: Has this sunscreen expired?
It goes without saying that sunscreen being in tip-top shape and non-expired is of utmost importance and you need to be diligent about it, even more so than other cosmetics. Expired sunscreen will not protect you from harmful UVA and UVB rays. Happily, there are a few hard and fast rules that can easily help you determine if your sunscreen is expired, and therefore is still effective.
How To Tell If Your Sunscreen Expired
First off, any product (sunscreen included) that is not marked or stamped with an explicit expiration date is required by the FDA (opens in new tab) to be stable for at least three years.
I know what you're thinking. How on earth do I remember if I bought this last year, two years ago, or during the Regan administration? Next time you purchase a sunscreen (and it's not labeled with an expiration date, which is rare), consider writing your date of purchase on the side with a Sharpie.
The Best Korean Sunscreens
Also? If you're applying sunscreen liberally and correctly, and you're getting outside with any kind of relative non cave-dweller frequency, one sunscreen should last at least three years. Most likely, you're good. If you discovered the sunscreen at your friends' parents beach house and found yourself admiring the retro packaging, you're um, not good.
But also? Thankfully, most sunscreens are clearly stamped, embossed, or stickered with an explicit expiration date. (And no, you cannot use them after this date, not ever.)
The Best Face Sunscreens
How to Keep Your Sunscreen From Expiring
To make sure that your sunscreen maintains its efficacy through its natural life, the FDA suggests keeping any sunscreen away from direct sun or heat. If you're outside for extended periods of time, consider bundling your sunscreen in a towel and sticking it behind your chair, or even stashing it in a cooler (lower temps will not degrade sunscreen). All those factors being in place, slather up, add sunglasses, a hat, and potentially a cover-up, and let the sun worshipping begin.
The Best Natural Sunscreens
Hannah Morrill is a writer and editor based in Portland, Maine. She's an avid reader, an indifferent face-washer and a sunscreen/retinol evangelist.