Skincare Cocktails
Confused about which product combinations and treatments will give you clear, glowing skin? Here's how to mix the perfect signature "cocktail" for your complexion. Don't forget to check out medicine cabinet must-haves in Skincare Mixology: The Minibar for products to treat anything from acne to fine wrinkles.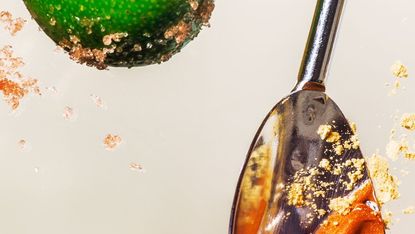 (Image credit: Grant Cornett)
Marie Claire Newsletter
Celebrity news, beauty, fashion advice, and fascinating features, delivered straight to your inbox!
Thank you for signing up to Marie Claire. You will receive a verification email shortly.
There was a problem. Please refresh the page and try again.
Cocktail: The Line Eraser
Cleanse: If fine lines and wrinkles are your concern, start with a mild face wash that also replenishes moisture with ingredients like glycerin, aloe, or panthenol. (For product recommendations, see "The Minibar.") These plump up skin so the surface looks and feels smoother.
Exfoliate: Removing dead cells allows skin to absorb antiaging ingredients and moisturizers more effectively. Try using pads soaked with an alpha hydroxy acid (AHA) like glycolic acid to exfoliate and prompt collagen production. treat: Apply a prescription-strength retinoid or an over-the-counter retinol product every other evening for antiaging benefits. "You can alternate between the AHA and a retinoid, but don't use them both on the same night or you risk inflammation that can trigger more wrinkling," warns Miami dermatologist Dr. Leslie Baumann, author of The Skin Type Solution.
Hydrate and Protect: Use moisturizers with collagen-boosting peptides or antioxidants like green tea and vitamin C that prevent and repair damage to collagen and elastin, the "scaffolding" that keeps your skin plump, firm, and lineless. Make sure to add a broad-spectrum sunscreen for day.
Top-Shelf Solutions: Fillers such as Juvéderm replace lost volume and minimize—or even erase—fine lines ($550 and up per syringe). To temporarily subdue wrinkles and soften crow's-feet, try injections of a neurotoxin like Botox or Dysport ($375 per syringe).
Cocktail: The Acne Annihilator:
Cleanse: It can seem fruitless to start an antiaging regimen if you're still dealing with pimples. Get blemishes under control by using a salicylic acid cleanser at night. San Antonio dermatologist Dr. Vivian Bucay suggests simply rinsing your face with water in the morning if you have normal to dry skin. "If your skin is oily, swipe with a wipe that contains salicylic acid," she says.Exfoliate: "When dead skin cells pile up and block pores, sebum and bacteria can get trapped underneath," explains NYC plastic surgeon Dr. Michelle Yagoda. Use glycolic pads (see "The Line Eraser" Minibar) or a very gentle scrub every other day to keep things clear, avoiding abrasive scrubs that can irritate skin and exacerbate acne outbreaks.
Treat: Spot-treat pimples with a salicylic acid gel or benzoyl peroxide. If it causes your skin to flake or redden, anti-inflammatory sulfur is another good option (although it can smell a little like Yellowstone National Park). Use in the form of a mask once a week, says Baumann.
Hydrate and Protect: "Most people don't want to moisturize if they have acne, but that's a mistake, especially if you're over 30," says Yagoda. "Look for an oil-free one with hyaluronic acid." Baumann recommends a moisturizer that also contains retinol, which speeds cell turnover and prevents clogged pores while reducing the look of fine lines. In the a.m., use an SPF that's noncomedogenic.Top-Shelf Solutions: For acne/oil maintenance, Bucay swears by DermaSweep treatments—crystal-free microdermabrasion followed by an infusion of salicylic or glycolic acid ($175). Blue LED light therapy kills bacteria and reduces inflammation ($100; 30 minutes, twice a week for a month is recommended).
Cocktail: The Skin Soother:
Cleanse: If your skin is sensitive, look for products that contain anti-inflammatories like cucumber, oatmeal, green tea, calendula, soy, or chamomile. "Ingredients like these should be in every step of your routine, including your cleanser," advises Bucay.
Exfoliate: Avoid mechanical exfoliants (things like scrubs and washcloths that physically remove dead skin cells) and chemical exfoliants (ingredients like acids that dissolve or break up dead skin cells). Instead, Jaliman suggests smoothing on your cleanser with a dampened cotton pad, which acts like a super-gentle mechanical exfoliator. Treat: "The reason your skin is sensitive may be because your current products contain active ingredients, like AHAs or retinoids, that are inflaming it," says Jaliman. That doesn't mean you have to give up on your antiag- ing efforts, though. Look to peptides to stimulate collagen production, and niacinamide, which inhibits pigment and has anti-inflammatory benefits. "Neither of these irritate skin," says Jaliman.
Hydrate and Protect: "Choose products that are fragrance-and alcohol-free," suggests Yagoda. If your skin is sensitive and dry, go with a soothing, ceramide-rich cream to strengthen the protective barrier. Normal-to-oily types should pick a lighter lotion that has hydrators like hyaluronic acid or glycerin. For daily protection, products with physical sunscreens like titanium dioxide and zinc oxide are less irritating than those with a chemical sunscreen (oxybenzone, octocrylene). "In fact, zinc oxide is an anti-inflammatory—all the more reason to wear it," says Yagoda.
Celebrity news, beauty, fashion advice, and fascinating features, delivered straight to your inbox!