Augustinus Bader's Just-Launched The Retinol Serum Is Coming For Your Skincare Routine
Professor Bader exclusively tells Marie Claire how the product targets wrinkles, acne, and hyperpigmentation—without irritating even the most sensitive skin.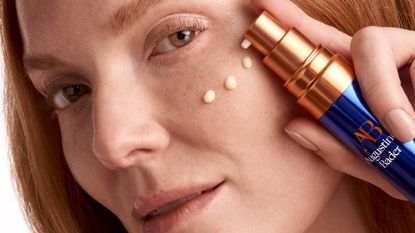 (Image credit: Courtesy of Augustinus Bader )
It's pretty rare that a new skincare launch genuinely gets me excited anymore. There's a disturbing number of items on the market (Sephora's website has nearly 3,000 options, for reference), so it takes a lot to actually add something innovative and new to the overwhelming pool of products. Enter the brand new, just launched (like, right this second) Augustinus Bader The Retinol Serum, which is designed to reduce wrinkles, address acne, fight hyperpigmentation, and firm skin—all without the irritation of traditional retinols.
"We look at what is considered the gold standard in the market and see if it is something we feel our technology can improve upon," says medical doctor, scientist, professor, and skincare founder Augustinus Bader about the company's decision to expand their range. "For The Retinol Serum we wanted to create a highly efficacious formula, that could also be used by wider consumers, those with more sensitive skin, or those who might have been nervous about trying retinol based on other experiences."
Intrigued? So was I. That's why I asked Professor Bader exactly what to expect from the $350 serum's formula. To get all the details, keep reading. He's breaking down why the retinol is different from everything else out there, how the team cooked up a formula safe for sensitive skin, and what results you can expect from *consistent* use.
What's the Ingredient Lowdown?
Just like all products that fall under the retinoid umbrella (get a full retinol breakdown), this product is designed to speed up cell turnover, a.k.a. the rate at which your skin gets rid of old cells and generates new ones. This particular serum leverages the powers of Pure Retinol (as opposed to stronger retinal or weaker retinal palmitate). "It's known to reduce and prevent signs of aging and blemishes and efficiently converts to retinoic acid, allowing a higher level of vitamin A to be retained by the skin," explains Professor Bader.
While the decision to use retinol as opposed to the other vitamin A derivatives makes perfect sense, it's not what sets The Retinol Serum apart from other options—it's the complimentary ingredients that make this indescribably more calming and soothing than competitors. It includes the brand's proprietary TFC8® technology, which is packed with amino acids and vitamins that nourish and optimize the skin, as well as a slew of hydrating ingredients such as a microbiome blend, which keeps the skin balanced, a zinc complex, which strengthens the skin barrier and reduces oil production, and marine ectoine, which is extremely hydrating.
How Is This Formula Special?
Excuse my bluntness: But some retinoids can burn your face off. "Cell turnover is happening pretty rapidly with a retinoid, so you're going to see some flaking and light peeling," board-certified dermatologist Dr. Sapna Palep previously told Marie Claire about using retinoids. But the chemists over at Augustinus Bader were determined to create a retinol without the common drawbacks. "The Retinol Serum was designed to be a more gentle formula with fewer side effects such as irritation, dryness, redness and sensitivity," explains Professor Bader.
As such, they opted for retinol over retinal (which is more irritating) and balanced it out with a healthy excess of hydrating, soothing ingredients that perpetuates the skin's ability to repair itself. "The result is a formula that promotes continuous renewal along with the accelerated cellular turnover that retinol is known for, allowing for a more comfortable retinol experience that users are more likely to continue using."
Who Is It For?
All skin types can use this product, but those who swear up and down that they can't tolerate a retinol should pay extra special attention. This product was developed specifically for sensitive skin—and was clinically tested on exclusively people with "self-proclaimed sensitive skin." At the end of a 12-week user trial, 100 percent agreed the retinol did not cause dryness, redness, or irritation.
Just like other retinols, it's also a great option for anyone with mature skin (it builds collagen) or acne-prone skin. "Because retinoids help to regulate skin cell turnover, it works to prevent pores from becoming clogged, which makes it an effective option for acne and breakouts," Dr. Garshick previously told us. "It can also help to regulate sebum production, helping those with oily skin who may be prone to breakouts."
How to Use It
As is true with all retinoids, you're going to want to keep this product in your nighttime routine and layer a pea-sized amount on directly after washing your face. "For retinol and retinoid beginners, we'd recommend using this once every three days and see how the skin copes," says Professor Bader. "You can then increase it to use every day thereafter." Then, layer on the moisturizer of your choosing. Just don't forget to wear SPF in the morning—this will make your skin more sensitive to the sun.
What Kind of Results Are We Talking About?
Let's set some ground rules. You're only going to see results if you use this product consistently. In clinical trails, users reported started seeing results around the two week mark, but it's going to take around 12 weeks to see the full extent of the results. As for what you can expect? The brand's clinical trials provide a little insight. They gave the product to 63 men and women aged 25 to 70. At the three month mark, 87 percent said they noticed an improvement in their blemishes (it's worth noting that not everyone in the pool was dealing with acne), 69 percent said their skin was more even, 68 percent reported an improvement in skin texture, and 56 percent said their fine lines and wrinkles were less noticeable.
Samantha Holender is the Beauty Editor at Marie Claire, where she reports on the best new launches, dives into the science behind skincare, and keeps up with the latest trends in the beauty space. She has previously written for Us Weekly, Popsugar, Makeup.com, Skincare.com, and Philadelphia Wedding. Follow her on Instagram @samholender.