Cyber Monday Is the Best Time to Buy a New Hair Dryer
Marie Claire editors hand-pick their favorites.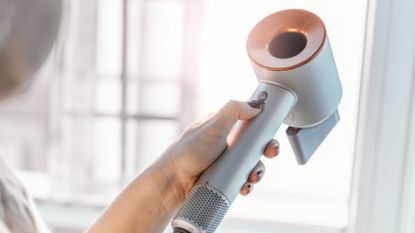 (Image credit: Getty Images )
Tell me if this sounds familiar: Your tried-and-true hair dryer is the same tool you've had since college, and it's no longer doing what you need. Maybe it's not powerful enough to dry your hair quickly. Maybe it leaves your hair looking dull. Maybe it's too heavy and causes your arms to ache—or, maybe it has none of the attachments you need to actually do a blowout at home. Whatever the reason, it's time for a new one. Luckily, I scoured the internet for the best hair dryer deals for Cyber Monday.
The sales may have started, but you'd be forgiven for wanting to make the most of the Thanksgiving weekend and enjoy a little downtime. Luckily, I've done the hard work for you by rounding up the Cyber Monday deals for the best blow dryers and hair dryer brushes, bar none. Spoiler alert: I'm talking about brands like Dyson, ghd, and Revlon.
Before you dive into the deals, here's a brief rundown of everything you should look out for when shopping for the best hair dryer or blow dryer brush:
Lots of Heat and Speed Settings: Most hair dryers on the market have a combination of two speed settings and three heat settings. Many of the blow dryers and blow dryer brushes on this list have more options than that, which gives you maximum versatility and control when styling. Some dryers on this list are great because they're made with tech that automatically checks the exact temperature of the air as you dry, which reduces the amount of heat applied on the hair (and therefore causes less damage.)
A Cold Shot Function: Cold shot buttons are there to set your style in place. Think of the cold air as a sort of setting spray for your hair: It locks in all the work you've done by rapidly cooling the hair and makes the style last longer.
Attachments: Attachments like diffusers, concentrators, or built-in brushes make your styling experience simpler. Picking a dryer that comes with more than one attachment is great if you have curly hair or thick hair.
A Lightweight Feel: No one wants to feel like they just worked out after a styling session. The dryers on this list are rated by real-life users who rave about how easy they are to use and how lightweight they feel.
Ahead, shop all of the best dryers and brushes on the market. All you need now is a best-in-class heat protectant product and a hair oil and you'll be good to go.
The Best Blow Dryer Deals
The Best Blow Dryer Brush Deals