Shaving vs. Waxing: Your Complete Guide
Everything you need to know about each popular hair removal method.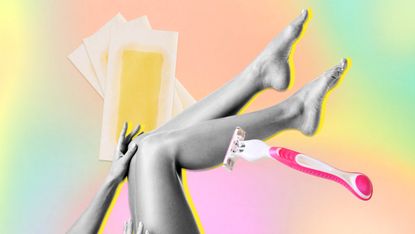 (Image credit: Future; Britanny-Holloway Brown)
However and whenever you choose to remove your hair—if you do at all—you should go into it with all the facts. Some hair removal methods, like at-home laser removal devices and epilators, require a learning curve and a fancy (and often expensive) new tool. By contrast, waxing and shaving are easy and relatively cheap ways to remove the hair on your body. To learn more about the benefits and drawbacks of each, I turned to Dr. Karan Lal, a dermatologist at Affiliated Dermatology, and Dr. Joshua Zeichner, a New York City-based dermatologist. Ahead, they break down everything you need to know about waxing vs. shaving so you can make the best choice for your routine.
Shaving
Shaving is maybe the most common at-home hair removal technique. You can find everything you need to get going—including razors, bikini trimmers, and shaving creams—at your local drugstore. (PS: If you're just looking for a guide to how to shave your legs or how to shave your bikini line, Marie Claire already has guides to both.)
How It Works
First things first—do you actually know how shaving removes the hair on your body? "Shaving removes hair at an angle on the surface of your skin," says Dr. Lal. The closer the shave, the shorter your hair is being trimmed. Shaper, newer razors are the most hygienic way to do this and will provide you with the smoothest results.
Types of Razors
While you may already have a classic razor in your arsenal, there are several other types that you can add to your rotation, like electric razors or safety razors. "Electric razors are very safe," says Dr. Lal. "They rely on protected oscillating blades and they can be used anywhere."
And if you've been seeing the term "safety razors" all over the internet lately, here's a quick breakdown: "Safety razors are single blade razors," he says. "They are more powerful as one blade does the job of a multi blade razor." However, he does note that "It is way easier to nick yourself" with a safety razor.
Length of Hair
Shaving will remove any length of hair, from stubble to hair that hasn't been touched in a while. Electric razors may be better at trimming down hair before using a manual razor.
Areas of the Body
While you can shave practically anywhere on your body, there are a few areas where shaving is preferable to waxing. For instance, it's better to shave your face at home than use wax strips because shaving causes less irritation. Both shaving and dermaplaning both lightly exfoliate the skin, so it's important to hydrate your skin immediately following shaving. (If you're interested in dermaplaning at home, check out Marie Clare's guide on the topic.)
Preparation
Turns out, when you shave is just as important as how you shave. Consider this to be a formal service announcement to never dry shave. Dry shaving can cause more irritation and will put you at higher risk for cutting yourself as you go. Instead, Dr. Zeichner recommends "shaving at the end of your shower, or after your shower, when the hair and the skin is softened from the water," and says to always use a shave gel or cream before you start.
Shaving creams act as a barrier between the skin and the blade, so using one will help you avoid cutting yourself as you go. One more dermatologist-approved shaving tip: "Try not to tap the blades against the sink as this can disrupt the polymers that caught the blades themselves," Dr. Zeichner says.
Risks
"The biggest side effects of shaving are cuts or nicks in the skin, as well as razor burn," says Dr. Zeichner, who defines the latter as "a condition where the skin becomes irritated and inflamed, because of the blade causing trauma to the outer skin layer." However, he also says that both of these problems can be "can be minimized with proper shaving techniques."
Aftercare
Hydration is key after shaving. Make sure to follow up shaving anywhere on your body with a rich body lotion to keep skin looking and feeling its best immediately after you dry off your skin from the shower or bath. Choosing one that's fragrance-free or designed for sensitive skin is a great idea, too. "I recommend easy-to-spread lotions, like Vaseline Intensive Care Advanced Repair Lotion," says Dr. Zeichner. "It delivers triple purified petrolatum to form a breathable seal over the skin in a non-greasy formula that easily covers large surface areas of skin."
Results
Because shaving just trims down the hair rather than removing it from the follicle, it will take less time for the hair to grow back and become visible again. Dr. Lal says that results from shaving generally last "three to five days."
Waxing
If you're sick of razor burn and bumps, waxing can provide hairless results that last longer. However, waxing anywhere on your body comes with its own slew of side effects. Ahead, Dr. Lal and Dr. Zeichner explain everything you need to know about the process. (If you're already a waxing pro and you're just looking for a new product to test out, check out Marie Claire's guides on the best at-home waxing kits.)
How It Works
Unlike shaving, which trims the hair down to the skin or close to it, waxing removes hair by pulling the each strand out from the follicle. You can use either larger or smaller wax strips for your desired level of precision.
Types of Wax Kits
While you should go to a professional for some of your waxing needs (looking at you, bikini waxes), there are many great waxing kits that you can use at home. These include wax strips for your face and body, as well as options that you can heat up on your own. Wax strips that don't require heating up are the safest and easiest option to do at home. If a process that uses hot wax is something you're looking for, consider booking an appointment with a professional at a salon.
Preparation
As with shaving, there are steps you should take before you start waxing. "I generally recommend exfoliating the area to be waxed before the treatment to remove any dead cells that build up on the surface of the skin," says Dr. Zeichner. Finally, always make sure to carefully read the instructions on the product you're using.
Length of Hair
Unlike shaving, hair needs to be a particular length for waxing to be effective. Dr. Kenneth Howe, a dermatologist at UnionDerm in New York City, previously told Marie Claire in a guide on how to use wax strips that "this sweet spot is six millimeters, or about the length of a grain of rice." If the hair is shorter than that, Dr. Howe says that the "wax fails to grab the hair." He adds that if the hair is longer than that, "the hair shafts often break instead of being pulled out at the root."
Areas of the Body
While shaving might be great for your face or legs, waxing is better for other areas on the skin that require more precision or are more prone to razor burn or nicks. Think: hard-to-reach-places. "The private areas and skin folds—armpits, bikini, buttock—are best for waxing," says Dr. Lal.
Risks
When it comes to the risks of waxing, there's one big thing to be aware of: Waxing generally hurts more than shaving does. Dr. Zeichner says that waxing "can lead to skin irritation from the wax strip against the skin, especially if you're using hot wax." And while issues like mild infections in the hair follicles (folliculitis) and ingrown hairs can occur with any hair removal technique, Dr. Zeichner says that the latter can be more common when waxing a certain area of the body.
"When waxing, the new edge of a hair needs to clear the outer skin layer. Because of this, there is a higher likelihood that this does not happen properly and you develop an ingrown," he says.
Aftercare
Similar to shaving, hydration is the most important thing after removing your hair. Following up with a rich body cream or body oil can soothe the area. Again, look out for one that's unscented or that's designed to be extra calming.
Results
Because waxing requires you to pull out the hair from the follicle, it will take longer for that hair to grow back again. Dr. Lal says that results can last "up to three weeks." However, take into account that you'll have to wait longer once the hair grows back—until the hair reaches that ideal grain-of-rice length—until you should wax again.
Meet The Experts
Originally from New York City, he grew up in Queens and attended Hunter Science High School in Manhattan. He graduated summa cum laude from the New York Institute of Technology, where he completed a rigorous seven-year accelerated combined medical program. He was selected to be an academic medical scholar, during which he received a Master of Science in neuroscience and a scholarship for three years of medical school and graduate training. He was elected to the Sigma Sigma Phi and Psi Sigma Alpha medical honor societies. He completed his internal medicine internship at the University of Connecticut Medical Center where he was elected intern of the year. He completed a three-year dermatology residency at the University of Massachusetts, where he was elected chief resident. He continued at the University of Massachusetts to complete a pediatric dermatology fellowship, where he gained an interest in vascular anomalies, pediatric laser, and dermatologic surgery of pediatric patients. Dr. Lal specializes in pediatric and adult dermatology, laser surgery, soft tissue filler augmentation, body sculpting, melanocyte keratinocyte transplant surgery for vitiligo and hypopigmentation, pigmentary abnormalities of the skin and enjoys treating patients from birth onwards. He is an expert in atopic dermatitis, vitiligo, melasma, psoriasis, and hidradenitis and has worked in specialty clinics among experts. He is the only board-certified pediatric and fellowship-trained cosmetic dermatologist in the country.
As the Director of Cosmetic and Clinical Research at Mount Sinai Hospital's Department of Dermatology, Dr. Zeichner has a broad interest in medical and cosmetic dermatology as well as clinical research. His specialty is the treatment of acne, as well as the cosmetic rejuvenation of the aging face. Dr. Zeichner treats general skin conditions, including eczema, rosacea, psoriasis, and skin cancer. In addition, he is well-versed in the use of Botox and dermal fillers, as well as lasers and chemical peels.
As a cosmetic dermatologist, Dr. Howe is known for his light touch. He believes that smaller, earlier interventions allow patients to maintain a youthful appearance while at the same time preventing or slowing further aging. Calm and reassuring in manner, Dr. Howe is an expert in guiding patients through the variety of available options, from the simplest topical agents to cutting edge procedures. He values maintaining an open dialogue between doctor and patient throughout this process.
The goal of all aesthetic treatments, in Dr. Howe's view, is to achieve and maintain a completely natural look. What is done must be dictated in each case by careful study of the anatomy and structure of the individual face. This approach is particularly noteworthy in Dr. Howe's use of injectable fillers and toxins, of which he is a recognized expert.
Marie Claire email subscribers get intel on fashion and beauty trends, hot-off-the-press celebrity news, and more. Sign up here.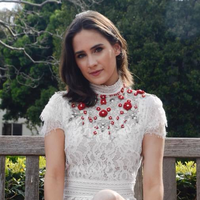 Julia Marzovilla is the E-Commerce Editor at Marie Claire, where she covers everything from the latest beauty and fashion launches and sales to celebrity outfits and news. She also creates shopping guides that span every vertical on the site. Prior to joining the Marie Claire team, she contributed similar shopping stories to sites such as Bustle, InStyle, The Zoe Report, Who What Wear, and STYLECASTER. In her spare time, Julia can be found creating shopping guides for all of her friends, spending too much money on yet another pair of black boots, and cooking in her far-too-small kitchen.