Worth It: Dior Capture Totale Le Sérum
It's the definition of a do-it-all.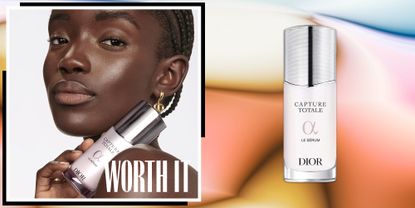 (Image credit: Future)
Welcome back to Worth It, our weekly seal of approval on noteworthy launches and bespoke collaborations in the worlds of beauty and fashion. If it's featured here, consider these investments worthwhile.
The Promise
There is such a thing as serum overload. Because even though the beauty industry has managed to seemingly come up with a concentrated liquid for every skin woe to exist, layering on 20-plus products a day is a recipe for disaster—and wildly high maintenance. That's where Dior Capture Totale Le Sérum enters the chat. The newly revamped treatment product, which was developed with less fragrance, lighter packaging, and more natural-origin ingredients, is a do-it-all of sorts that was whipped up by balancing the brand's floral-centric formulations with cutting-edge science, clinical studies, and genius concoctions from brilliant scientists.
So let's break it down, shall we? First and foremost, there's the anti-aging component, which has been an integral part of the Capture Totale's two decades'-long existence. Fine lines are visibly smoothed in four hours (yes, I was skeptical too) and firmness doubles in a week. These claims seem like voodoo at first read, but understanding exactly how it happens connects the dots.
Long story short, a gorgeous Dior garden in the Madagascar rainforest grows longoza flowers, which are revered for their ability to grow forever and ever in any climate. "The multi-fermented longoza plant stem cells have been proven to rejuvenate and revitalize maturing skin," explains Dior US Skincare Expert Sean Garrett. "The multi-fermentation process increases the regenerative properties in the skin as the higher molecule richness is able to penetrate deeper levels of the skin, increasing the efficacy of the serum."
Add iris extract, which is harvested at the Dior garden in Tuscany, into the mix and the anti-aging, youth-boosting benefits are multiplied. "This has been shown to strengthen the epidermis and reduce fine lines and wrinkles on the skin," adds Garrett.
Then, there's the hydration and glow component. Instead of having to reach for a barrier-restoring, moisturizing next step, you can get your fix in the same pump. The Capture Totale Le Sérum blends hyaluronic acid with polyglycerol (a mix of hydrating glycerol and fatty acids) to create an all-day plumping effect and provide long-lasting hydration. It all sounds great, but I've lived the greater part of my adult life as a more-is-more skincare person. To see if I could be swayed toward simplicity, I put this product to the test.
Why I'm Obsessed
I test products for a living, so sometimes my routine starts to look a little chaotic—I think of it like an occupational hazard. Four serums and two moisturizers in one day? Totally normal in my book. Does my skin enjoy this constant barrage? Absolutely not. Do I continue to do it anyway? 100 percent. But there came a point this winter, where despite my lineup of hydration serums, exfoliators, and radiance-boosting concoctions, my skin looked bleh. Descriptive, I know. It was a mix of dullness, dryness, and irritation, with a lovely side of perioral dermatitis.
Per my dermatologist's orders, I scaled it all down. I went back to basics (cleanser, moisturizer, the end) and let my skin take a beat to recover. When it was *finally* time to reincorporate "fun stuff" into my regimen, Dior's new and improved Capture Totale Le Sérum was the first, and despite my love for maximalism, the only product I added into my lineup. My hope? That it could single-handedly take the place of my dozens of other products.
From a texture standpoint, I have no complaints. Zero, zip, zilch. The serum looks milky, but it actually has a relatively watery base that blends like a literal breeze. There's no stickiness or pilling either. I will say, even though the serum is formulated with much less fragrance than the original iteration, the product still has a floral scent. I'm normally turned off by fragrant products, but this smell doesn't bother me. It's light and fleeting.
Now, let's move on to the *actual* benefits, starting with its glow-boosting abilities. The glassy finish of the serum bestows a reflective shine instantaneously. And in the long run, the benefits quadruple. My current radiance is unmatched. Then comes the serum's firming powers. While I'm not all too concerned with fine lines and wrinkles at this moment in time, I still noticed the firming effects of the fermented longoza extract. My skin has a newfound tautness. Last, but certainly not least, is the hydration component. Thanks to the hyaluronic acid, glycerin, and fatty acids, my skin has a plumpness that makes me look like I run on 12 hours of sleep and drink a gallon of water a day. (For the record: I don't do either of those things.)
The best part of this serum though is that I'm able to see all of these improvements from one single product. And that has me thinking that maybe, just maybe, less is actually more.
Celebrity news, beauty, fashion advice, and fascinating features, delivered straight to your inbox!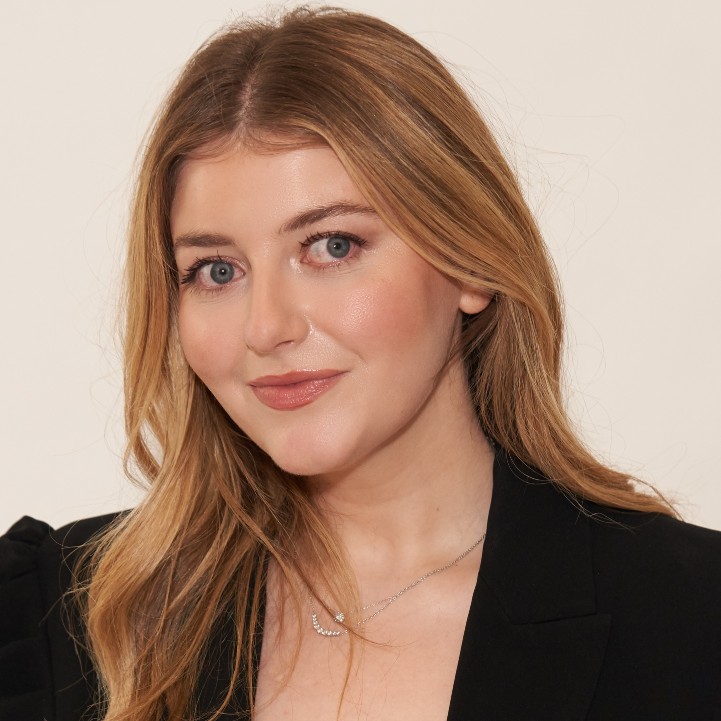 Samantha Holender is the Beauty Editor at Marie Claire, where she reports on the best new launches, dives into the science behind skincare, and keeps up with the latest trends in the beauty space. She has previously written for Us Weekly, Popsugar, Makeup.com, Skincare.com, and Philadelphia Wedding. Follow her on Instagram @samholender.