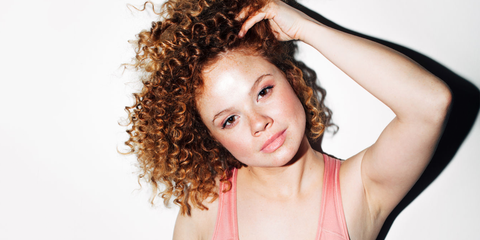 In an ideal world, we'd all have perfectly healthy, calm scalps that never feel itchy, dry, or flaky. But this is reality, and your scalp may need some TLC from time to time—especially when your symptoms don't always point to the same scalp issues.
First, there's your run-of-the-mill winter scalp, which feels itchy and dry (but is flake-free). Then there's dandruff, which presents as itchy, white flakes that easily come off if you gently scratch your scalp. And finally, seborrheic dermatitis (seb derm), which leaves your scalp noticeably red and inflamed, with oily, scale-like patches that kind of stick to your roots. I know—chic.
Though the first step to battling your itch issues is to see your doctor or derm for an official diagnosis, let's be honest, you probably won't do that. The five tried-and-true therapies, below, are at-home treatment options. But if after a month you still have symptoms, then you need to make an appointment (seriously, do it).
1
If Your Scalp Is Dry + Itchy
Living Proof Restore Dry Scalp Treatment, $32
This liquid-like gel uses hyaluronic acid that seeps over your scalp like a patch, trapping in moisture and releasing balancing and calming vitamin B3 throughout the day. In small-scale clinical studies, 92 percent of participants said the gel instantly soothed their scalps, which is a major win for anyone dealing with incessant itching.
Use it three times a week (squeeze the gel through your damp, clean roots in sections, massage it in with your fingers, then style hair as usual without rinsing).
2
If Your Scalp Is Flaky + Itchy
Dove DermaCare Scalp Dryness & Itch Relief Shampoo, $5
Yeah, yeah, there's nothing sexy about dandruff shampoo, but who the hell cares if it stops your scalp itch and flakes fast? This drugstore favorite uses a high dose of pyrithione zinc (one of the best over-the-counter treatments for both dandruff and seb derm) to kill the fungus—sounds gross, but it's just an overgrowth of yeast that we all have—without stripping your hair. Use it in place of your usual shampoo.
3
If Your Scalp Is Dry + Itchy
Cantu Refresh Apple Cider Vinegar Root Rinse, $5
As curly folks know, the scalp itch struggle is real. Usually, it's due to a combination of product buildup and a lack of airflow (especially with weaves and protective styles), which can cause irritation, itchiness, and even dryness.
The fix: This apple cider vinegar (ACV) rinse, which uses a mix of clarifying ACV to dissolve gunk and oils, tea tree oil to kill bacteria and calm inflammation, and shea butter to moisturize your hair and scalp. Use it in place of your shampoo when you feel the itch coming on.
4
If Your Scalp Is Dry + Itchy
Klorane S.O.S. Serum with Peony, $20
If your scalp is plain ol' dry and itchy (with absolutely zero redness or flakes), try a calming spray, like this floral-scented formula from Klorane. It's infused with peony extract (a natural anti-irritant) to calm irritation, plus menthol to temporarily neutralize itching, and, most importantly, a mix of glycerin and castor oil to hydrate your dry scalp and keep the moisture in.
Spray it on towel-dried or fully dried roots, section by section, every night, without rinsing.
5
If Your Scalp Is Flaky + Itchy
Nizoral A-D Anti-Dandruff Shampoo, $15

What this product lacks in packaging pizazz, it makes up for with an incredibly powerful flake-killing formula. I mean, 3,000 five-star reviews on Amazon don't lie: This shampoo really works. It's filled with 1 percent ketoconazole (the other holy grail in seb derm and dandruff treatments) to cut itching and flaking after just a few uses.
Swap it with your regular shampoo just once or twice a week, but don't skimp on the conditioner—the formula can be drying, especially to curly types, so you'll want to moisturize your strands.