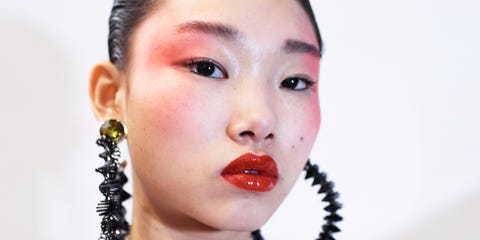 The world of Korean Beauty is constantly evolving, innovating, and blowing all of our minds with game-changing products. Although the U.S. caught on to the K-Beauty trend a few years ago, the simple yet effective formulas rooted in Asian botanical ingredients have been responsible for glowing, damn-near-perfect skin for ages in Asian countries. Thankfully, K-Beauty brands are sharing the wealth and their skin secrets with us. Bless-up, and thank the skin gods, because now so many K-beauty lines have expanded and are available in the U.S.
I have incredibly sensitive skin, so I enjoy K-beauty products' short and simple ingredient lists that target specific concerns. I swear they always leave my skin with a radiant, dewy glow. I've also included a highlighter in this list that gives my cult favorite a run for its money—and my makeup standards are high. Here, 10 of my all-time favorite K-beauty products you will enjoy.
1
The Perfect Mask for Dry Skin
Laneige Water Sleeping Mask, $25
I'm just going to say it: Before trying this, I was convinced overnight masks were complete BS because they'd leave me with dry, sticky skin in the morning and flakey residue that took forever to wash off. Who has time for that in the morning when you're half asleep? Not I. This, on the other hand, has officially made me a believer because of its moisture-rich formula. It's made of pure mineral water, which feels like a cooling gel and is ideal for dry skin because it douses you with ample moisture. The moisture-sucking air in my apartment is extra brutal during my beauty sleep, but when I apply this (twice a week), I wake up with glowing, baby-soft skin.
2
The Ideal Serum for Dark Spots
Sweet Chef Ginger Serum Shot Brightening Facial Treatment, $20
Dealing with dark spots? Same. I can't seem to shake post-inflammatory hyperpigmentation that likes to show up uninvited. To combat that issue, I've been employing this serum shot to brighten uneven areas of my skin, and have seen a noticeable difference in weeks. It's packed with vitamin C, which is a star antioxidant for boosting radiance. There's also a hefty dose of ginger to shield your skin from environmental stressors like pollution.
3
The Lip Balm You Won't Have to Reapply for Hours
Klavuu Nourishing Care Lip Sleeping Pack, $15
My lips are dry as hell in the winter, spring, summer, and fall. It doesn't matter the season, I've accepted that I'll always deal with dryness. But thanks to this incredibly silky, moisturizing balm that truly feels like it dropped from the heavens above, my lips feel thoroughly hydrated all the time. Although it's advertised as a lip sleeping mask, I use it whenever I want. The moisture from its nourishing avocado, sweet almond, and apricot seed oils hug my lips for hours.
4
This Glow-y Highlighter
Sulwhasoo Multi Cushion Highlighter, $40
If you usually stick with powder or liquid highlighters, you gotta get into cushion compacts. The bouncy compact makes applying highlighter a bit more fun, and it imparts a gorgeous glow onto the skin. Simply push the pad this product comes with into the compact and dab as much as you want wherever you want to glow. What I love about this highlighter is that it's made with pearl and radiance powder, which leaves a luminous finish.
5
This Foam Cleanser for Acne-Prone Skin
Amorepacific Treatment Cleansing Foam, $50
Acne-prone skin is tricky because it's highly reactive and will break out from cleansers made with harsh ingredients. This foam cleanser is the perfect middle man: It works hard to completely remove makeup, but is gentle enough to not strip your skin of the natural oils and moisture it needs. The antioxidant-heavy vitamin E in this formula will reverse the look of stressed-out, dull skin. Trust, that's my skin 90-percent of the time, but this always saves the day.
6
The Drugstore Dupe to Your Favorite Brow Pencil
Joah Brow Down To Me: Precision Brow Pencil, $9
I devote a solid 10 minutes to my brows on days when I can spend time in the morning. But that precious time gets cut in half on most rushed mornings—so, I depend on excellent brow products to hold me down when time isn't in my favor. I'm a brow snob, and hadn't found a brow product under $10 I loved until I was introduced to this gem. Its teeny tip allows me to fill in every area of my brows with precise, hair-like strokes. Plus, it's available in six shades, which is double the usual "blonde," "brunette," and "dark" shades offered by most brow brands.
7
This Multitasking Sugar Mask
Klairs Youthful Glow Sugar Mask, $24
Multitasking skincare products save you so much time and counter space. This all-in-one cleanser, mask, and exfoliator works triple hard to give you the bright, glowy skin you're working towards. The fine sucrose granules inside of this product feel like little beads massaging your skin. But what they're really doing is buffing away dead skin cells and retexturizing rough, dry patches. Be sure to keep this out of your eye area, though, the natural sugar can sting sensitive eyes.
8
The Mask You're Going to Love Instagramming
Dr. Jart+ Firm Lover Rubber Masks, $12
Yes, face masks are good for your skin—but they're also so fun to Instagram, especially if they make you look as ridiculously funny and cute as this one. Besides it being good for the 'Gram, this rubber mask gently adheres to your skin to provide deep penetration. This mask is made of berry extracts, salicylic acid, and red seaweed to give your skin a non-invasive face lift and a supple glow.
9
This Transfer-Resistant Matte Lipstick
VDL Expert Color Lip Cube Fluid Velvet in My Cherie, $22
Celebrity makeup artist and beauty influencer Katie Jane Hughes introduced me to the power of this lipstick during her makeup masterclass with the brand. Since she gave her stamp of approval, I've been hooked. The bold color it dispenses onto my lips in a .5 second swipe is one thing. However, the fact that the color does not fade or crease after hours of sipping coffee and stuffing my face is another, and what sealed the deal for me.
10
This Nutrient-Rich Mask for the Best Beauty Sleep
Glow Recipe Avocado Melt Sleeping Mask, $45
I freak when I don't have avocado in my kitchen—and now my skin demands avocado just as much as my stomach does. I credit this god-send of a sleeping mask for that. This creamy lather is made of 74 percent avocado. The natural blend melts right onto my skin at night. The healthy fats and antioxidants from the avocado brighten my tired skin and makes me look like I got eight hours of sleep ...even when I really got about five.
...
For more stories like this, including celebrity news, beauty and fashion advice, savvy political commentary, and fascinating features, sign up for the Marie Claire newsletter.