I'm a Fashion Editor Whose Beauty Routine Is Totally Plastic-Free
Sorry, Kermit, it actually is easy bein' green.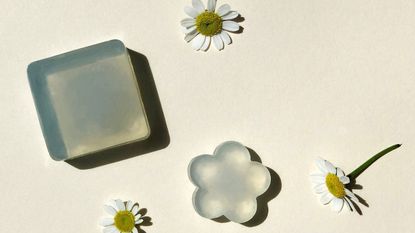 (Image credit: COURTESY OF DEWMIGHTY)
Making the effort to integrate low and zero waste products into your beauty routine can sound a little, well, not very glamorous. As an accessories editor who spends most of the day studying insanely gorgeous jewels and super sexy stilettos, people sometimes look confused when I'm raving about my favorite shampoo bar. But I'm always down to find products that are up to my high standards but also make me feel good about what I leave behind.
So, how can you make your beauty routine less wasteful?
A huge part of embracing the effort to become less wasteful in my beauty routine started with assessing the things I already have. I mean, everyone can relate to beauty hoarding and the thrill of adding a new lip color or eyeliner into the mix. Before trying any of these products, I'd recommend first using up what you already have and keeping your key products on a good schedule. Once you've realized what you really can and cannot live without, start swapping your go-tos for ones with better packaging (and, most times, better ingredients).
Spoiler alert: In this process, I stopped wearing much makeup and slimmed down my skincare routine. I started to really look for products that are multi-use or large enough to last some time. Not only does streamlining save a tremendous amount of space, but also time and money. It may not work for everyone, but what I was able to take away is how much and what exactly I am consuming on a daily basis.
What are the best low-waste or zero-waste beauty products?
This list of products below will constantly be evolving, just like my process to become more waste-free. But these are some of the super easy, high-quality swaps that can help make your routine a bit more streamlined and a lot more green.