Editors handpick every product that we feature. We may earn commission from the links on this page.
Fall Hair Accessories to Wear With Your Mask This Season
Scrunchies, bands, and barrettes galore.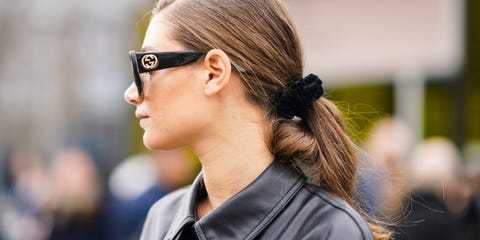 Edward Berthelot
Getty Images
Whenever I leave my apartment, I run through my new checklist. Keys, check. Wallet, check. Phone, check. Mask, check. Yanking all the hair that keeps getting caught in my mask loops and shoving it behind my ears so it creates an unsightly dent and ruins whatever style I'd just spent 45 minutes creating—check, check, check. My hair is stick straight, so it becomes very obvious when the hair around my ears gets caught in the loops or gets tangled into wire-y little frizz clouds. Since the seasons are about to change and fall is upon us, I figure it's as good a time as any to revamp my entire approach to styling my hair. While adding some French braids, slick chignons, and beachy waves can help mix things up, accessories are the key to taking a look up a notch—and keeping your strands out of your mask's way.
A simple ponytail holder is on option if you're in a pinch, but I have my eye on some chicer, more curated options: think bedazzled barrettes that transcend your kindergarten collection, floppy velvet bows you might spy on the runway, and embroidered headbands that would feel at home in a provincial mountain town in Scandinavia. Here, I've picked the the hair accents and accessories that are as functional as they are fabulous.
This content is created and maintained by a third party, and imported onto this page to help users provide their email addresses. You may be able to find more information about this and similar content at piano.io