Fall Hair Accessories to Wear With Your Mask This Season
Scrunchies, bands, and barrettes galore.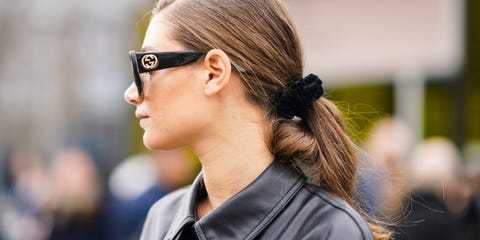 Edward Berthelot
Getty Images
Whenever I leave my apartment, I run through my new checklist. Keys, check. Wallet, check. Phone, check. Mask, check. Yanking all the hair that keeps getting caught in my mask loops and shoving it behind my ears so it creates an unsightly dent and ruins whatever style I'd just spent 45 minutes creating—check, check, check. My hair is stick straight, so it becomes very obvious when the hair around my ears gets caught in the loops or gets tangled into wire-y little frizz clouds. Since the seasons are about to change and fall is upon us, I figure it's as good a time as any to revamp my entire approach to styling my hair. While adding some French braids, slick chignons, and beachy waves can help mix things up, accessories are the key to taking a look up a notch—and keeping your strands out of your mask's way.
A simple ponytail holder is on option if you're in a pinch, but I have my eye on some chicer, more curated options: think bedazzled barrettes that transcend your kindergarten collection, floppy velvet bows you might spy on the runway, and embroidered headbands that would feel at home in a provincial mountain town in Scandinavia. Here, I've picked the the hair accents and accessories that are as functional as they are fabulous.
Ficcarissimo Hair Clip
Ficcare
nordstrom.com
$28.50
You know that effortless chignon that journalists and femme fatales seem to have down pat in movies? This is probably their go-to clip (or something close). It clasps down tight so it won't slip out of even the finest strands, but still leaves enough room to secure a twist or half-bun.
William Beaded Floral Velvet Headband
Shrimps
matchesfashion.com
$130.00
Think Midsommar May Queen vibes, but for an autumnal color palette. The beading-on-black adds a touch of technicolor without lightening up the look.
Mixed Stone Barrette
Lele Sadoughi
nordstrom.com
$98.00
Howlite spheres and 14-carat gold will look especially bold when juxtaposed with blonde hair.
Metal Hair Slide
L. Erickson
nordstrom.com
$56.00
Wonder Woman, but make it modern and work-appropriate. Secure this metal accent piece around a half ponytail to elevate a WFH 'fit.
Four-Pack Rainbow Acetate Hair Pins
Madewell
madewell.com
$18.50
If you're indecisive, why not go with the entire millennial color palette? Stack them on the same side of your part, or rock them solo.
Oversized Bow Hair Tie
Madewell
madewell.com
$18.50
This option gives us major Little Women vibes, but takes away the hassle of tying awkward knots with a built-in band.
Pure Silk 3-Pack Skinny Hair Ties
Slip
nordstrom.com
$20.00
The dent some hair ties leave in your hair post-ponytail can really take a toll on your hair's health. Avoid breakage by going with a sporty silk option.
Canasta Faux Pearl-Embellished Hair Slide
Rosantica
matchesfashion.com
$32.00
Ear party hosts, this one's for you. Stick this baby right along the top of your ear to add even more attention to your embellished lobes.
Bow Scrunchie
Free People
freepeople.com
$6.00
Mustard and scarlet are a pleasing autumn combo, and look particularly pretty when wrapped around a brunette ponytail or braid.
Gold-Plated Pearl Hair Slides
Lelet NY
net-a-porter.com
If you're after a whimsical look, these delicate accents look like they're floating in your strands after you slide them in.
Cruz Headband
Jennifer Behr
jenniferbehr.com
$168.00
Leather adds a tough tilt to an otherwise prim and proper headband.
Minoa Hair Clips
Serendipitous Project
serendipitous-project.com
$40.00
Look at this stuff, isn't it neat? We're calling these abalone shell clips the "adult Little Mermaid" accessory, and we're smitten.
Tiger-Print Scrunchie
Ganni
matchesfashion.com
$25.00
If you want to try rocking animal prints but feel like cheetah is overplayed, reach for this floofy tiger-inspired scrunchie.
This content is created and maintained by a third party, and imported onto this page to help users provide their email addresses. You may be able to find more information about this and similar content at piano.io