Editors handpick every product that we feature. We may earn commission from the links on this page.
8 Glycolic Acid Toners That'll Leave Your Skin Glowing
Dark spots don't stand a chance.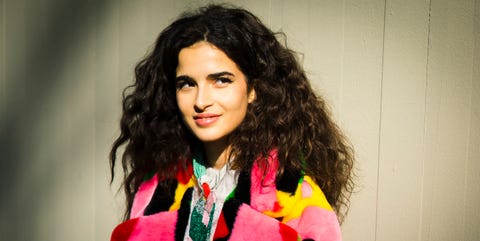 I was born in the early '90s, which means I grew up thinking toners were mostly bright pink liquids that smelled like alcohol and would make me look like a grown-up. As a kid, I'd dump a ton of my granny's go-to formula on a cotton ball or five, and buff my skin as if I were furiously wiping Windex on a dirty mirror. I remember feeling that tight, dry, squeaky clean sensation afterward, and hating it. But I'd gotten off on the wrong foot, and I misjudged toners in general. Now, the product makes an almost everyday appearance in my routine—but I've leveled up when it comes to my favorite formulas. My favorite as of late are made to exfoliate, specifically with glycolic acid.
What does a glycolic acid toner do?
Nowadays, toners do it all. In addition to their main goals—think improving the appearance of pores, evening out tone, and cleansing the skin—they're now infused with ingredients that give them and extra kick. Some hydrate as they cleanse, and some strengthen the skin barrier. Glycolic acid is an MVP when it comes to removing dead skin cells and promoting cell turnover, which means eradicating dark spots and brightening the complexion. So, integrating some extra exfoliating power into the first step in my routine feels like a no brainer. (Note: glycolic acid, like all AHAs, can make the skin sensitive to the sun, so always follow up with sunscreen. ) Here, our absolute favorite glycolic acid toners for your best (and brightest) skin ever.
This content is created and maintained by a third party, and imported onto this page to help users provide their email addresses. You may be able to find more information about this and similar content at piano.io