Famous Breasts: A Retrospective
We've counted down some of the famous breasts that have punctuated the presence of the female form in popular culture.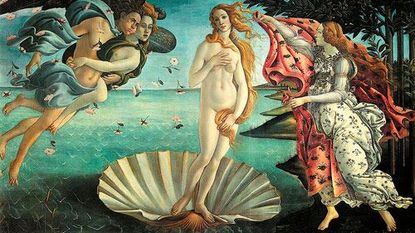 (Image credit: )
Breasts are an integral part of our bodies, culture, and our definition of femininity. Whether it's obsession, envy, embarrassment, pride, lust, fear, or frustration, just thinking about breasts is sure to stir up some kind of emotion. Here we count down some of the famous sets that have punctuated the presence of the female form in popular culture.
1/14
Botticelli's Birth of Venus
In one of the most recognizable images of the female body in history, Botticelli teased his viewers with a sneak peek of Venus's assets.
2/14
Marie Antoinette
It's been said that the short champagne glass known as the coupe was molded from one of her breasts. In fact the glass was designed in 1663, nearly a century before Marie Antoinette was born. Nevertheless, a rack that can sustain a rumor like that for over 250 years deserves a place on our list.
3/14
Jayne Mansfield
Her voluptuous form was a large part of her appeal — that and the fact that her dresses often gave the impression her girls might tumble out at any moment.
4/14
Bettie Page
In the early '60s, Bettie Page's pinups offered a darker type of sex appeal compared to Hollywood starlets like Mansfield and Marilyn Monroe. While her breasts may sometimes take a backseat to bondage, her body still generated legions of fans and a handful of subcultures.
5/14
Brigitte Bardot
Her willingness to expose herself not only stirred up interest in foreign films in the late '50s, but also eventually made her a movie star in the US.
6/14
Dolly Parton
Dolly's ample bosom has wowed audiences and defied gravity for four decades and shows no signs of sagging.
7/14
Madonna
Redefining a generation of lingerie, Madonna's cone bra almost upstaged her Blonde Ambition in 1990.
8/14
Lil' Kim
A pivotal moment during 1999's Video Music Awards: Diana Ross suddenly gives Lil' Kim's left breast a jiggle.
9/14
Pamela Anderson
She answered the one question that had been on people's minds since breast augmentation was introduced in the early '60s: Yes, you can breastfeed with implants.
10/14
Janet Jackson
In 2004, her wardrobe malfunction (aided by Justin Timberlake) at the Super Bowl proved that America is not ready for nipples on TV.
11/14
Jessica Simpson
Her dad, Joe, shocked America in 2004 when he said of her breasts, "She's got double D's! You can't cover those suckers up!" A strange comment for a father to make, sure, but he had a point.
12/14
Anna Nicole Smith
Anna displays the silicone set that roped an oil tycoon. She inherited his fortune, only to die mysteriously a few years later.
13/14
Scarlett Johansson
Why is she on our list? Go ask your boyfriend.
14/14
Joan Holloway
Man Men's Joan Holloway's outrageous silhouette (supplied by actress Christina Hendricks) has brought curvy va-va-voom back into fashion.