Editors handpick every product that we feature. We may earn commission from the links on this page.
Meet Scalp Exfoliators: The Secret to Weirdly Perfect-Looking Hair
Why did we not know about these before?!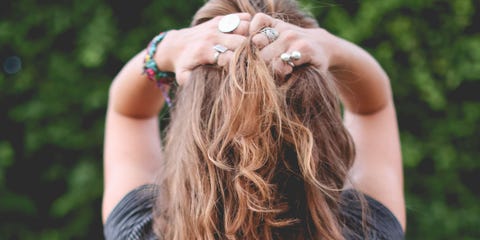 Okay, yes—we're fully aware of that fact that scalp exfoliators sound like another bullshit product that virtually nobody needs, but these gritty scrubs actually serve a purpose: to keep your hair looking kickass, while helping your scalp stay healthy.
Though you may think you're cleansing your scalp each time you wash your hair, your 15-second shampoo massage isn't making as much of an impact as you think, especially if you have super-thick or curly hair. (Ever wonder why your hair looks especially voluminous and shiny after a haircut? It's largely due to the hardcore scalp cleaning at the beginning).
And when all of the sweat, oil, and product buildup from your dry shampoos and styling products meld together without being exfoliated away, they form a follicle-blocking barrier that can irritate your scalp, leading to ingrown hairs, extra greasiness, itchiness, hair loss, and even some yeast growth. Yep.
"In some cases, scalp inflammation from accumulated oils and dirt can promote the growth of yeast on the scalp," says dermatologist Joshua Zeichner, MD, effectively terrifying us all. "Either way, chronic inflammation may interfere with healthy hair growth," he notes, which is the opposite of what you want when you're trying for a good hair day.
So to keep your curls and waves in their bounciest form, we rounded up the best new scalp scrubs on the market that are infused with natural exfoliators, like apricot seeds and walnut shells, along with follicle stimulating oils, like peppermint, for supremely excellent hair.
This content is created and maintained by a third party, and imported onto this page to help users provide their email addresses. You may be able to find more information about this and similar content at piano.io