Jaime King Talks the Iconic Bob Haircut, Thanks to Vidal Sassoon
Yesterday was a big day for actress Jaime King as she unveiled a new hair look at Vidal Sassoon's New York salon, all in honor of the 50th anniversary of the bob. We got a chance to steal the actress away to ask her a few questions about her new 'do and h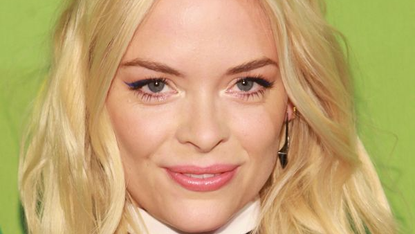 (Image credit: Marie Claire)
Marie Claire Newsletter
Celebrity news, beauty, fashion advice, and fascinating features, delivered straight to your inbox!
Thank you for signing up to Marie Claire. You will receive a verification email shortly.
There was a problem. Please refresh the page and try again.
Yesterday was a big day for Hart of Dixie actress Jaime King as she unveiled a new hair look created by celebrity stylist Ben Skervin at Vidal Sassoon's New York salon, all in honor of the 50th anniversary of the bob. Jaime was just one of many women who spent the day flaunting her iconic hairstyle, with Vidal Sassoon offering haircuts to consumers at the original, 1963 price of just $7! We got a chance to steal Jaime away to ask her a few questions about her new 'do and her favorite hair tips.
Marie Claire: Tell us at Marie Claire a little bit about what you're doing today!
Jaime King: Today we're celebrating the 50th anniversary of the bob, which I'm obsessed with. There was a Facebook contest called "Show Your Genius," in which Vidal Sassoon Pro Series is having an online contest where people can go and upload photos of themselves, showing what they do with their hair. If you win, you get $1,000 and all these other awesome prizes, but they were also able to go online and vote what look they wanted me in — hey created the full bob!
MC: It's the haircut of the season! What are some styling tips you have for your own bob?
JK: I think it's just making sure that you find the right length of what you like, and then taking really good care of it. There's not as much hair in the style, so you want to make sure that it looks really beautiful. Vidal Sassoon Pro Series has a great one-minute mask that I'm obsessed with. It's so much better than a lot of the other ones where you have to wait 10 minutes, or they're crazy expensive. I think because I grew up in the Midwest I'm all about finding great things that don't cost a lot of money, but that are so high quality. You can definitely do that with these products, which is really great. There's also this heat protection spray that they have that's really great for a bob — if you want to flat iron it, or you want to curl it under, you can't really mess it up. You can put as much as you want in it and it doesn't really make it greasy.
MC: What tips do you have for people who get the bob haircut, but then realize it's not the right look for them or they'd prefer it longer?
JK: My hair is super straight. You know how some people cut a bob and they have wavy or curly hair, and it's super-stuck down and beautiful? I have to finesse mine. So, it is just about finding the right products and figuring out a couple tricks. Ask your hair stylist. What I would do when I had bangs was get a little round brush and gently blow dry it under. It's just practice makes perfect.
MC: What's your favorite hairstyle to do when you're in a rush?
JK: My go-to is hair accessories. I love the headbands from American Apparel. They have these great velvet hair ties — they're long, and they have them in a lot of different fabrics. If you see pictures of me on the street, I'm always wearing these things. I like creating sort of like a '40s-type look with that. My hair is wet and disgusting and in a low pony, but you put one of those things through and you look elegant.
Celebrity news, beauty, fashion advice, and fascinating features, delivered straight to your inbox!