How to Add Volume to Your Hair, According to a Hairstylist
Your complete guide, according to a hairstylist.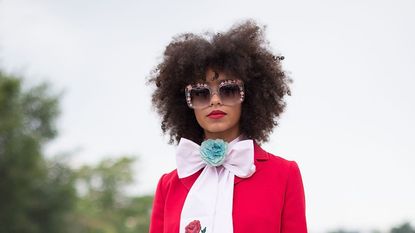 (Image credit: Vanni Bassetti/Getty Images)
No matter your hair type, you've likely dealt with a lack of volume at some point or another. Whether it's your hair is straight, your curls are weighed down, or you didn't have time to thoroughly wash your strands, lank locks tend to hit when one least expects them to, creating a need for volumizing hair products like shampoos and conditioners, leave-ins, and stylers.
But when I say volume, I don't mean the teased hair of the 1980s. Rather, subtly, natural-looking hair volume can make hair appear healthier and thicker, and can even add to the wearer's outfit.
"Volume in hair can help to enhance the overall silhouette of a look," agrees Aviva Jansen Perea, a celebrity, red carpet, and editorial hair stylist. "I would say most of the time, volume can be something that can add height, and overall make hair look thicker and healthier." On the other hand, she says, "If you are wearing something with large shoulders or an over emphasized skirt, maybe think about complementing the look with less volume in the hair."
But how do you achieve voluminous locks without resorting to potentially damaging methods like teasing? Below, Perea dishes on the best practices to keep your hair looking full and flouncy.
Enhancing Hair Volume
While weighed down, lifeless locks may seem easy to fix at first glance, in reality, bringing volume back to your hair can be somewhat challenging. This is because the issue can come from a number of sources, which means that the first step to combatting limp hair is uncovering its cause.
"So many factors can lead to thinning, limp hair," agrees Perea.
Below, she lists best practices for ensuring that your hair looks healthy and voluminous.
Take Care of Your Overall Health
As with any beauty woe, your hair's appearance begins with your internal health.
"Smoking and a poor diet can lead to an overall appearance of sad hair," says Perrea, which means a smoke-free lifestyle, healthy eating (protein and collagen are key), and plenty of hydration are the first step anyone should take to combat lackluster hair. For an extra boost, you can even consider hair vitamins, which are formulated to foster hair growth, retention, and thickness from within.
Use the Right Tools
Overall health is paramount to a healthy appearance, but there's still more to ensuring your hair is as voluminous as possible.
"As always, thinking about what wet products, hot tools, styling tools, and sleep prep is very important," advises Perrea. "Consider making sure that the shampoo and conditioner, post-shower wet styling products, heat protectants, the way you brush your hair out, the way you sleep, and how you tie your hair out of your face are all aligned with keeping your hair looking full and healthy and therefor leading to a more voluminous appearance." More specifically, she says, "I always encourage my celebrity clients to use light weight heat protectors, make sure to sleep with nonabrasive pillowcases, and use non breakage styling tools (i.e., be wary of elastics that can lead to breakage and consider a nylon covered hair pin)."
The way you use your styling tools matters as well. Perrea instructs, "Blow dry with your brush pulling straight up instead of horizontal or towards the floor, and let your hair cool before letting it drop from the brush. This will encourage style memory."
Use the Right Products
"Keeping your overall hair health in check will always lead to the look of voluminous hair, but you want to make sure you are using a volumizing shampoo and conditioner," says Perrea. Furthermore, she stipulates looking for "a volumizer that is light weight so that it won't weigh down your hair."
In terms of what to avoid, she warns, "You want to avoid anything with heavy silicones or oil, as that will add to the weight of the hair and pull the styling work you did down."
Meet the Expert
Aviva Jansen Perea is a celebrity, red carpet and editorial hair stylist who has worked in the industry for two decades. She has styled a number of celebrities, including America Ferrera during her Barbie Press Tour. She also developed her own line of recyclable, plastic-free hair pins called Day Rate Beauty.
Marie Claire email subscribers get intel on fashion and beauty trends, hot-off-the-press celebrity news, and more. Sign up here.