#BigLipstickEnergy: The Anti-Aging Lip Serums I Save for Extra Dry Days
Because your lips are one of the first places to show signs of aging.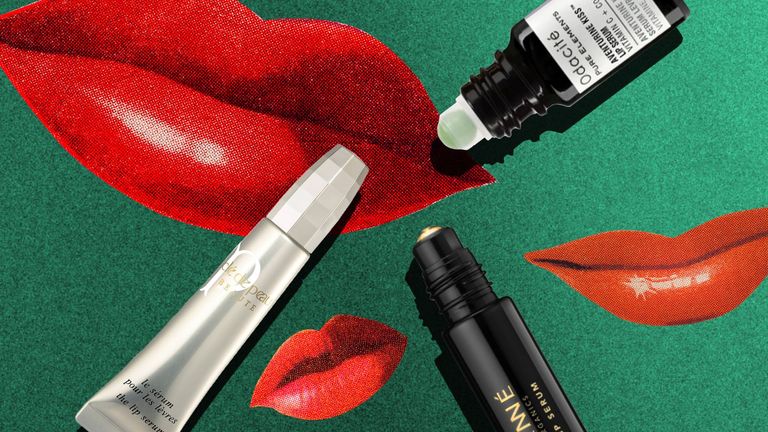 (Image credit: Design by Hanna Varady/Morgan McMullen)
I'm a serial lipstick dater. So many lip products slide onto my desk. Some I double-tap and have all the heart eyes for. Others I ghost and leave on seen. This is #BigLipstickEnergy, an honest breakdown of how I feel about the latest lip launches. Read on for the three lipstick flings I'm keeping in rotation for now. Next week, I'll have a new roster.
Odacité Pure Elements Aventurine Kiss Lip Serum
THE DETAILS: Thanks to nourishing baobab and moringa oils and CoQ10, this lip serum goes beyond basic hydrating and smoothing benefits to also plump and firm away the look of fine lines and wrinkles. Its combo of vitamins C and E breathe life back into dry, cracked skin resulting in a perky, plump pout. A bonus, if you believe in the power of crystals: the rollerball applicator itself is an aventurine crystal, which is said to bring luck and prosperity. WHY I'M OBSESSED: Lately, balms on their own have not been cutting it for me. And as annoying as it is, lips aren't excluded from the skin's aging process. When I want the look of lustrous and full lips, without a bunch of shine (sorry, gloss), I reach for this happy medium. It saves my sad lips by amping them up with hydration and vitamins for a juicy, plump finish. Plus, I don't have to worry about the stinging sensations I've experienced from other lip plumpers in the past (which shall remain nameless). The feel of this serum dispensing from the crystal applicator is cool and refreshing (it contains mint and capsicum), and instantly kicks dullness and dryness.
Henné Organics Lip Serum
THE DETAILS: After you stop staring at this ultra-luxe black glass bottle topped with a 24K gold-plated rollerball, you should actually try it. It's packed with potent oils: arctic cloudberry seed, lingonberry seed, rosehip, camellia, and argan, to name a few—all of which act in harmony to thoroughly nourish the delicate skin of your lips. What's more, all the antioxidants and fatty acids from this family of oils speeds up collagen production to smooth lip lines. WHY I'M OBSESSED: The first thing I noticed was the faint berry scent, which is not too overpowering but there just enough to remind me of a warm summer day. Upon application, the sumptuous oil blend hugs my lips with a silky veil of hydration, which sits on top like a shiny gloss for about 60 seconds. Soon afterwards, it dries down to a more matte finish. Since it absorbs so quickly, I prefer to use it as a primer followed by a balm to lock in maximum moisture, both morning and night. The two-step process accentuates the shape of my lips ever-so-slightly giving them a fuller appearance. The sleek lil' black and gold bottle never leaves my nightstand.
Clé de Peau Beauté The Lip Serum
THE DETAILS: If you're in the spirit to splurge, treat yourself to Clé de Peau's lovely creation: a serum made to brighten, soften, and tone the lips for a forever-young, firm finish. Made of an illuminating complex that boasts Japanese pearl, theanine, and a golden silk essence, this ensures supple and smooth lips that appear radiant. The applicator is specifically designed to hug the contour of your lips to help refine lines and wrinkles, so glide a generous layer onto your lips twice for the full effect. WHY I'M OBSESSED: Although it's completely fine to apply this serum twice a day, I'm savoring every last drop and leave it for my boujee bedtime routine only. I swear by 8 or 9 hours of sleep per night, and I'm always amazed when I wake up with glowy, supple, just-been-kissed lips that are still holding on to remnants of hydration from this long-lasting serum. It stands the test of time! And while my lips do feel noticeably firmer right after application, I mostly love how soft they stay hours after an overnight wear.
•••
For more stories like this, including celebrity news, beauty and fashion advice, savvy political commentary, and fascinating features, sign up for the Marie Claire newsletter.