How to Style Your Liquid Liner Like a Beauty Editor
Spread your wings... literally.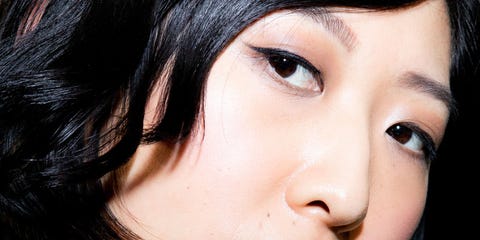 Despite trying out thousands—literally, thousands—of makeup products over the course of my career as a beauty editor, I tend to gravitate towards a few key products. I'm a total lipstick devotee, and I can never pass up that signature thwip of opening a brand new tube of inky-fresh mascara. But if there's one product I would trade for all the others, it's a slick, pigmented liquid liner. While some of my favorite ladies in the industry tend to throw on a red lip for instant confidence, I swoop on an onyx cat eye when I need to feel confident enough to overthrow my enemies Outlander-style...you know, if I had to.
I've had a ton of practice when it comes to making liner look creative and crisp, though, much like most editors at their respective outlets. Makeup artists are constantly giving us in-person tutorials and tips, so we're privy to some cool tricks that everyone can master: how to get the shape right the first time, how to personalize a wing for your face, and even what to pair your liner with to take the look up a notch. So to anyone who's uttered the phrase "I could never rock that," I'm here to tell you that you fucking can. And celebrity makeup artist Katie Jane Hughes, who's glammed up stars like Rosie Huntington-Whiteley and Ashley Graham, can vouch.
"Anyone can wear any kind of eyeliner. It just depends on where it goes on each person's eye," says Hughes, even when it comes to a more editorial look. Read on for some eye-opening inspo, and a few tips from Hughes herself.
This content is created and maintained by a third party, and imported onto this page to help users provide their email addresses. You may be able to find more information about this and similar content at piano.io