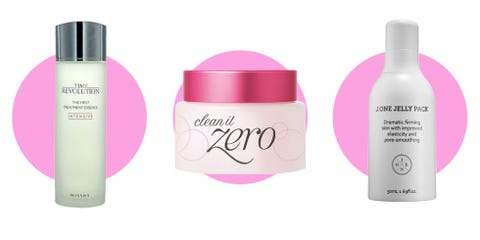 Unless you've been hiding in a post-apocalyptic bunker for the better part of 2017 (which, in light of the election, we don't blame you), then you already know that Korean skincare products are officially everywhere, popping up in the aisles of both department stores, like Nordstrom, and drugstores, like CVS and Target.
But, like with all good things that become famous and popular, the market has now become saturated with a zillion subpar options that make navigating the K-beauty world more difficult than it should be. So to cut through the noise, we handpicked only the O.G. cult-favorite skincare serums, cleansers, masks, and more, that will truly give you the happiest, glowiest skin you've ever seen. Check out your new nightly lineup, ahead.
1
First, Use a Cleansing Balm
Banila Clean It Zero Sherbet Cleanser, $15
You truly cannot imagine the terrible job your regular face wash and makeup remover have been doing until you've tried this balm cleanser. Just massage a scoop over your dry face—yes, your dry, fully makeup-covered face—for 30 seconds while the water-soluble oils in the cleanser bind to the junk on your face to gently, yet thoroughly, wash everything away.

2
Then Slather on an Essence
Missha Time Revolution The First Treatment Essence, $24

Essences are essentially the foundation of all Korean skincare, thanks to their supremely high concentration of anti-aging, redness-reducing, and moisturizing ingredients, like the fermented yeast (which calms and smooths skin) and niacinamide (a cell-repairing form of vitamin B3) in this Missha favorite.
Cosrx BHA Blackhead Power Liquid, $15

Fun fact: A choir of angels literally sings each time you unscrew the cap to this pore-clearing serum. Okay, not really, but the four-percent BHA (beta hydroxy acid) in this magical liquid will gently soften rough skin, dissolve blackheads, and fade dark spots with consistent nightly use.
4
Then Massage on a Cream
Mizon All-In-One Snail Repair Cream, $12

Yes, snails seem like a gimmicky marketing ploy, but they're a staple in K-beauty, thanks to the skin tone-evening powers in their mucin. And this lightweight, mattifying face cream is filled with 92-percent snail extract, making it a dark-spot fading powerhouse.
5
Then Finish With a Primer
J.One Jelly Pack, $42

Most face primers create a slippery, silicone-y mask that makeup easily glides over…and then slips off of your face by noon. But this face gel-slash-primer hybrid (yes, that's a thing) melts into skin as you pat it on, creating a grippy, hydrating base that helps makeup cling to.