Beauty Around the Clock: Meghann Fahy
The 'White Lotus' star on her intense obsession with breakfast burritos, her favorite drugstore mascara, and the allergy medicine that inspired her go-to perfume.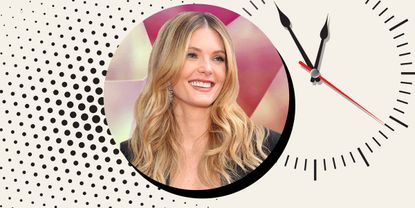 (Image credit: Future)
Welcome to Beauty Around the Clock, Marie Claire's weekly peek into the daily lives of some of the most game-changing women in their industries. Ever wonder how they get it all done in a day? Here's your answer.
Meghann Fahy and I spent an exorbitant amount of time talking about the unsexiness of allergies (relatable), breakfast burritos (yum), and how Never Have I Ever is an appropriate show to watch during a bath time (valid). Random? Maybe. But each topic of conversation is an important part of the White Lotus star's day, self-care regimen, and beauty routine. She's not one to get too fussy with skincare and makeup or upkeep. Fahy is a member of the sensitive skin club (less is more!) and reserves full glam for sessions with the pros. But don't get it twisted: She still has some A+ beauty recommendations.
So instead of spending her time slaving over the perfect winged eyeliner or discovering the perfect lip exfoliant, The Bold Type alum sticks to her tried and true favorites—while setting aside time for feel-good activities. Sometimes that looks like therapy, occasionally pottery making, and when she's in the mood, scooping up a bag of dill pickle chips at the drugstore. In short: It's all about balance. To get the full down low on her day-to-day, keep reading.
Rise & Shine
I'm an alarm clock person. But I don't have a routine—like, at all. It varies depending on where in the world I am and what in the world I'm doing. Lately, that's been a lot of different things. It's been lots of different time zones, so I just sleep whenever I can at this point. I for sure need my coffee. I drink iced coffee basically all year round. I just can't stand it when my coffee, which is supposed to be hot, becomes cold. Whereas if you're drinking an iced coffee, it stays cold; it starts cold and it finishes cold.
Morning Maintenance
I have really sensitive skin, so I have to be very careful with the stuff that I put on my face. My morning routine is pretty, pretty chill. I cleanse and then I use an SPF every day—that feels like it's important.
Power Start
I'm huge on breakfast burritos right now. I just cannot stop eating breakfast burritos. It's really insane. I don't know when it started. I've always liked them, but recently it's become an obsession. Three times a week at least I'm eating a breakfast burrito. I had one on the plane the other day too because it was an option. It was a little scary, but there was no meat in it, so it was fine. Usually I like eggs, cheese, and potatoes, but one place I know does tater tots. I dip my breakfast burrito in ranch; I put ranch on everything. Hot sauce is very important to me as well. I have a lot of different kinds of hot sauce.
Fitness Fix
I used to be more ritualistic and now I've resigned to this idea of, How do I feel today? What do I wanna do today? If it's going outside, I do that. If it's nothing, I do that. It's been really great to just listen to my body.
Signature Look
I was a little bit of a tomboy growing up, but I've always loved makeup and I buy lots of makeup that I don't wear. When I'm not working, I'm pretty simple with my routine. I use the Armani Luminous Silk foundation and so many different kinds of mascara. But otherwise? I'm pretty easy, breezy for the most part. I do like a shimmery eye though. Right now I'm wearing Anastasia, but I also really love the NudeStix pencils. Lumify eye drops also really changed the game for me. I use them all day, every day.
Giorgio Armani Luminous Silk Perfect Glow Flawless Foundation
Lumify Redness Reliever Eye Drops
L'Oréal Paris Lash Paradise
Self Care Ritual
The truth is that when I do anything physical, even if it's yoga or something, it really helps me with my anxiety—and I have a pretty considerable amount of that day to day. Anything that takes me out of my head brings me back into my body is really good. I did a pottery course recently, which was fun. I loved it because it requires both of your hands and your feet and your brain. You can't look at your phone and you can't do anything but pottery. I crave that kind of activity where the only thing I can focus on is the thing that I'm doing.
Signature Scent
Scent is something that I've always valued as part of what makes me feel feminine and fun. That's why I love the Astepro Nasal Spray and the new fragrance is a good combo. I've suffered from allergies for forever. It sucks. You're blowing your nose so much that then it's red and your skin is dry. You're trying to cover it up and it's very vulnerable—it can make you feel really insecure. So having the nasal spray, which works in 30 minutes, as part of my routine removes that element from my day so that I can go do whatever I want. I can be outside, I can be on set working with animals. By the way, I've never worked with animals on set; I don't know why that just came out of my mouth. The point is: I don't have to worry. Then I use my Astepro La Spontanéité. I always put perfume on before I leave the house because I just feel like it's like a nice little scent. It feels unisex, which is the kind of scent that I'm always attracted to. I love things that could be a little bit masculine.
Hair Help
I have the best hair colorist in the world. His name is Matt Rez. He's in LA and he's literally a genius. Jacob Rozenberg, who styles my hair, is also a hair savant. It's insane. I'm definitely getting better at doing my own hair, but I still can't do it as well as him. I do love the Shu Umera hair mask. I leave it on for 10 minutes and I'm not kidding it's literally changed the whole texture of my hair.
Body TLC
I love a bath with epsom salt and bubbles. I'll put a sheet mask on and just sit there. I do watch TV in the bath. I'll bring my iPad. I'm currently watching Never Have I Ever. It's my bath time show.
Cheap-But-Chic
Well, I will buy dill pickle chips just about anywhere they sell them. I buy a lot of gum, Mentos is my favorite. I love the texture of it. When it comes to beauty, I love the L'Oréal mascara. Drugstore mascara is low-key great.
Beauty Icon
Michelle Pfeiffer. She's my general icon, just in life. She's so cool.
Back Up Career
I actually thought about being a therapist. I don't know if I could do it now because I think that's such a hard job. But I've always been super interested in psychology and that was what I wanted to study when I was maybe going to go to college. I'd probably be doing something in that space at least.
P.M. Routine
I always double cleanse. I use the Banila Co Clean It Zero Cleansing Balm—I get it from Soko Glam. That changed a lot for me. It gets every trace of mascara off without pulling or tugging. Then I do my Paula's Choice Moisturizing Cleanser after that. Obviously, Retin-A. Then it's the Dr. Jart+ Tiger Grass Cicapair Cream—and that's a wrap, baby.
Clean It Zero Cleansing Balm Original
Lights Out
I usually fall asleep to sleep sounds. I have the Calm app and I'll do ocean waves, white noise, rain, or something else and that normally knocks me out.
Samantha Holender is the Beauty Editor at Marie Claire, where she reports on the best new launches, dives into the science behind skincare, and keeps up with the latest trends in the beauty space. She has previously written for Us Weekly, Popsugar, Makeup.com, Skincare.com, and Philadelphia Wedding. Follow her on Instagram @samholender.