We're Officially Copying Emily Weiss's Morning Beauty Routine, and Here's Why You Will be Too
It's time to reboot your grooming habits.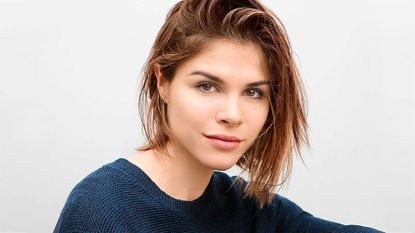 (Image credit: Glossier)
Emily Weiss has built a veritable lifestyle empire (watch out, Gwyneth and Martha!) as founder and CEO of Glossier, a cosmetics line geared toward the Instagram set. It all started back in 2010, when she launched her virally successful NYC-based beauty/lifestyle website, Into The Gloss (opens in new tab). "Social media gives us a direct conversation with our customers about the kinds of products they need," she says. Here, she shares her streamlined tricks for getting out the door gorgeously.
My a.m. Routine
7 a.m. I wake up and meditate for at least 10 minutes. This was my New Year's resolution, and I'm trying to stick to it.
7:45 a.m. After that, I jump in the shower and get ready.
7:55 a.m. My whole beauty routine takes about five minutes. I wash my face with Biologique Recherche Cleansing Milk and apply 1/ Biologique Recherche Sérum Amniotique E (opens in new tab) ($67). It's like a vitamin supplement for your skin. Then I put on Glossier Priming Moisturizer (opens in new tab). I'm into a bare face with dewy, glowy skin, glossy lashes, and strong brows. No blush. No lipcolor. I start with Glossier Perfecting Skin Tint (opens in new tab) and 2/ Balm Dotcom (opens in new tab) (an allover skin salve, $12), then I add a coat of 3/ Kevyn Aucoin The Volume Mascara (opens in new tab) ($25) followed by 4/ Benefit Speed Brow (opens in new tab)($18). At night, I'll sometimes add a bit of sparkle around my eyes: I like 5/ L'Oréal Paris Infallible Eye Shadow in Eternal Black (opens in new tab) ($13).
8 a.m. Awesome hairstylist Christiaan Houtenbos cut my hair into a mullet-y, '90s Linda Evangelista shag. Because it's so straight and fine, I use Oribe Dry Texturizing Spray (opens in new tab) to add a grittier feel and define the layers. Last, I work a drop of Shu Uemura Art of Hair Essence Absolue Nourishing Protective Oil (opens in new tab)($68) onto the ends—and done!
8:20 a.m. I walk to Smile To Go in Soho to grab breakfast and an Americano. I'm not necessarily a morning person, so I need that coffee. If I'm feeling responsible, I'll get a fruit cup, or a raspberry scone if I'm feeling decadent.
Necessary Indulgences
1. Scent-sational: Diptyque makes my favorite candles, and I carry one of their solid perfumes in my purse. Diptyque Solid Perfume (opens in new tab), $48.
2. Skin softeners Post-shower, I apply Bonpoint Body Cream and Soft Oil, a massage oil that smells like flowery babies. Bonpoint Huile Douce (opens in new tab), $50.
3. Shower luxuries: I love Aesop Geranium Leaf Body Scrub (opens in new tab), $35.
4. Arch support: When I'm in L.A., Kristie Streicher shapes and tints my brows at her new studio, Striiike (opens in new tab) (right).
You should also check out:
Why Your Hair Won't Ever Hold a Curl (opens in new tab)
21 Genius Lipstick Hacks You've Never Tried Before (opens in new tab)
20 Fresh Ways to Amp Up Your Pony (opens in new tab)