6 Beauty Secrets Moroccan Women Know That You Don't
But now you do.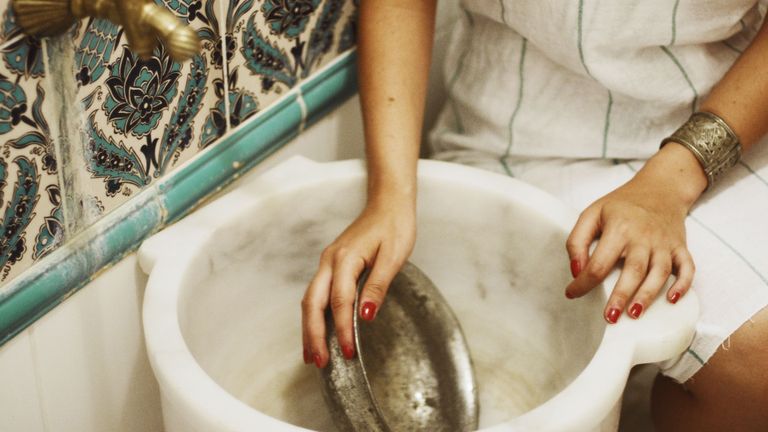 (Image credit: Getty Images)
If you thought Argan oil was the tip of the iceberg for Moroccan beauty secrets, think again. We've uncovered some of the most powerful treatments, but there are many more tricks Moroccan women are keeping in their beauty arsenals. Here, the big reveal of them all.
The Hammam
The Hammam is an open bathhouse where natives go at least once a week to undergo a ritual-based cleansing treatment. The treatment involves aromatherapy, detoxification, and massage using key Moroccan ingredients like Argan and essential oils. The Hammam is said to increase circulation, release toxins, and purify the skin. Massages every week? Count us in.
African Black Soap
Known as "Savon Noir" if you're fancy, African Black Soap is popular throughout many parts of Africa as well as Morocco. The all-natural soap is packed with vitamin E (amazing for your complexion) and has antimicrobial properties. Also, it smells amazing!
Rose Oil
Moroccan women use fresh rose petals to create a number of beauty products including rose water for toning. Rose oil, or Morroccan Rose, is considered one of the strongest essential oils for soothing and relieving ailments. When applied to the skin, it leaves you soft and glowy.
Green Mint Tea
Green Mint Tea is your new skin replenishing energy drink. It's high in antioxidants making it an effective anti-ager and scar treatment. It also contains caffeine—making it a prime candidate to replace your morning skinny latte.
Green Clay
Green clay is another amazing mask that deep cleans and absorbs excess oils from your skin. Use this clay to exfoliate and revitalize the skin on your face, chest and back.
Solid Perfume
Moroccan solid perfume is like nothing you've seen before. They come in small, colored blocks that give a light smell when rubbed on the skin that lasts all day. They are highly fragrant and last for years, so no more constant restocking on bottles that break. *praise emoji*